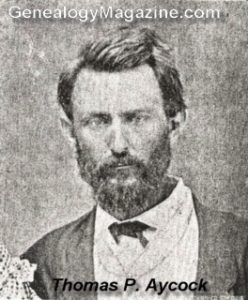 THOMAS PAULAIN AYCOCK was appointed as a delegate from the Marlin church, which was one of the constituent members of the Waco Association, but for some reason, he failed to attend on that occasion. For many years after the Association was organized he gave it his hearty co-operation and support. He was born at Herman, Clark county, Georgia, May 25, 1830; was the eldest son of R. M. Aycock and Ann W. Aycock. In his infancy, his parents moved from middle Georgia to LaFayette, Walker county—then "Cherokee country"—in the extreme northern tier of counties of that state. Here his education was begun, and at quite an early age, he gave promise of a more than ordinary mind. He was sent to school at Cave Springs, Whitfield county, Georgia, and was a boarder in the household of Rev. Zachariah Gordon, a prominent Baptist divine of that day, and who was General John B. Gordon's father. At Cave Springs he advanced rapidly and was prepared to enter the junior class of the East Tennessee University, Knoxville, where he graduated with the class of 1850, winning the distinction of delivering the valedictory. While at Knoxville, Tenn., he was converted, and joined the Baptist church, making glad the hearts of his parents and friends. Returning to LaFayette, he did not stay long at home, though very young, but went almost immediately to Houston, Chickasaw county, Miss. Here teaching school, and reading law by turns, he prepared himself and was in 1851 admitted to the bar. May 6, 1852, he married Miss Mary Jane Steele, daughter of Capt. R. G. Steele, of Houston, Miss. In 1854 they migrated to Texas, and settled at Marlin, Falls county. Here he began his professional life, with flattering prospects, and soon his forensic powers attracted attention, and he received the confidence and the patronage of a goodly clientage. In 1856 he was elected to the lower house of the Texas legislature. While in the legislature, among other useful measures he warmly espoused the "University Bill," and saw the fulfillment of its rich endowment in land, but did not live to see its consummation in granite, nor its generous enrollment of Texas youths.
As one of the members of the Marlin Baptist church (having been enrolled among the first of this band of pioneer Baptists), he was ever afterwards identified with them, and in 1857, for his zeal and aptitude in the Scriptures, was by his brethren licensed to preach.
He was full of the eloquent fervor of a true leader of Zion, and before the war, it was his intention to quit the law and enter fully into the ministry, but his secular affairs interrupted, and soon afterwards the war disarranged his plans. Notwithstanding this, he did much preaching. At Calvert in 1873, among his neighbors, a notable revival, participated in by him, took place, when many of Calvert's businessmen made profession of religion. His private life and example always exerted a marked effect for good.
Having in 1873, lost his life's companion, he from this time began to fail in health, and left his five children at Calvert, and went direct to Los Angeles, Cal., in the hope of regaining his health. From this time—the winter of 1875—only a few short months remained for him on earth. Two thousand miles from his soon to be orphaned children, he spent the few more days allotted to him. But in them were crowded years of agonized suspense. In a letter to his aged mother, he wrote, that he was prepared and that he longed for the rest he knew awaited him. On the 1st day of April, A. D. 1876, he passed away. The Masonic lodge at Los Angeles, Cal., buried his remains in their cemetery.
Source: J. L. Walker and C. P. Lumpkin, History of the Waco Baptist Association of Texas (Waco: Byrne-Hill Printing House, 1897), pp. 224-226.