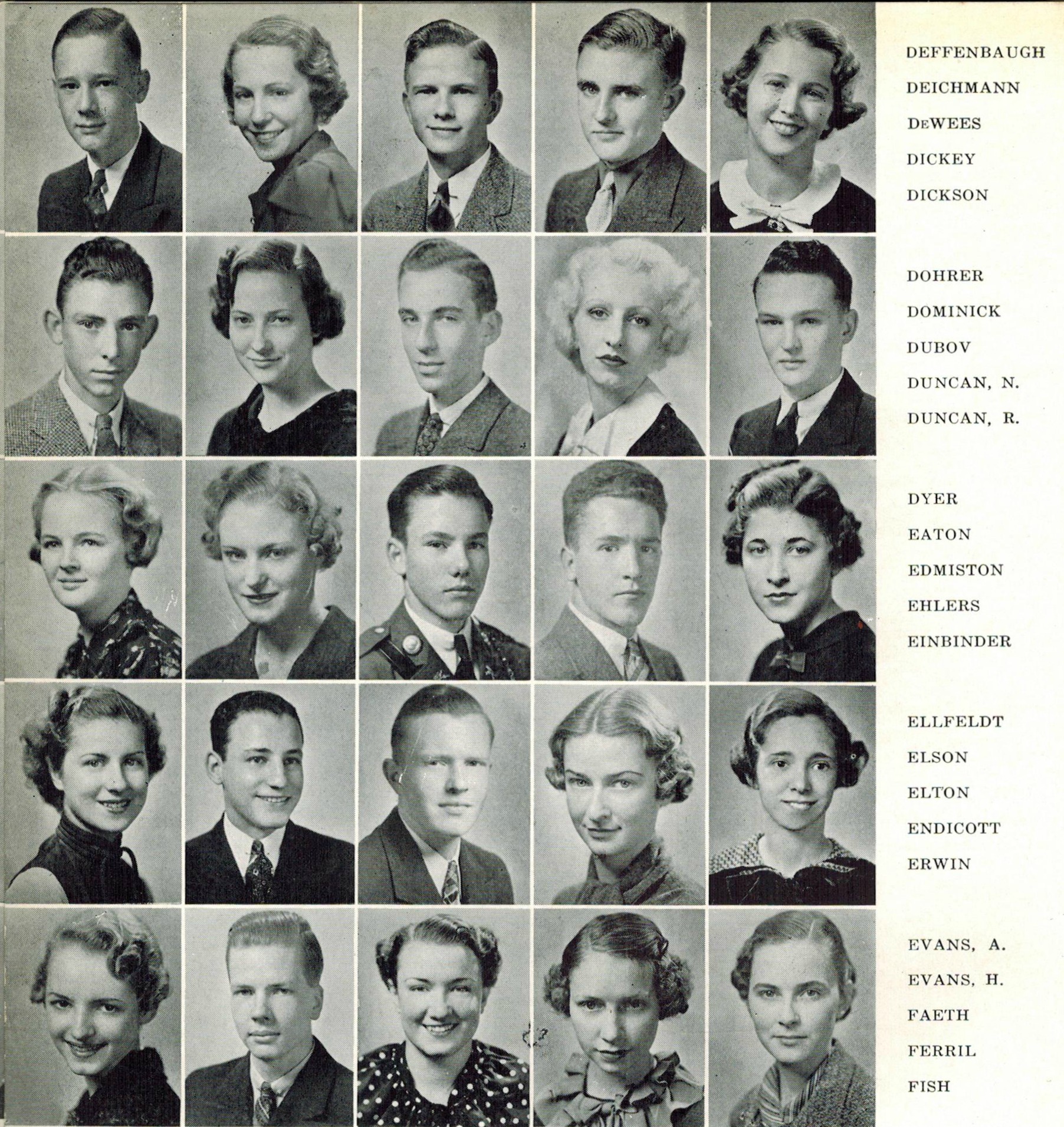 The Nineteen Thirty-Six Sachem
Southwest High School
Kansas City, Missouri, 1936
Pages 36-37:
In the "Army" RALSTON DEFFENBAUGH held the rank of first lieutenant and won first prize in the R.O.T.C. Essay Contest and second place in the American Legion Contest. He was president and vice-president of the Engineers and junior class representative on the Sachem staff. He made the Honor Roll once . . . Although SHIRLEY DEICHMANN is an ardent lover of horses. she will forsake this preference to take up dramatics as a major interest in college . . .
In Company "A" BILL DEWEES was a second lieutenant and battalion adjutant. He was also an alternate in the Student Council and a school banker . . . An enthusiastic Hi-Y member, HALLEY DICKEY served as vice-president, secretary, and cabinet member. He was also active in Zend-Avesta and served as a corridor guide . . . JEAN DICKSON was vice-president of the Art Honor Society and a Student Council alternate.
Athletic ability earned for DON DOHRER a place on the basketball first team and a tennis letter. He held the office of treasurer of Ruskin Literary Society . . . KATHERINE DOMINICK named as a representative of the Student Council. She was a member of Veda Literary Society, and in the Art Honor Society held the office of secretary. . . BILL DUBOV was a first class cadet R.O.T.C. and a member of the Engineers CIA is his junior and senior years . . . NORMA WINE DUNCAN, an Honor Roll student one semester, danced in the "Taming of the Shrew" and "Monsieur Beaucaire." She won honorable mention in the Freshman Literary Contest and was a home room banker . . . RALPH EMERSON DUNCAN was a sabre winner in the R.O.T.C. He was a member of the Hi-Y Club in his freshman and sophomore years.
ELLA MAY DYER entered Southwest this year from Louisiana where she made the Honor Roll and was secretary both of the Girls Glee Club and the Home Economics Club . . . A member of the Choir for four years. EDITH EATON belonged to the Girls Triple Trio which ranked first and second in two successive years. In her senior year she was a corridor guide . . . In addition to winning the rank of first lieutenant in the R.O.T.C.. HARRY EDMISTON was president of the Junior Rifle Corps, played in The Importance of Being Earnest," and served as a Student Council alternate . . . EDGAR S. EHLERS, captain of the 1935 football team, earned first and second team letters in football and a letter in track . . . SELMA EINBINDER, interested in the violin, plans to attend the Eastman School of Music at Rochester, New York. She came to Southwest from St. Joseph.
BETTY ELLFELDT enjoys playing golf. She will attend either the University of Kansas or an eastern college . . . JACK C. ELSON came to Southwest from a Chicago high school in his sophomore year . . . DICK ELTON, a member of the Engineers for three years, was a second lieutenant in the R.O.T.C. as well as vice-president of the Junior Rifle Corps . . . WANDA LA NORE ENDICOTT was a Student Council representative and alternate, a member of Veda. and a corridor guide . . . PATRICIA ERWIN participated in activities as a member of Hestian and the Girls High School Club. Desiring to become a dietitian. ALMA EVANS will go to the University of Kansas for her training . . . HAROLD D. EVANS supported the Hi-Y as a cabinet member and was a Student Council alternate, a member of the Trail business staff, and a Powwow member . . . MARY JEAN FAETH, a Powwow Club member and a stage superviser, was the only sophomore in the all-school play "The Goose Hangs High". . . In athletics, BARBARA E. FERRIL served as a squad leader. She was also a home room banker. a corridor guide, and an officer of her civics class . . . MARTHA JANE FISH belonged to Laurean Literary Society. In the Student Council she was both a representative and an alternate.