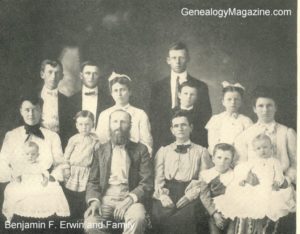 BENJAMIN F. ERWIN, one of the prominent farmers of Montague county, Texas, was born in Pike county, Mississippi, March 14, 1854, son of John J. and Aly (Thornhill) Erwin, both natives of that state; and grandson of James Erwin.
James Erwin was a pioneer settler of Mississippi, where he spent most of his life as a prosperous planter. When well along in years he went to Louisiana, where his death occurred. He was the father of six children, namely: Lucena, John J., Thomas A., Abner, James C. and Frank.
John J. Erwin grew up on his father's plantation in Mississippi, married and settled on a farm of his own, and was prosperous and happy when the Civil War broke out. He entered the Confederate service at the opening of hostilities and was all through the war, in the Army of the Tennessee, taking part in many a fight and proving himself a valiant soldier. On one occasion he was taken prisoner, but was soon exchanged. Returning to his home after the war was over, he resumed farming on his land in Mississippi and remained there until 1885, when he sold out and moved to Texas. He bought a farm in Houston county, where he settled and where he passed the closing years of life and died, his death occurring in 1892. He was successful in replenishing his depleted fortune after the war and at the time of his death had a competency. His life was that of the quiet, unpretentious farmer, with no aspiration for political preferment, and with a character above reproach. Both he and his first wife were devoted and worthy members of the Baptist church. She died in Mississippi in 1880. Her people, the Thornhills, were early settlers of South Carolina, from whence they moved to Mississippi, where they were prominently and highly respected farmers. She was the mother of five children, namely: Warren T., who died at the age of twenty-one years; James B., and George H., at the home of John Chairs. After the death of his first wife, John J. Erwin married Mrs. Emily Alford. There were no children by this union. After she was left a widow she married again and is now a resident of Louisiana.
Benjamin F. Erwin, the direct subject of this review, was reared on his father's farm in Mississippi. Although young at the time, he remembers well the afflictions brought on the country by the war of the rebellion, also many advantages denied him in the way of schooling and otherwise. He being the oldest child, had to go to the front on the farm and take the lead in looking after affairs while his father was in the army. He remained under the parental roof until he was grown and married, in 1878, when he settled on a rented farm. Later he owned land in Mississippi, which he sold in 1885 and moved with his father and family to Texas. When the families were preparing to leave their native state, an old friend and neighbor and member of the state legislature, prepared a letter of credit, over his own official signature, recommending Mr. Erwin to whom it might concern, etc. Although Mr. Erwin never had occasion to use this letter, he still treasures it among his keepsakes. On their arrival in Texas they all settled in Houston county. Benjamin F. bought land there and on it was successfully engaged in farming for six years, when he sold out and moved to southwestern Texas, locating on land which he bought in Live Oak county, remaining two years with only fairly good success in his farming operations. Then he drifted to the plains. In Crosby county he homesteaded land, but on account of the unfavorable seasons he had a failure of crops and remained there only two years, coming thence to Montague county in 1895, landing here with small assets. For four years he rented land, then he bought a small farm, poorly improved and with but little of it under cultivation. By subsequent additional purchase he has increased his farm to two hundred and seventy-two acres, all fine valley land, and as the result of his well directed efforts the whole of it is under a high state of cultivation, and his buildings, including a commodious residence and two good tenant houses, are among the best in the locality. From his home, located on an elevated site, one has a fine view of the whole farm and Red river and can see over into Indian Territory.
In Mississippi Mr. Erwin married Miss Larissa Smith, who was born in Pike county, that state, in 1859, daughter of Dr. Nual Smith and his wife Milessa, both natives of Mississippi. Dr. Smith had a large plantation and numerous slaves and was extensively engaged in agricultural pursuits previous to the war. During the war he practiced his profession. The close of the war brought a change in his affairs, and he sold out and moved to Texas. He located in Houston county, where he bought land, settled down to the practice of his profession and became a prominent factor in the locality in which he lived. There he remained until death claimed him, in 1886; his wife survived him only a short time, both dying at the homestead. They were consistent members of the Baptist church and he was fraternally a Mason. Of their family of six children, we record that Florence is a resident of Mississippi; Larissa, now Mrs. Erwin; Kirby and Clara are in Houston county; Pedro is in Mississippi; and Bridget lives in San Antonio.
Mr. and Mrs. Erwin are the parents of seven children, whose names and dates of birth are as follows: Ira H., born January 10, 1879; Myra M., February 3, 1882; Nola I., October 8, 1883; Hosa I., October 30, 1886; Elmar J., April 11, 1894; Nellie S., December 23, 1896; and Nual C., September 13, 1898.
Mrs. Erwin is a member of the Methodist church, but Mr. Erwin still holds to the faith in which he was reared, that of the Baptist church. He has served as school trustee four years and has filled some minor offices.
Source: B. B. Paddock, History and Biographical Record of North and West Texas (Chicago: Lewis Publishing Co., 1906), Vol. II, pp. 116-118.