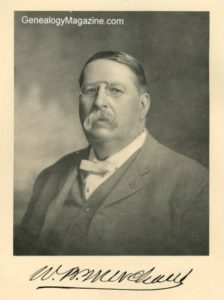 JUDGE WASHINGTON B. MERCHANT, whose active business career is another illustration of the force of enterprise, keen discrimination and energy in the active affairs of the business world, is now closely associated with professional and financial circles in El Paso, where he is engaged in the practice of law and in the banking business. A native of Mississippi, he was born in Smith county July 9, 1845, and is a son of the Rev. James and Lucretia (Baugh) Merchant. His father was a Baptist minister, and both he and his wife were natives of Mississippi, in which state they were reared. They came to Texas when their son Washington was a youth of thirteen years, locating in Polk county and remained residents of Texas until called to their final rest.
Judge Merchant of this review pursued his early education in the schools of Polk county, and afterward attended Mackenzie College in Red River county, which was a noted school in ante-bellum days. He was there pursuing his studies at the time of the inauguration of the Civil war in 1861, and when he left school he enlisted in Company F of the First Texas Infantry. The regiment was assigned to Virginia and he participated in the battles of Seven Pines, Chickamauga and other important engagements. In 1862 he was transferred from his regiment by the secretary of war and assigned to the quartermaster's department in the Trans- Mississippi department under Captain John Clemmons, who was in charge of the territory comprised of Liberty, Polk, Hardin and other adjacent counties in Texas and reported to General Magruder at Houston. Judge Merchant continued in that capacity until the close of hostilities.
When the war was over he located at Brashear City, now Morgan City, Louisiana, where he embarked in merchandizing, in which he continued until 1870. In the meantime he took up the study of law and in the latter year was admitted to the bar and entered upon practice in Brashear City. Subsequently he removed to New Iberia, Louisiana, and while a resident of the southern part of the state was elected district judge. He was thoroughly versed in the Louisiana law, which is based on the civil code (Napoleonic). In 1881 he removed to New Orleans and became postmaster of that city under appointment of President Arthur, also serving during President Cleveland's first administration. It was while acting in that capacity that Judge Merchant held the first examination and made the first appointee, Miss Annie Gulick, under the new civil service law, she being the first in the United States to receive appointment under that law.
In 1888 Judge Merchant removed to El Paso, where he has since made his home, and entering upon the practice of law was soon accorded a large and distinctively representative clientage, representing important local and eastern interests. At a recent date, however, he has gradually dropped out of practice in order to devote his time and energies to other business affairs in El Paso, being quite extensively engaged in affairs in El Paso, being quite extensively engaged in the investment banking business. He also has valuable realty holdings and is one of the capitalists of the city. His place if residence was for some years Merchant place, comprising a quarter of a block extending from Texas and North Campbell streets near the business center of El Paso. Merchant place was opened in 1900 and his home there was a beautiful residence.
Judge Merchant's wife, Alice G. (Blackadder) Merchant, is a physician and they have two children, Geraldine and W. B. Merchant. In prominent society circles they occupy a leading position, especially in the homes where the atmosphere is one of superior education. Judge Merchant won distinction in a calling wherein advancement depends entirely upon individual merit and keen intellectuality and in later years through judicious investment has gained a place among the wealthy residents of his adopted city.
Source: B. B. Paddock, History and Biographical Record of North and West Texas (Chicago: Lewis Publishing Co., 1906), Vol. II, pp. 489-490.