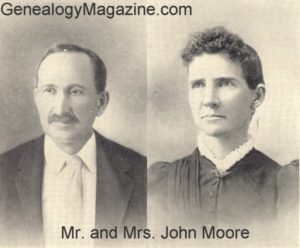 JOHN MOORE, working as a farm hand in his youth, thus laid the foundation of or the success which he is now enjoying. A life of industry has been crowned with a satisfactory financial reward and he is now accounted one of the leading farmers and stock-raisers of Wichita county, where he has made his home since 1889. His birth occurred in Madison county, Illinois, in July, 1850, his parents being Major Franklin and Talitha (Elliott) Moore. His paternal grandfather, Abel Moore, was one of the pioneer settlers of Illinois, locating in Madison county in the early days of its development. He and his family made arrangements to join an expedition that was organized in Kentucky for the purpose of founding a town in Missouri. The project was fostered by Daniel Boone and the new town was to be called Boonville. Abel Moore and his family, on their way to join this colony, stopped in Illinois at a point opposite the mouth of the Missouri river, which had been agreed upon as a meeting place with others who were to join them, but after waiting for several months and vainly looking for his friends, Mr. Moore decided that he would locate in Madison county. Illinois was then a territory and much of its land was still in possession of the government. Mr. Moore secured a claim and developed a farm which is still in possession of his descendants. He took an active and helpful part in the work of early improvement and progress there, and his name is indelibly inscribed on the pages of the pioneer history of Madison county.
It was upon the old homestead there that Major Franklin Moore was born and reared, aiding in the arduous task of developing new land and transforming the wild prairie into richly productive fields. He built a house of bark which became a notable historic place in Madison county and for many years he carried on agricultural pursuits. At the outbreak of the Civil War he organized a cavalry company at Upper Alton, became its captain and was afterward promoted to the rank of major. He was engaged in active service throughout the war and after its close he was one of those chosen to re-establish the Forts in Texas along the Rio Grande river, and therefore was not mustered out of the service until the close of the year 1865. He made his home in Upper Alton until July 121, 1905, when the was called to his final rest. His wife, who was born in Knoxville, Tennessee, died in 1872.
John Moore spent the days of his boyhood and youth under the parental roof, was educated in the public schools and was trained to habits of industry and economy upon the home farm. He started out in life on his own account at the age of twenty-two years by securing a tract of land in Madison county, Illinois, upon which he engaged in farming for two years. On the expiration of that period he took a trip to California and Oregon, remaining on the coast for two years, and in February, 1876, he came to Texas, purchasing land in Kaufman county, about five miles southeast of Forney. There Mr. Moore remained until 1889, when he removed to Wichita county, where he has since made his home, devoting this time and energies to the raising of grain and stock, in which he has been very successful. His place comprises six hundred and forty acres and is pleasantly located about seven miles north of Wichita Falls. The land is well adapted to the purposes for which it is sued and he secures good crops and annually sends to the market many head of cattle, so that his sales return to him a very desirable income.
Mr. Moore was married in Kaufman county, Texas, in July, 1877, to Miss Sarah J. Daugherty, a representative of one of the old families there. They have seven children: Mrs. Nellie Sides, James F., Amy, Oda Abel, Sidney, Sybil and Hazel; the mother died March 30, 1902. The family is well known in Wichita county and the members of the household have many friends in this part of the state. Mr. Moore belongs to the Odd Fellows lodge at Wichita Falls, was one of its organizers and has filled some of its chairs. His life has been one of untiring activity and his perseverance, diligence and capable management, form the secret of the success which has crowned his labors.
Source: B. B. Paddock, History and Biographical Record of North and West Texas (Chicago: Lewis Publishing Co., 1906), Vol. II, pp. 391-392.