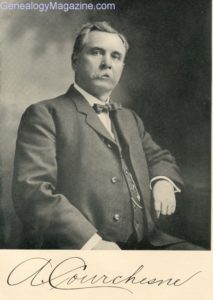 ALFRED COURCHESNE, prominent among the energetic, far seeing and successful business men of El Paso and western Texas, is the subject of this sketch. His life illustrates most happily what may be attained by faithful and continued effort in carrying out an honest purpose. Integrity, activity and energy have been the crowning points of his success and his connection with various business enterprises and industries have been of decided advantage to this section of the state, promoting its material welfare in no uncertain manner. He is today the owner of the El Paso Limestone Quarry and the president of the El Paso Ice & Refrigerator Company.
A native of Canada, Mr. Courchesne was born in the province of Quebec, on Lake St. Pater, which is an enlargement of the St. Lawrence river, and is of French parentage and ancestry. He acquired a good common school education, removing with his parents when eleven years of age to Lowell, Massachusetts, and benefiting by the excellent educational privileges afforded by that state. When about seventeen years of age he entered upon his business career as a salesman in a dry goods store and later made his way westward to Chicago, Illinois, where he continued his connection with mercantile interests, being salesman in a clothing store of that city for six years. He lived altogether for eight years in Chicago and thence made his way to Colorado, while in December, 1887, he came to El Paso, where he has resided to the present time. Here he entered into a contract with the El Paso Smelter Company to establish a limestone quarry and furnish to the smelter all the necessary lime rock for fluxing purposes. He has since retained this business relation with the smelter company, whose immense plant, employing over fifteen hundred people, it situated near Mr. Courchesne's quarries. In addition to the extensive output which he furnishes the smelter he also supplies lime rock for other purposes and is an extensive manufacturer and shipper of commercial line for building purposes. His quarries are four miles northwest of the business center of El Paso on the Santa Fe Railroad and located in the picturesque district of the Rio Grande valley. Here also is his residence, together with numerous other buildings including a commissary, dwellings for the help, a blacksmith shop and a fine dairy farm. This district is known as the Courchesne station of the Santa Fe railroad. In the operation of the quarries the latest improved equipments are utilized, the drill machinery being operated by compressed air, while the machinery for the rock crusher, etc., is all of the most modern make and best material. A pleasing feature of the district is the handsome and substantial character of the buildings, constituting an attractive hamlet. There are about one hundred men employed throughout the year and an average of ten thousand tons of lime rock for the smelter alone is taken out each month, beside a large output of lime. He now has the finest lime works in the west and the business has gained him prominence in industrial and commercial circles and brought to him a splendid financial return.
Mr. Courchese is a man of splendid business ability, keen discernment and resourceful qualities and has not confined his attention alone to one line. He is president of the El Paso Ice & Refrigerator Company, owning the oldest and largest ice manufacturing plant in this section of the country. He has likewise extensive interests in real estate in El Paso, making judicious investments in property which are continually advancing in value. He owns considerable business property in the city and is a large stockholder and officer in several of the suburban addition companies, while of the Altura Realty Company he is president. He has ever had firm faith in the future of this city. Eighteen years ago he predicted that El Paso would some day be a great city and has never wavered in that conviction and he now prophesies that El Paso will be the first city of Texas to reach the one hundred thousand population mark. So extensive and important have his business interests become that he has been largely forced to give up his large social and outside interests in this city, yet he is an unusually public spirited citizen and has aided materially in benefiting El Paso along lines of substantial progress and improvement. In 1904 he was mainly instrumental in raising the fund of over thirty thousand dollars for the new Young Men's Christian Association building in this city. He was at one time a director of the Chamber of Commerce and he has taken all the degrees of Masonry in El Paso, attaining the thirty-second degree of the Scottish rite, the Knight Templar degree in the York rite and is also an Elk.
Mr. Courchesne was married in El Paso to Miss Severiana Rodriguez, a member of a family of the republic of Mexico. They have six children: Thomas A., Olivine, Charles A., Henrietta, Josephine and John.
Mr. Courchesne is not a politician in the commonly accepted sense of the term but is interested in questions affecting the welfare of state and nation and has been neglectful of not duty to which he has been called by his fellow citizens. For six years he has served his county faithfully and ably as county commissioner form the city district and he is consul regent for the French government at El Paso. A contemporary publication has said of him, "Mr. Courchesne while accumulating an estate for himself at once took an active interest in the welfare of this community and being a young man of forceful character and sound judgment in all public affairs, the community was not slow to recognize his worth as a useful, progressive citizen and a safe counsellor. He is a moving spirit in all public enterprises having for their purpose the advancement of El Paso's interests commercially, industrially, educationally and socially." When we consider his financial condition when he came to El Paso his record seems almost marvelous, for he has accomplished much, building a fortune which has made him one of the substantial citizens of western Texas and at the same time making a most creditable record for honorable dealing. His reputation as a business man commands all the respect while it excites the admiration of all, and moreover he is regarded as a man of broad general information and of liberal progressive views. In those finer traits of character which combine to form that which we term friendship he is also liberally endowed.
Source: B. B. Paddock, History and Biographical Record of North and West Texas (Chicago: Lewis Publishing Co., 1906), Vol. I, pp. 626-627.