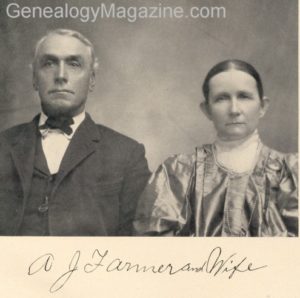 ANDREW JACKSON FARMER. Since November, 1883, the worthy subject of this biographical review has been identified with the domestic development of Clay county and very materially have his efforts added to the county's material, social and political prestige. Among the men of his district who have a reputation for doing things his name is always found, and it is their character, their industry and their business capacity which gives to the county fame and maintains its good name.
Knox county, Tennessee, gave A. J. Farmer birth November 11, 1849, and Henry and Cynthia (Jackson) Farmer were his parents. In 1850 they migrated to Polk county, Missouri, and resided in that and Cedar counties until 1859, when they came to Texas and settled in Denton county. Here they became farmers and stock-raisers, first twelve miles north of Denton and afterward in the southeast corner of the county, where they remained till the year 1900, when they located in Greer county, Oklahoma. In 1901 the father returned to Texas and in June of that year he died at the home of his son near Vashti.
Henry Farmer was born in Knox county, Tennessee, and was a son of Luke Farmer, a pioneer farmer there and of Scotch-Irish ancestry. The latter married a Miss Williams and was the father of Lizzie, Cyrus; Martin, who died in Benton county, Missouri, in 1898, where he had practiced medicine since 1848; Luke, who came to Texas in 1888 and died in Illinois Bend, Montague county, in 1897, and Henry, the father of our subject. The last named was a successful man and useful and worthy citizen and was an active spirit of the Methodist church. He married a daughter of Claybourn Jackson, whose wife was Mrs. Childs, and on Clinch river in Knox county they reared their several children, some of whom were: Lindsay, of Bates county, Missouri; John of Cedar county; Samuel, who died during the war; and Rebecca, who died in Bates county, Missouri, as Mrs. Ashlock. The issue of Henry and Cynthia Farmer were: Mary, wife of George W. Wright, of San Angelo, Texas; Andrew J., our subject; John W., of Washita county, Oklahoma; Henry, of Quanah, Texas; Richard A., of Greer county, Oklahoma; Martha, who married a Mr. Woodrum, of Corub, Oklahoma; and G. Daniel, whose location is unknown. Mrs. Cynthia Farmer is still survives and resides in Mangum, Oklahoma, at seventy-five years of age.
Andrew J. Farmer grew up during the war and obtained only a county school education. He was a farmer boy and while in Denton county spent four years in the employ of John Chisom [Chisum], the cow-king of that day. While living near Louisville his best time in school was served and he remained with the parental home till twenty-four years of age. He finally purchased land near by and when he married it can be said of him that life in earnest really began. He remained in Denton county until 1880, when he located near Alvord, bought a small farm and engaged in garden-farming. On selling his property there he came to his present location less than a mile east of Vashti, where he purchased and owns four hundred and seventy-six acres of Freestone county school land. Upon this farm the chief efforts of his life have been made. Its improvement, its cultivation and its general home development, its cultivation and its general home development have given rise to the anxious moments of his life and it has been a long and a strong pull from the bare, virgin soil to a well-improved, highly-cultivated, convenient and attractive homestead. Grain and stock raising have occupied him chiefly and he is a feeder and fattener of his own stock. His place is orderly and his surroundings are those of a thrifty and industrious husbandman.
In August, 1876, Mr. Farmer married Mary I. Gerren, a daughter of John and Mary (Allen) Gerren, who settled in Wise county, Texas, from east Tennessee. They died in Wise county, the parents of five children, whose living being: Thomas E., of Denton; J. W., of Wise county, and Mrs. Farmer. Mr. and Mrs. Farmer's children are: John H., of Clay county, who married Fannie Bush and has issue, Lucy, Frank and Homer; Arthur, whose wife was Miss A. M. Smith, has child, Fannie Belle; Lutie, Alvin and Cleophas.
Mr. Farmer was schooled in Democracy in youth and has followed its teachings in later life. When Democracy seemed in need of reformation during the panicky years of the nineties he allied himself with the reform forces in an effort to purify politics and to restore public affairs to a more normal condition, but when the usefulness of the new party seemed at an end he resumed his station in the old party and has held up its banner as a loyal and patriotic son. In 1887 he was appointed a county commissioner to fill the unexpired term of J. M. Robinson, and in the fall of 1888 was elected to succeed himself. He was re-elected in November, 1890, and retired after five years of service to his county, the best and sincerest he could bestow. The chief business before the board of which he was a member was the building of the county jail and the erection of iron bridges over the Wichita rivers. The Charlie bridge was the leading structure and the one spanning the Little Wichita north of Henrietta occupied second place. In his spiritual training he is a firm believer in the teachings of the Master and he and his own allegiance to the Presbyterian faith. In fraternal matters he is a Mason and in that which constitutes the real essence of a citizen he is a genuine man.
Source: B. B. Paddock, History and Biographical Record of North and West Texas (Chicago: Lewis Publishing Co., 1906), Vol. II, pp. 622-623.