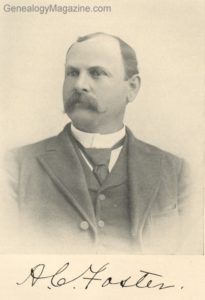 The progenitor of the Foster family in this country came from England and settled in eastern Virginia early in the eighteenth century. His first name, as also that of his wife, is unknown, but it is known that he was a highly respected farmer and he had extensive possessions. Arthur Foster, his son, was born in the region of country now constituting Southampton county, Virginia, about 1732; married Martha Collier, the daughter of a wealthy colonist, who came from England and settled in Virginia, and he and four of his sons fought for independence in the war of the Revolution. At the age of eighty-two years, while still active and vigorous, he met with an accident that caused his death. His widow survived him eight years and was the same age as her husband when she died. In their family were thirteen children, ten sons and three daughters. Their first child, John Foster, born January 18, 1761, distinguished himself in the Revolution by his cool and intrepid bravery and his fidelity to every trust reposed in him. At the close of the war he migrated to Columbia county, Georgia, where he taught school. He married one of his pupils, Elizabeth Savidge, eldest daughter of Rev. Lovelace Savidge, the date of her birth being April 12, 1769. Their marriage occurred September 8, 1785. In Columbia county, where Colonel John Foster lived for many years, he was held in high esteem as a public spirited and influential citizen. He and his wife were the parents of twelve children, of whom James, the eldest, was born July 21, 1786, married Mary Ellen Hill, and died January 9, 1843, in Foster's settlement, Tuskaloosa [Tuscaloosa] county, Alabama. James Foster was a man of thoughtful and industrious habits, of benevolent and amiable disposition, of unbending integrity, and of remarkable self control. He lived with his parents in Columbia county until his marriage, when he settled on a place near by, and remained there until the fall of 1818. Then he moved to Tuscaloosa county, Alabama, and pitched his tent in a big cane brake on the east bank of the Black Warrior river, within a few miles of the southern boundary of the county. His wife, whose maiden name was Mary Ellen Hill, was born in Abbeville county, South Carolina, February 6,1791, and her marriage occurred at the same place, May 19, 1807. Their children were thirteen in number, six sons and seven daughters, of whom Arthur, the eighth, born August 31, 1823, was the father of Arthur Crawford Foster. Arthur Foster married Elizabeth Amelia Foster, his cousin and daughter of John L. S. Foster, and to them were given eleven children, six sons and five daughters, of whom Arthur Crawford Foster was the fourth.
Arthur Crawford Foster, the direct subject of this sketch, was born in Tuscaloosa county, Alabama, January 31, 1853. When he was about two months old his parents came to Texas and settled in Bexar county, near San Antonio, where they lived until he reached his fifth year, removing thence to Oktibbeha county, Mississippi, where he was reared to manhood in Starkville, the county seat. He received his early education in the schools of that place, and in 1871—72 lived in Clayton, Barbour county, Alabama, where he studied law in the office of his uncle, John A. Foster, who was chancellor of the district, and was admitted to the bar in that county in 1873. Afterward he practiced law in Starkville, Mississippi, and at Rutherford, Tennessee, for a period of nearly two years. He came to Texas in 1874, stopped in Van Zandt county, and taught school in Van Zandt, Kaufman, Lee and Burleson counties until 1882, when he returned to Starkville, Mississippi. Two years later he came back to Texas, arriving here in March, 1884, and locating in Throckmorton county, from whence he removed, in November of the same year, over into Haskell county, which has since been his home and where he has been successfully engaged in the practice of law and doing also a large real-estate business.
Up to the time he came to Haskell Mr. Foster had been able to accumulate little if any of this world's goods, but as the result of his labors here he is today ranked as one of the wealthiest men in the county. He owns six thousand acres of land, all in Haskell county, and nearly all farming land, two thousand acres being now under cultivation. When the Haskell National Bank was organized in 1890, Mr. Foster was made its vice-president, a position he filled for ten years, up to 1900, when he sold his bank stock and severed his connection with the bank. Mr. Foster has never been in politics and about the only office in municipal affairs he has field has been that of school trustee. At this writing he is president of the Board of School Trustees. In his legal practice here he has confined himself almost exclusively to land litigation. The county records will show that he has been more interested in this line of business than any other man in the county.
In Masonic circles Mr. Foster has high rank. He was made a Mason in 1876 in Kaufman county, Texas, received the Royal Arch degree in 1889 at Albany, Texas, and was initiated into the mysteries of the Scottish Rite from the fourth to the thirty-second degrees inclusive, at Waco, Texas, in April, 1891. He is at present Worshipful Master of Haskell Lodge, No. 682, High Priest of Haskell Chapter, No. 181, and Grand Visitor of the sixteenth district of Texas, the counties composing this district being the same as the sixteenth congressional district. He has been more active, perhaps, in promoting Masonic interests here than any other man in the county.
In church matters also has Mr. Foster been prominent and influential, aiding in the support of all the Christian churches of Haskell. In the fall of 1885 he assisted in the organization of the First Baptist church of Haskell, serving as its first clerk, and continuing through the past twenty years as an active worker and leading supporter of the church. He also assisted in the organization of the first Sunday school in the town and was its first superintendent.
In Belknap, Young county, Texas, in 1886, Mr. Foster married Miss Dora B. Lee. In his family are four children: Una L., Arthur C., Mildred A. and Adina. The eldest daughter is a graduate of Shorter College at Rhome, Georgia, and is now in Boston, Massachusetts, attending the Massachusetts Normal Art School. There were also three other children who died in infancy.
Source: B. B. Paddock, History and Biographical Record of North and West Texas (Chicago: Lewis Publishing Co., 1906), Vol. I, pp. 564-566.