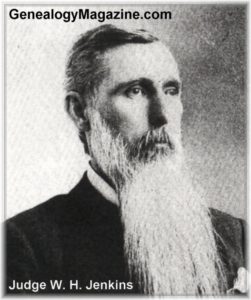 BENJAMIN F. JENKINS, city assessor and collector of El Paso, was born in the historic town of Mansfield, Louisiana, March 19, 1857. His parents, Benjamin Francis and Mary Frances (Hewitt) Jenkins, were natives of Virginia and became early residents of Louisiana, settling in the vicinity of Mansfield, where the father was known for many years as a prominent and wealthy planter and merchant. The old Jenkins plantation is still in possession of the family and the father died in April, 1905, in Mansfield. Mr. Jenkins of this review has two brothers, Charles Edward and John, who are prominent in business circles in Louisiana, the former being a merchant and banker of Mansfield, while the latter is a merchant at Shreveport.
Benjamin F. Jenkins was reared and educated at Mansfield and in 1886 came from that town to El Paso, where he has since made his home. Here he is engaged in the real estate business in connection with W. E. Kneeland, who died in 1892. After several years' connection with real estate operations here Mr. Jenkins entered the El Paso National Bank, holding a position therewith for several years and subsequently was connected with the United States customs service in this city under Captain Charles Davis, who was a collector of the port for five years. In April, 1901, he was elected city assessor and collector, was re-elected in 1903 and again in April, 1905, so that he is now serving for the third term. He is a most competent and efficient officer as is indicated by the suffrage of the people who have three times called him to his present position. His administration of the affairs of the office is business-like and in the discharge of the office is business-like and in the discharge of his duties he gives the same spirit of promptness and devotion which have characterized him in the management of his private business interests. At the present time Mr. Jenkins is a prominent candidate for the office of sheriff of El Paso county.
In El Paso in 1892 Mr. Jenkins was united in marriage to Miss Kie Kneeland, a daughter of W. E. Kneeland, who was a pioneer businessman of El Paso, having come here prior to the advent of the railroads. Previous to this time he had been a resident of Fort Worth and built one of the first frame houses in that city. He was associated with many of the well known, old-time residents of that place and he had a wide and favorable acquaintance throughout Western Texas, where his efforts proved a material and tangible factor in the progress and upbuilding of this position of the state. His wife, who bore the maiden name of Eva Ochiltree, is now living with one of her daughters in Mexico. She is a daughter of Judge W. B. Ochiltree, deceased, and is a sister of the noted Tom Ochiltree, who has also passed away. This celebrated family was prominent in the history of Nacogdoches at an early day and her brother, Tom Ochiltree, achieved fame not only in Texas but in connection with national affairs and his history is a familiar one to the residents of this city. Mr. and Mrs. Jenkins have an interesting family of four children, Walter Edward, Mary Frances, Benjamin Francis and Kneeland. He belongs to the Knights of Pythias fraternity, to the Woodmen of the World and to the Elks lodge, and is a popular and valuable representative of these different organizations.
Source: B. B. Paddock, History and Biographical Record of North and West Texas (Chicago: Lewis Publishing Co., 1906), Vol. I, pp. 481-482.