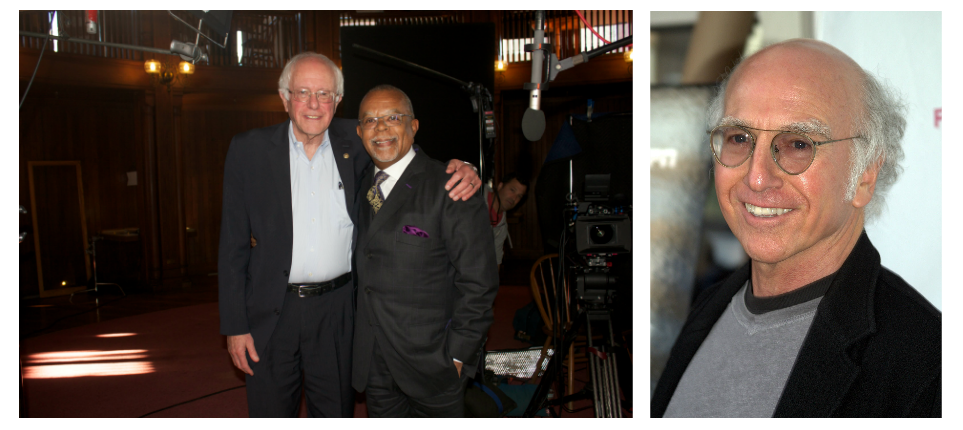 Sen. Bernie Sanders poses with Dr. Henry Louis Gates at the filming of Finding Your Roots. A DNA test revealed that he is a cousin to producer Larry David, who is featured in the same episode. (Photos: Bernie Sanders and Dr. Henry Louis Gates, courtesy of Ark Media; Larry David, Wikimedia Commons/David Shankbone)
Bernie Sanders and Larry David Discover Kinship on Season Premiere of Finding Your Roots
Sen. Bernie Sanders and Seinfeld co-creator Larry David are featured on the fourth season opening of Finding Your Roots with Henry Louis Gates Jr., airing Tuesday, October 2 at 8 p.m. (ET) on PBS. It's an interesting pairing considering that David played Sanders on Saturday Night Live during the presidential campaign season. "He does a better Bernie Sanders than I do," quips the senator. This summer, Variety reported that during the taping of this episode that Dr. Henry Louis Gates Jr. presented Sanders and David with the results of their DNA testing, which showed the two are related.
By James Pylant
© 2017 | Posted 29 September 2017
In the season kickoff for Finding Your Roots, Gates draws parallels for U.S. Senator Bernie Sanders and Larry David, the Golden Globe-nominated star of HBO's Curb Your Enthusiasm. Both Sanders and David were born into Jewish families in Brooklyn. Both are the first-born generation Americans of Polish immigrant families. No family lore was passed in either family.
Bernie Sanders was 20 when his father died, taking his family stories with him. In 2013, Sanders traveled to the Polish birthplace his father, Elias Sanders, left as a teenager.
"I asked, I never got any answers," says David who describes his mother as guarded and secretive about her roots while his father was evasive about his own family background. "It's always puzzled me how little I knew." The show's genealogists were challenged when tracing David's roots—knowing that they were somewhere in the vast Austro-Hungarian Empire—until a document surfaced that pointed to Tarnopol, Poland.
Gates's research team chart family trees for both Sanders and David that extend into the mid-1700s. Where the paper trail ends, DNA continues and reveals matching segments between the two—a delightful surprise for both Sanders and his Saturday Night Live portrayer. But there's one more unexpected discovery before the episode ends when Larry David learns his roots in the U.S. are not planted only in New York but in Alabama as well. One of his ancestors was a Confederate soldier and slave owner in The Yellowhammer State. "The complexity of history comes alive when you do someone's family tree," says Gates with this revelation.