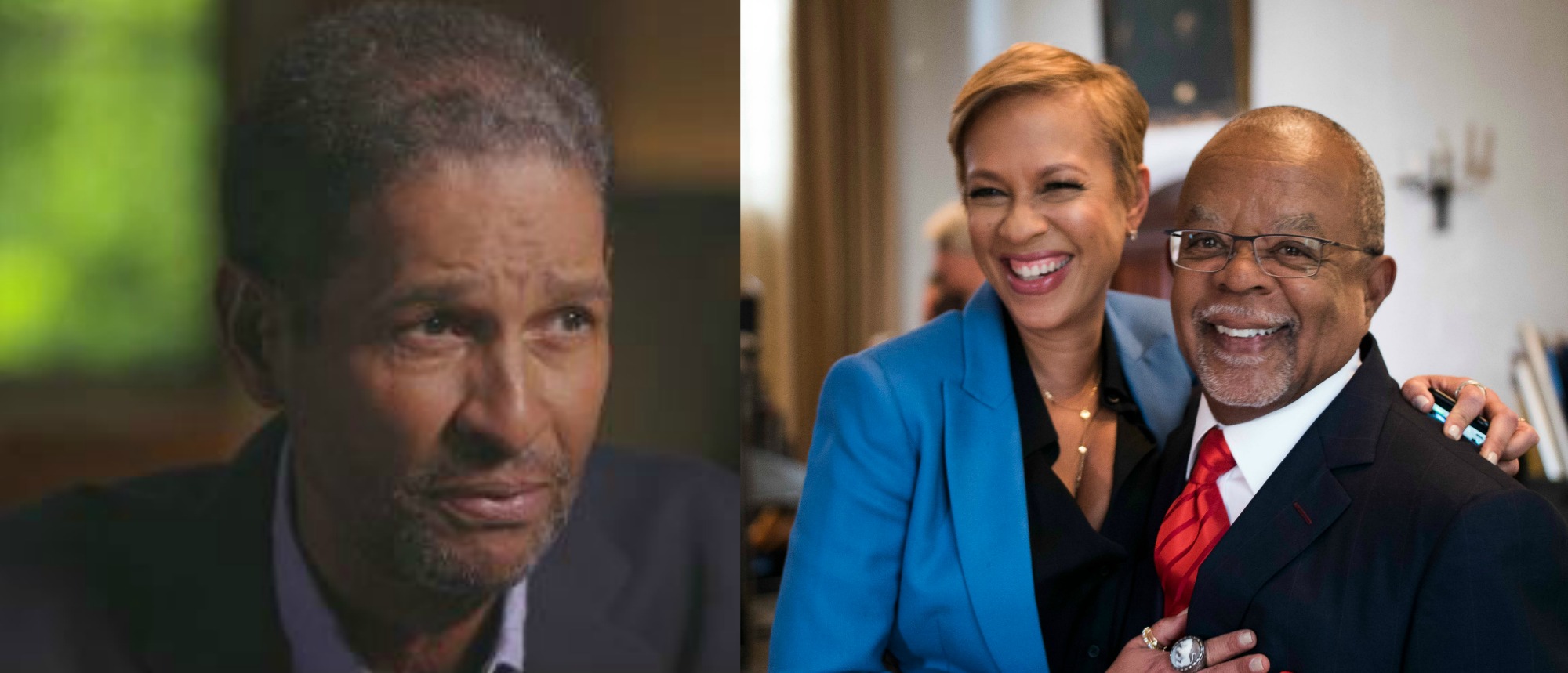 "Absolutely wild," says Bryant Gumbel (left) about the genealogical discoveries made by researchers on Finding Your Roots, airing Nov. 7. Tonya Lewis Lee, shown with host Dr. Henry Louis Gates Jr., is also a guest on the same episode. (Courtesy of Ark Media)
By James Pylant
Posted 6 November 2017
"Black Like Me," the fourth episode in the fourth season of the PBS series Finding Your Roots with Henry Louis Gates Jr. tackles the complex family trees of award-winning broadcasters Bryant Gumbel and  Suzanne Malveaux and television producer Tonya Lewis Lee. All three came from tight-knit families; each felt connected to their heritage, yet none knew much about their ancestry.
Bryant Gumbel is surprised to learn about the ethnic origins of his great-grandfather, Cornelius Gumbel, a secretive man for whom the news anchor was almost named. Genealogists traced his direct paternal lineage to 1776. "It's wild, absolutely wild," Gumbel marvels. On his mother's side of the family, Gumbel also discovers that a great-great-grandfather, Martin Lamotte of New Orleans, had been freed from slavery in 1840 and became a bricklayer and carpenter. Much to Gumbel's shock, his ancestor joined the Confederate States Army. In 1863, however, Lamotte served as a corporal in the Union Army. As Dr. Henry Louis Gates Jr. explains, Lamotte was "one of hundreds of Black Confederates who switched sides as soon as they had the chance."
In this episode, Gates demonstrates how a guest is the rare exception of having DNA testing and the paper trail overlapping. "We can prove it both ways," Gates explains. While many tracing their roots fail to find proof of a legendary Native American ancestor, another of Gates's guests is surprised to learn that an eight-times great-grandmother was Algonquin, when no such tradition has passed through the generations.
"The African American experience is not monophyletic," says Gates. "There are as many ways to be black as there are black people."
Finding Your Roots airs Tues., November 7 at 8 p.m. (ET) on PBS.