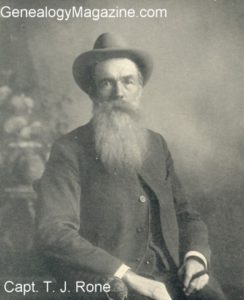 Among the early settlers of Montague and Cooke counties—men who came here in an early day and have reclaimed the wild region for the purposes of civilization—Mr. Rone is numbered and he is now successfully engaged in grain dealing in Saint Jo. His birth occurred in Ray county, Missouri, November 24, 1838, his parents being Mathew L. and Emaline (Fowler) Rone, both of Tennessee. The paternal grandfather was a native of Ireland and on emigrating to America settled in North Carolina, where all of his children were born. While there he enlisted for service in the Black Hawk war and subsequently he removed to Tennessee, where he spent his remaining days. The members of the family were: Matthew; Mobly H., who came to the Republic of Texas and was a pioneer near Palestine; John, who went to Mississippi; and three sisters whose names are not recorded.
Mathew Rhone was born in North Carolina and with his parents removed to Tennessee, remaining in their home up to the time of his marriage. Soon afterward, in 1825, he removed to Ray county, Missouri, and was an early resident of that locality. There he improved a good farm and in connection with its cultivation he followed his trade of a stone and brick mason. He was also a millwright and possessed much natural mechanical ingenuity. He proved an excellent man in a new country because of his varied capabilities and he assisted materially in its early development and upbuilding, contributing in substantial measure to the welfare of the section of Missouri in which he lived. He remained successfully in business in Ray county for many years and there his wife died in 1867, subsequent to which time he sold out and removed to Arkansas, where he bought a farm. Taking up his abode where he remained upon that place until his death, which occurred when he had reached the age of seventy-five years. He was too old for active service in the Civil war, but his sympathy was entirely with the Confederacy. His attention throughout life was given to his farming, milling and mechanical pursuits, and he was known as a man always true to his honest convictions, gaining and retaining the respect of his fellow citizens in each community in which he lived. He held membership in the Christian church. His wife, who died in Ray county, Missouri, in 1855, was a daughter of Samuel Fowler of North Carolina, who removed to Tennessee and later became a prominent pioneer resident there and a worthy member of the Christian church. He served in the Black Hawk war and assisted in subduing the red men and penetrating the new countries which he claimed for the uses of civilization. He thus aided in making it possible for others to establish homes on the frontier. His children were: Mira, now the wife of H. Graham; Mrs. Emaline Rone; Martha, the wife of J. Milligan; Rusetta, the wife of H. Sons; Thomas B. and LeRoy, who died in Missouri; and Jesse G., of Council Bluffs, Iowa. Mr. and Mrs. Mathew L. Rone had seven children: Samuel, who died at the age of seventeen years; Nathaniel H., of Oakland, Oregon; T. J.; William H. H. and George M., who are residents of Ray county, Missouri; Mathew A., who died in Texas; and Media A., the wife of Thomas Belt.
Captain T. J. Rone, born and reared in Ray county, acquired a common school education and became familiar with farm pursuits in his early youth. He remained under the parental roof until 1857, when in his nineteenth year he came to Texas, first locating at Bonham, Fannin county, where he spent three years. He then removed to Cooke county, settling in the Red River valley, where he followed the blacksmith's trade until the spring of 1861. Then offering his services to the Confederacy, he became a member of Company A, Eleventh Texas Cavalry, serving as its sergeant until he was promoted to first lieutenant and then captain. He was sent to Fort Arbuckle in the Indian Territory, the regiment being divided and stationed at different places. Captain Rone remained at Fort Arbuckle until August, 1862, when he returned to Grayson county, Texas, where the regiment united and reorganized; then moving forward under General McCulloch to Arkansas, where Captain Rone participated in the battle of Oak Hill or Pea Ridge, in which General Vandorn were in charge in that engagement, the latter acting as commander in chief. From there the regiment was sent to the Army of the Tennessee and participated in the battle of Corinth, Mississippi. When the regiment reorganized in Grayson county to go to Oak Hill, T. J. Rone was elected first lieutenant, in which rank he continued until after the battle of Corinth, when the regiment was again re-organized and he was elected captain, thus serving until the close of the war. He refused an offered position to the colonelcy. The regiment had been dismounted after the Elkhorn fight and moved to Corinth, then Knoxville, Tennessee, and under command of General Kirby Smith marched over the mountains to Richmond, Kentucky, and took part in the battle there, also in a number of skirmishes. After the battle at Richmond the regiment participated in the campaign through Kentucky and back to Knoxville, Tennessee, where Captain Rone attempted to resign, but his superiors felt that they could not afford to lose his valuable service and transferred him to Texas, where he took command of Company E in M. L. Martin's Texas Rangers, his headquarters being at Bonham. Following this, his first campaign was to the Choctaw and Chickasaw nations. There occurred a fight at Fort Smith and also at Perryville, after which Colonel Martin's regiment returned to Richmond, Texas, being there at the time of General Lee's surrender. Soon after the command disbanded and its members returned home. Captain Rone was always on active duty in the front ranks, but was never wounded nor captured. He saw hard service and underwent many deprivations such as are meted out to the soldier.
In May, 1865, Captain Rone returned to Cooke county, where he engaged in farming, and in April, 1866, securing a companion and helpmate for life's journey. He then bought land and began the improvement of a farm, which he afterward sold, while later improved a second farm in the Red River valley, near Illinois Bend, where he remained for eighteen years. At an early date he took part in the raids after the red men, who were continually stealing and running off stock. For safety, the neighborhood built a stockade, digging deep trenches and settling up posts ten feet high and close together, but the Indians found a favorable opportunity by securing some tools that had been left at a graveyard, digging out the posts and driving away the stock. All of the men of the locality followed them and there was a big fight, the white people succeeding in recapturing the stock. Although taking part in many raids, Captain Rone was never wounded, although on different occasions he captured some of the ponies and other plunder from the Indians. The settlers had their cabins picketed with high fences and there were port holes in the cabins in order that they might shoot the red men from these. After the Indians had left the country Captain Rone settled down to active farming and was very successful. He raised some stock as well as the various crops best adapted to soil and climate, and as the years went by success attended his labors. He had a shop and tools upon his place and did his own work and also considerable service in this direction for his neighbors. In the course of time he developed a good farm, well improved with substantial buildings, and he likewise set out an orchard. He was quite successful in his business undertakings and he remained upon the farm until 1889, when, in order to provide his children better educational privileges, he removed to Saint Jo, and for two years acted as cotton weigher there. He also bought and handled cotton seed, but subsequently turned his attention to buying and shipping grain, and in connection with this business he likewise runs a feed store. He has sold a portion of his land, but is yet the owner of a good farm. He has also invested in oil fields and the company is drilling in the vicinity of Saint Jo with good prospects.
In April, 1866, was celebrated the marriage of Captain Rone and Miss Mary E. Merrell, who was born in Kentucky and is descended from one of the pioneer families of Cooke and Montague counties. Her father, William Merrell of Kentucky, removed to Missouri and after three years, in 1857, came to Texas, first settling in Fannin county but later taking up his abode in Cooke county, in the Red River valley. He was among the first to locate in that portion of the state and he purchased large tracts of land and improved a good farm. He was prominently identified with the development of agricultural interests and was also the champion of many progressive measures that tended to promote the substantial welfare of this part of the state. He was highly respected because he was a man true to his word and his honest convictions. In his family were eleven children: Joe N.; John A.; Samuel B.; Thomas; William; George; Jesse C., Mrs. Lucy Browning; Susan, the wife of H. H. Hays; Mary E., now Mrs. Rone, and Belle, the wife of Felix Gillock.
Captain and Mrs. Rone had an interesting family of four children, but their first born, Elwood B., died at the age of eighteen years. Emma is the wife of E. R. Belcher, a mining stock operator at Colorado Springs. Dovey is the wife of J. T. Burgher, a real estate dealer at Fort Worth, and Myrtle died at the age of seven years. Mrs. Rone and the daughters are members of the Methodist church. Politically Captain Rone is a Democrat and has served as alderman of Saint Jo for more than ten years, exercising his official prerogatives in support of every measure which he deems will prove of substantial benefit of the city. He is likewise a member of the Masonic fraternity, and he too, is a member of the Methodist church, taking an active and helpful interest in its work and serving as its steward for twenty years. His life has been upright and honorable, his actions manly and sincere and he may well be termed one of the foremost citizens of Montague county. His efforts in behalf of public progress have been far-reaching and beneficial and everything that tends to advance the material, intellectual and moral progress of the community receives his endorsement and support.
Source: B. B. Paddock, History and Biographical Record of North and West Texas (Chicago: Lewis Publishing Co., 1906), Vol. I, pp. 458-461.