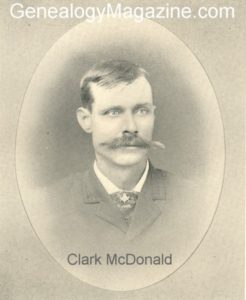 Pioneers of the McDonald date who are yet numbered among the citizenship of Montague county are rare and a scouring of the surface of the county would hardly reveal a representative of another family whose life spans so great an end of its history and development or one covering so much of the tragic in human affairs. Coming hither, as they did, when nature's course was yet undisturbed and the wild man was free to roam as in his plainest days, they had free access to the grassy plain as far as the eye could see; an ideal place for the fattening of herds and a most favored retreat for the pure and unrestrained enjoyment of pioneer life.
From 1857 when Jarrell McDonald brought his young family into Montague county, to 1873 when the hostile Comanche and Kiowa made his last bloody raid into the thinly settled region about Queen's Peak, marks a period of sixteen years in the history of this heroic family filled with financial success in the face of conditions which turn the trials of today into play-times, in comparison, and through which only the most determined head and the stoutest heart could pass.
With the multiplying of settlers and the conquest increase of stock came the more frequent incursions of the jealous red man whose ill will eventually spent itself in revenge upon the white man's herds and family. They stole his cattle, ran off his horses in bunches and droves and murdered and scalped fathers and brothers and carried away infant children and for a dozen years kept the McDonalds and later pioneers in a state of anxiety and often terror for their personal safety.
Indian depredations in Texas, as told by competent and reliable historians, reveals the sacrifice of life which occurred in Montague and other counties of the state, and the Greens, Kilgore and Winscott massacres, victim relatives of the McDonalds, are enumerated in their proper place.
To more securely protect his family Jarrell McDonald improvised a fort on Victoria Peak, where his son, our subject, now resides, and against the miniature stronghold, in July, 1870, three hundred murderous "braves" threw themselves, but it was successfully defended by our hardy and daring frontiersmen and no loss of life was sustained.
Through all these scenes Clark McDonald and his brothers passed while carrying on their work as cowboys in their father's behalf. In their vocations as cowmen this family achieved first rank as raisers, drovers and shippers. Their cattle were scattered over every hillside, valley and plain and by the thousand they were driven to the market at Abilene, Kansas, until the gold they brought to their owners became almost a burden as to its proper care.
About 1871 Jarrell McDonald tired of the cattle business and invested some of his vast accumulations in mercantile ventures. He opened a store in Montague, afterward has one in Whitesboro and finally engaged in business in San Antonio, but prosperity never followed him in his new enterprise and he saw much of the fruits of his early years depart from him. His life was brought sadly to an end in the month of April, 1889, in San Antonio, by a murderous Negro bent on robbery.
This prominent Montague county family, headed by Jarrell McDonald, came to Texas from Lawrence county, Missouri, in 1857. They crossed Red river at Colbert's Ferry and stopped the first two years on Denton creek on the east side of the county. Their lives about Queen's Peak dates from 1859 and there the events in their several careers have transpired. Jarrell McDonald was born in the state of Kentucky, was brought up in Polk county, Missouri, where his father, a native Scotch-Irishman, settled in the pioneer days of that state. He was one of a family of fourteen sons and two daughters, six other sons being: Cash, Clark, Isham, Joseph, Hiram and Pinkney; the daughters being Sallie wife of John Winscott, who died in Montague county, and Nancy, who married Daniel Winscott, killed by Indians.
Jarrell McDonald married Mary, a daughter of Baylor Davis, in Polk county, Missouri, who still survives him and is the mother of eleven children, the survivors of whom are: Cash, a prominent farmer of Montague county, born in Polk county, Missouri, February 7, 1849, married in Montague county, Texas, Maria L. Green, of Kentucky, who has borne him ten children; Judy, wife of T. L. Wade, of Grayson county, Texas; Jarrell D., of Queen's Peak, who was born in Lawrence county, Missouri, February 13, 1853, and married Ann Chestnut Green, his older brother's wife's sister, and has twelve surviving children; Clark, the subject of this sketch, and Mary, wife of J. Carr McNatt, a successful farmer and prominent citizen of Queen's Peak.
Clark McDonald was born in Mercer county, Missouri, March 27, 1855, consequently all but two years of his life have been passed in Texas. As his youth was passed on the frontier where no public schools existed until his near approach to manhood his educational privileges were next to nothing. He made a hand on his father's ranch as soon as he was old enough and for twenty years followed the stock business in a limited way a few years after the senior McDonald abandoned it and then settled down on his tract of three hundred and sixty acres, where he has become a stock-farmer. It was about 1880 when he obtained title to the old-time McDonald ranch and his modern residence on Victoria Peak marks the historic spot of the family's early years in the county.
January 16, 1877, Mr. McDonald married in Montague county, Sarah, a daughter of D. J. Collins, who came to Texas from Adams county, Illinois, after the Civil war. Mr. Collins married Sarah Sheward and their daughter, Sarah A., was born in 1857. October 12, 1890, Mrs. McDonald passed away, being the mother of Judy, who died in August, 1904, as Mrs. T. D. Bess, leaving Sarah A., Cecil, Jennie V. and Lora B.; B. H. McDonald, of Marlow, Indian Territory; W. C., of Montague county, is married to Ada Beasley and has a child, Mirrel Joy; Mary, wife of Henry Huth, of Montague county; Birdie B., Lewis L. and Maggie J.
In the matter of politics the McDonalds are Democrats but Clark is the only one who has been called to serve his county in public office. He was elected Commissioner for Precinct Two and served the years 1897-8 on the board. Little was done of an important nature during his incumbency and routine work largely occupied the time of the body during its sessions. Mr. McDonald is a Master Mason and a member of the Independent Order of Odd Fellows and Knights of Honor.
Source: B. B. Paddock, History and Biographical Record of North and West Texas (Chicago: Lewis Publishing Co., 1906), Vol. II, pp. 614-615.