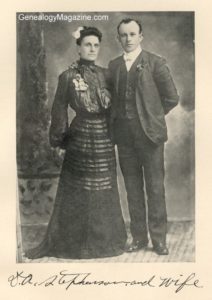 D. A. STEPHENSON, the owner of an excellent cattle ranch in Donley county, Texas, but a representative citizen and resident of Ringgold, Montague county, although yet a young man has gained a creditable position in business circles. He was born in middle Tennessee, July 8, 1875, and after acquiring a common school education gave his attention to agricultural pursuits. His parents were William and Mary (Pickle) Stephenson, both of whom were natives of Tennessee, in which state they were reared and married. The father has devoted his life to agricultural interests and is now living in Tennessee, where he has a wide and favorable acquaintance. He is a veteran of the Confederate army, having served throughout the Civil war. His political allegiance is given to the Republican party but he has never sought office, although he is interested in the welfare and up building of his community and is remiss in no duty of citizenship. In 1890 he was called upon to mourn the loss of his wife, who was a devoted and faithful member of the Methodist church and a lady whose excellent traits of character endeared her to all who knew her. In their family were eight children: Cassie, the wife of H. Hopper, who is living at the old homestead in Tennessee; Newton, also of Texas; and Eula, at home.
D. A. Stephenson was reared to farm life, remaining under the parental roof until 1892, when at the age of seventeen years he came to Texas, settling first at Temple, Bell county, where he was employed as a farm hand. He spent two seasons at cotton ginning and remained a resident of Bell and Milam counties for four years. In 1 896 he came to Ringgold, where he engaged in the transfer and livery business, which he yet owns. He is also owner of much property at Ringgold. The livery stable is well stocked and is a paying investment. He is likewise owner of the Commercial Hotel, which property he rents and he has business houses in that city and also a number of dwellings, the rental from which brings him a gratifying income. Recently, also, he has purchased a large ranch in Donley county, Texas, which he now has well stocked with cattle. It is a well improved place, all fenced and supplied with good buildings and the various improvements and accessories known to the model farm. He is conducting a successful ranching business and his place is conveniently situated near Rowe on the Fort Worth & Denver Railroad, about fifteen miles from Clarendon, the county seat of Donely [Donley] county. He has always been interested in the stock business and is enthusiastic about it, bringing to its premises practical experience and wise judgment, so that there is little doubt concerning the outcome of his ventures.
In May, 1904, Mr. Stephenson was married to Mrs. Nellie Kuteman, the widow of the late Robert B. Kuteman, who was born in Charleston, South Carolina, September 28, 1854, and was baptized into the Baptist church in 1857. He spent his youth in attending school and in enjoying the pleasures in which boys of that locality indulged. His father, Mr. Kuteman, was of German lineage and was a business man of Charleston. Robert Kuteman became recognized as a business man of prominence and unquestioned integrity in that city and was a most highly respected citizen. His children were: Ina, who became the wife of Dr. Howard, now deceased; Eona, living in Chattanooga, Tennessee; Richard, deceased; Harry M., a prominent attorney at law in Weatherford, Texas; and Robert B. Kuteman, who is the eldest son. The last named came to Texas when sixteen years of age, locating in the eastern part of the state. He found employment in a saw mill and later hauled and delivered lumber with ox teams. At first his financial resources were extremely limited but his sagacity, enterprise and determination enabled him to climb the ladder of success. Eventually he became a mill owner, widely recognized as an active, sagacious and prosperous business man, who as the years passed accumulated a large fortune. His judgment in business methods was scarcely, if ever, at fault and he carried forward to successful completion whatever he undertook. He was rather below the average size and he did not possess a strong possess a strong constitution but his mental capacity was of superior order and through his diligence and persistency of purpose he made for himself an honored name in business circles. He gave little attention to politics and never aspired to office. His death occurred in Fort Worth, March 16, 1904. He was married in 1892 in Wood county, Texas, to Miss Nellie Meyers, who as born in Mercer county, Missouri, May 16, 1876, and is a cultured and intelligent lady. Her parents were John and Mary (Alexander) Meyers, both of whom were natives of Missouri, where they were married and took up their abode, the father devoting his energies to agricultural pursuits. The mother was a daughter of a Mr. Alexander who was a prominent and influential farmer and business man of Missouri, well known and highly respected. He filled many officers of honor and trust. The Alexanders and Meyers families came together to Texas, settling on farms in Wood county and became actively interested in agricultural pursuits there. In that locality they reared their children to manhood and womanhood. The members of the Alexander household were: Mary, who married John Meyers; Richard; George; Emily; Ella; Thomas; and Alva. The parents of these children were devoted members of the Baptist church.
John Meyers was a native of Missouri, where he was reared and married, and he chose farming as a life occupation, devoting his attention to agricultural pursuits through many years. On coming to Texas he settled in Wood county on a farm, which remained his place of residence for a long period. He had one brother, William Wesley Meyers.
In the family of John Meyers were three children: Nellie, now Mrs. Stephenson; W. W., of Wood county; and Charles, who is connected with the transfer and livery business in Ringgold. Mr. and Mrs. Meyers were members of the Baptist church and in that faith Mrs. Meyers died in 1888.
By her first marriage Mrs. Stephenson had three children who will inherit a large estate from their father. These are: James E. Kuteman, born March 24, 1894; Robert B., born February 9, 1897; and Helen B., born September 24, 1899.
Mr. and Mrs. Stephenson are giving good educational privileges to her children, thus qualifying them for the practical and responsible duties of life. Mr. Stephenson takes little active interest in politics but was reared in the faith of the Republican party. He has had many business interests of varied kinds and in the control and management of these has shown marked discrimination and commendable purpose. He has based his dependence upon earnest and persistent effort guided by sound judgment and today he is a valued factor in business life of Ringgold as well as in agricultural circles in Donley county.
Source: B. B. Paddock, History and Biographical Record of North and West Texas (Chicago: Lewis Publishing Co., 1906), Vol. I, pp. 388-389.