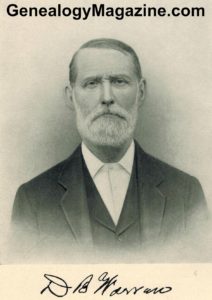 DAVID BARTON WARREN, M. D., who at the time of his death, June 10, 1905, was the oldest practicing physician of Palo Pinto county, and one whose skill in his profession as well as his years well entitle him to the unquestioned respect and confidence accorded him by the general public, was born in Boone county, Missouri, December to, 1825, his parents being James and Eleanor (Goodin) Warren. The father was born in Hopkins county, Kentucky, and went to Missouri with A. B. Chambers, who became the publisher of the old Missouri Republican of Saint Louis. James Warren located in Boone county and lived there for many years but subsequently he removed to Henry county in 1838 and there spent his remaining days, his death occurring in 1893, when he was ninety years of age. Throughout his entire life he had followed farming. He was a man of earnest Christian character, of great mental and physical strength as well, and retained his faculties unimpaired up to the time of his death. His wife, who was born in Christian county, Kentucky, died in Henry county in 1850. James Warren had an uncle, Major Martin Warren, who was a member of Washington's First Regiment in the Revolutionary war and in whose honor the city of Warrensburg, Missouri, was named.
Dr. Warren, whose name introduces this record, was reared on the home farm and when still a boy his parents removed to Saline county and later to Henry county. After receiving a good preliminary education he took up the study of medicine in Warrensburg, Johnson county, Missouri, under the direction of Dr. William Huff, a skillful physician, who had removed to Missouri from Lexington, Kentucky. He studied earnestly for three years with Dr. Huff as his preceptor, driving with him to the country as he made his round of visits, and thus obtaining a thorough and practical as well as theoretical knowledge of the science of medicine. After studying for three years he was licensed to practice and was admitted to a partnership by his former preceptor. With him he was thus associated for three years. On the expiration of that period Dr. Warren returned to his native county and located at Columbia, the seat of the State University of Missouri and the home of many distinguished men. where many opportunities were offered to a young physician. He practiced there until the spring of 1849, when he went to California, attracted by the discovery of gold on the Pacific slope and the opportunities which were offered in other lines of business life, owing to the rapid growth of population there. He went by way of the Santa Fe trail down into Mexico, where they crossed the mountains, reaching California at San Diego, and thence proceeding northward to Stockton, where he studied medicine. He became city physician there and had charge of the city hospital for four years, while his residence in California covered a period of five years. Returning to Missouri he located in Bates county, where he lived until the beginning of the war. He was a member of the convention at Saint Louis, Missouri, which refused to sanction secession, but sympathizing with the southern cause, he organized a company of state guards of which he became the captain and which was mustered into service of Company A., Colonel R. L. Y. Peyton's Brigade, Rain's Division of the Missouri State Troops. This division was soon taken into the regular Confederate army and Dr. Warren's company was among the first to assemble at Jefferson City at the outbreak of hostilities between the north and the south. Dr. Warren participated in nearly all of the fighting in southern and southwestern Missouri. He was captured in Johnson county and for six months was held as a prisoner of war in Saint Louis. After two years of service he resigned as captain of his company and during the last two years of the war he was surgeon in the medical department, being surgeon of John T. Coffey's regiment, returning from the army when it was disbanded at the close of the war at Shreveport, Louisiana.
Dr. Warren returned to Johnson county, Missouri, where he engaged in practice until 1872, when he came to Palo Pinto, Texas, the county seat of Palo Pinto county. During the first four years of his residence here he was engaged in the business of buying and selling cattle, marketing them in Kansas. Later he again took up the practice of medicine and also established a drug store at Palo Pinto, of which he was the proprietor until his death. He was the dean of the medical profession in Palo Pinto county and was greatly revered by all of the physicians of this part of the state as well as by the general public. He always maintained an active, intellectual life, reading a great deal and not only keeping in touch with the advanced thought of medical science but also keeping well informed concerning the best general literature. He was besides a continuous and devoted student of the Bible. He belonged to the Christian church, in which he was an elder for many years, and his life was in conformity with his professions. He was also a member of various temperance organizations and belonged to the Masons and Odd Fellows fraternities, which are based upon mutual helpfulness and brotherly kindness.
Dr. Warren was married in Johnson county, Missouri, in 1848, to Miss Jemima S. Snelling, who accompanied him to California. Their first child, who was named Mariposa. Warren and who is now the wife of G. W. McDonald, a prominent merchant of Palo Pinto, was born in a wagon-bed, in California, on Christmas night, 1849. Their other children are: Mrs. Nannie Mayhew and Mrs. Katie Warren Pitts, both of Palo Pinto. Dr. Warren died in the eightieth year of his age, and to almost the end was in active practice and controlled his mercantile interests in Palo Pinto. His was a useful career in which occurred some exciting incidents in connection with his California experiences and his service in the Civil war. He was also numbered among the pioneer settlers of this county and not only watched its development and progress but contributed in substantial measure to its upbuilding. Moreover his life was actuated by honorable, manly principles, gaining for him uniform respect and esteem.
Source: B. B. Paddock, History and Biographical Record of North and West Texas (Chicago: Lewis Publishing Co., 1906), Vol. I, pp. 351-352.