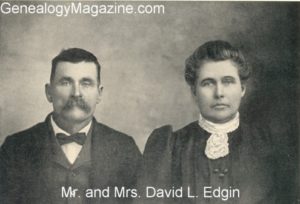 DAVID L. EDGIN. The actual energy expended in the material improvement of the rural precincts of Montague county, as well as of other counties of the state, came from the rank and file of the sturdy farm and stock men, who, bent upon the establishment and eventual ownership of a home, came hither with their little families and began the career which now marks them as leaders among successful men. To the subject of this article credit is due for the distinct part played by him and his in the building up of a modest home and the consequent reduction and beautifying of the surface of his county.
Mr. Edgin has been a resident of Texas long enough to remember its distinctly as a frontier country. Indeed, he was an active, integral part of the very frontier during the years of his youth and early manhood, for his father established the family in Palo Pinto county in December, 1864, at a time when domestic tranquility was far from being established, for the North and South were fighting to the death and the red man was making his moonlight visits and leaving theft and murder on this trail on the border in Texas. No family home felt secure for ten years after that date, in West Texas counties, and uneasy sat the cowboy as he rode the silent prairies on his daily or nightly rounds, for the Comanche and the Kiowa often left his body to the vultures and his bones to bleach in the sun.
From eleven years of age to his twenty-fifth year David L. Edgin's home was in the saddle. His father became a stockman on entering Palo Pinto county, prospered and numbered his cattle by the hundreds of head. While he usually marketed his beef on the range, he followed the practice of leading men of the time, on one occasion, and drove his cattle to the Kansas market and shipping point at Abilene. The extent of his operations made him widely known on the border and his son David L. was associated with every important event in that period of his father's career.
January 30, 1853, David L. Edgin was born in Pike county, Arkansas, and from that point the family migrated to Texas. From there, also, Churchwell Edgin, his father, entered the Confederate army and served one year with the regulars and the remainder of the time, until his departure for the west, in the Home Guard. The latter was born in Middle Tennessee about the year 1817 and grew to manhood and married there. His father was Thomas Edgin, who died in Franklin county, Arkansas, whither the family removed from Tennessee. Thomas Edgin married a Miss McNew and their issue, who reached maturity, were: Churchwell, Nathan, Celia, wife of Washington Conatser; and Melissa, who married a Mr. Osborn. His wife died in early life and then Grandfather Edgin married a Miss Conatser, and by this marriage there were several children whose names we are not now able to learn.
Churchwell Edgin married Mahala, a daughter of Henry Conatser. The Conatsers were of German origin and Henry , our subject's grandfather, was a Tennessee farmer. Mahala Edgin died in Arkansas, while the family was moving from Franklin to Pike county, in the year 1861. The issue of Churchwell and Mahala Edgin were: William, of Palo Pinto county; James, of McCombs, Oklahoma; David L.; Sarah, wife of Andrew McBride, of Beaver county, Oklahoma; Nancy A., who married Thomas Gant, of Archer county, Texas; and Nathan, who resides in the Creek Nation. Churchwell Edgin married for his second wife Delilah Matthews, who bore him: George, of Archer county; Mahala, wife of George Rowland, of Wise county; Lue, who married James Houghton, of Wise county, and John, of Indian Territory.
David L. Edgin came to maturity at a time when educational and other favorable advantages were at a low ebb. His services became valuable as a cowboy soon after he reached the prairies of Palo Pinto county and he became interested in little else until his cattle his cattle career ended. He possessed a pony at his marriage and he made a crop that year on rented land. Another crop season he moved to Montague county, bringing some forty head of cattle with him as his own. He settled in the community two and a half miles northeast of Bowie where he soon bought and sold several other places in the neighborhood, as he saw a chance to make some money, and owns a farm of one hundred and ninety-five acres. It has been as a farmer that he has made his chief success and he is numbered among the successful agriculturists of his locality.
November 19, 1875, Mr. Edgin married Della Abbey, a daughter of James Abbey and Margaret Dwire, the mother a native of Illinois and father of Canada. The children of Mr. and Mrs. Edgin are: Elmer, who married Mamie Teague; Churchwell, whose wife was May Tomblenson; Annie, wife of George Teague; Cordelia, who married Frank Smith; David L., Jr.; and Lillie M. All the married children resided near their parents and are applying themselves diligently toward the acquirement of homes. While father and sons are all party men in politics not one is ambitious beyond the casting of his ballot for Democratic candidates. In religious matters the family holds to Protestantism and worships with the Missionary Baptists.
While Mr. Edgin has been achieving success upon the farm he has been unconsciously acquiring standing and influence as a citizen. He has gone about his every day affairs without boast or bluster, appreciative of the blessings bestowed by Providence and content each year with the substantial winnings he made. Prematurely racked in health by years spent in the saddle, in foul weather as well as fair, he has yet some years of vigor for the accomplishment of good things in his community. Mr. Edgin ranged during the time when the semi-wild and ownerless cattle crowded the range and all of these mavericks that could be roped and branded belonged to the man accomplishing that round-up.
Source: B. B. Paddock, History and Biographical Record of North and West Texas (Chicago: Lewis Publishing Co., 1906), Vol. II, pp. 357-359.