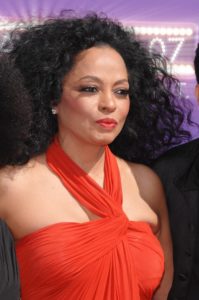 Singing sensation Diana Ross descends from Frederick Ross, who was born a slave at Rotherwood, a plantation in eastern Tennessee. 
By James Pylant
Copyright © 2014—All rights reserved
Do not post or reprint without written permission
Photo: FeatureFlash/Shutterstock
Diana Ross, lead singer of The Supremes and Grammy Lifetime Achievement Award recipient, was born in Detroit on 26 March 1944 to Fred Ross Sr. and Ernestine (Moten) Ross. Her parents were married on 18 March 1941.1 After their divorce, Ernestine married John Jordan.2 The singer is a sister to Dr. Barbara Ross-Lee, whose distinguished career included serving as Dean of the College of Osteopathic Medicine at Ohio University.3
Paternal Roots: The Rosses
Fred Ross was born 4 July 1920 in Bluefield, West Virginia,4 and died 21 November 2007.5 Several online sources, including Wikipedia, incorrectly identify Diana Ross's paternal grandparents as John E. Ross and Virginia Baytop, and her great-grandmother as Frankey Baytop, a former slave who became a midwife after the Civil War.6 While the 1880 federal census confirms Frankey Baytop's occupation,7 she apparently was no relation to Diana Ross. In fact, the singer's grandparents were William Edward Ross and Ida (Snead) Ross.8
In 1918 William Edward Ross registered for the World War I draft while living in Graham, Tazewell County, Virginia, naming his nearest relative as wife Ida.9 Two years later William E. Ross was enumerated on the rolls of the 1920 census, still in Graham, with wife Ida D. J. W., and their two daughters, ten-year-old Georgia and seven-year-old Edna. Mr. Ross's age was given as 38 (rather than 39), while his wife was 33. The census enumeration date was 17 January 1920, more than five months before son Fred's birth.10
According to Beatrice Moore Cope, Ida Ross died when her son was two years old, and her widower sent their children to live with relatives.11 William Edward Ross, said Mrs. Cope, died a few years later. In Rogersville, Tennessee, Fred Ross lived with his aunt and uncle, Ella Ross and George Cope.12 Ella, however, died in 1928,13 and young Fred was sent to live with relatives in Detroit. George Cope then married Beatrice Moore, who was interviewed about the Ross family for a 2001 newspaper article.14 The 1930 federal census shows nine-year-old Fred Ross, born in Virginia, lived in the home of James Roberts, an auto factory worker, and his wife, Elizabeth. No relationship was stated, only that Fred Ross was a boarder to the South Carolina-born Robertses.15
According to Beatrice Moore Cope, Diana Ross inherited her singing talent from her grandmother, whom Mrs. Cope identified as the former Ida Brice, a member of an old Rogersville, Tennessee family.16 However, the 1920 census shows Mrs. Ida Ross was a Virginia native. Furthermore, the Rosses' marriage license gives the bride's maiden name as Snead, not Brice. Ed Ross and Ida Snead were married in Norton, Wise County, Virginia, on 19 November 1904. He gave Tennessee as his birthplace and the names of his parents as Fred Ross and Hannah Ross. Ida, who was born in Richmond, Virginia, did not state the first names of her parents.17
William Edward Ross, Diana Ross's grandfather, was born on 11 April 1880.18 Two months later the federal census listed Edward Ross, whose birth was noted as having occurring in April, in the household of his parents, Frederick and Hannah. Edward had one sibling, a six-year-old named John. The Rosses were listed as mulattoes.19 Frederick and Hannah were parents to ten children, seven of whom were living as of 1900: John, Edward, Harvey, Robert, Joseph, Eliza E., and Laura. Frederick Ross was born in May 1847. In both the 1880 and 1900 census, he gave Tennessee as his birthplace, though relatives identified Gate City in Scott County, Virginia, as his birthplace.20 His wife, also a native Tennessean, was born in March 1851. Frederick Ross and Hannah Varnell were married in Hawkins County on 6 August 1876.21 According to her death certificate, she died in Rogersville on 7 December 1917 of heart failure due to pneumonia. One of her sons, not identified, was the informant, but he did not know his mother's birth date or the names of her parents.22 Reportedly, Frederick Ross was born on a Hawkins County plantation called Rotherwood, owned by Reverend Frederick A. Ross.23 In 1850 Reverend Ross held a dozen souls in bondage,24 yet he had a change of heart and emancipated his slaves.25
Maternal Roots: The Motens
Ernestine Moten, Diana Ross's mother, was born 27 January 1916 in Allenville, Hale County, Alabama,26 and died in October of 1994 in Southfield, near Detroit.27 Ernasteen Moten, whose age was given as five, was the youngest child in M. W. and Bell Moten's household in Bessemer, Jefferson County, Alabama, at the time of the 1920 census. The Motens were listed as mulattoes.28 Ernestine's parents had a dozen children. Her father, William Moten, farmed and later became a preacher.
According to Social Security Administration records, William Moten was born in Alabama on 1 July 1861, which would make him 107 when he died in March 1968.29 However, his birth was reported as January 1867 in the 1900 census.30 His age is inconsistent in other census records, including 45 in 191031 and 71 in 1940.32
Isabella (Caldwell) Moten, Diana Ross's maternal grandmother, was born about 1873 in Alabama and died at age eighty on 15 August 1953 in Bessemer, Jefferson County, Alabama. Her death certificate identifies her parents as Hamp Caldwell and Cealia Jones.33
Hamp Caldwell, Diana Ross's great-grandfather, was born about 1844 in Alabama and died 2 September 1934 in Greensboro, Hale County, Alabama. His death certificate names his father as Dave Caldwell.34
NOTES AND REFERENCES