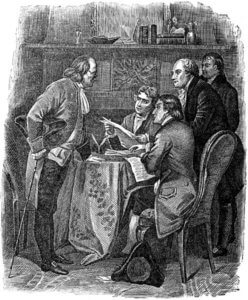 Fifty-six men signed the Declaration of Independence in 1776. Many sources are available to aid family historians in tracing descent from delegates of the Continental Congress.
By James Pylant
Copyright © 2001, 2013—All rights reserved
Do not post or publish without written permission
Kathy M. Cornwell's "Disspelling a Myth and Finding An Ancestor," in Seventeen Seventy-Six, Vol. 2, No. 2 (pp. 69-73), tells of a family tradition that her husband's ancestor, Jane Wilson Cornwell, was the daughter of James Wilson, a signer of the Declaration of Independence. "Admittedly, there was plausibility for the claim, for descendants of all of Jane's children whom we could locate had heard the story, and firmly believed it. One relative knew it was true because his grandmother told him, and she was Jane's daughter." Her research did reveal her husband's ancestor was the daughter of James Wilson — only that he and the signer were not one and the same. Signer James Wilson, according to one source Cornwell found, had no living descendants. "Our search to prove or disprove it spanned several years," wrote Cornwell, "but at the end of the genealogical journey we found the real ancestor, another James Wilson, who turned out to be just as colorful and fascinating as the celebrated Wilson."
Yet, some legends prove to be true. "I too had a family story that the Rev. Dr. John Witherspoon was an ancestor," says librarian Beatrice M. Beck. "It took three years to document this story. But it was one hundred percent correct."*
The Rev. Frederick W. Pyne's Signers of the Declaration: Index and Images for the Applications to the Descendants of the Signers of the Declaration of Independence a nine-volume series, was published by Picton Press. The author's work incorporates data from the application files of the Society of the Descendants of the Signers of the Declaration of Independence, the Frank W. Leach manuscript, and many other published references.
In 1987, the LDS Reference Unit at the Family History Library, in Salt Lake City, compiled the "Founding Fathers Project." The project encompasses genealogical data on signers of the Declaration of Independence, signers of the Articles of Confederation (1778), and members of the American Constitutional Convention (1787). The Reference Unit's objective was to identify names of wives, children, and parents. This reference is available on microfilm loan at the various Family History Centers. The film number is 1592751, item 3. However, for more complete data on descendants (up to 1900 in some cases), refer to the following microfilms:
001751: John Adams, Samuel Adams, Josiah Bartlett, William Ellery, Elbridge Gerry,John Hancock, Stephen Hopkins, Samuel Huntington, Robert Treat Paine, Roger Sherman, Matthew Thornton, William Whipple, William Williams, and Oliver Wolcott.
001752: Abraham Clark, William Floyd, John Hart, Francis Lewis, Phillip Livingston, and Lewis Morris.
001753: George Clymer, Benjamin Francis Hopkinson, Robert Morris, John Morton, and John Witherspoon.
001754: Charles Carroll, Samuel Chase, Thomas McKean, William Paca, George Read, Caesar Rodney, George Ross, Benjamin Rush, Thomas Stone, George Taylor, and James Wilson.
001755: Carter Braxton, Benjamin Harrison, Thomas Jefferson, Francis Lightfoot Lee, Richard Henry Lee, Thomas Nelson Jr., and George Wythe.
001756: Button Gwinnett, Lyman Hall, Joseph Hewes, Thomas Heyward Jr., William Hooper, Thomas Lynch Jr., Arthur Middleton, John Penn, Edward Rutledge, and George Walton.
* Beatrice M. Beck to James Pylant, 4 June 2001.