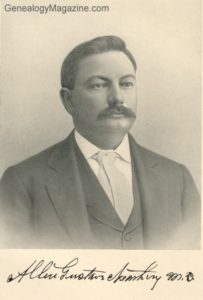 ALLEN GUSTAVE NEATHERY, M. D., is a representative of one of the prominent families of the state of Texas and, although, yet comparatively a young man, enjoys the distinction of being the oldest physician in Haskell county.
The Neathery family is of Scotch descent. Previous to the Revolutionary war three Neathery brothers came from Scotland to this country and for some years kept near together in the east, finally, however, drifting apart, one going to Kentucky and one to the Pacific coast. Where the third one settled is not known. The Kentucky brother was the progenitor of that branch of the family to which Dr. Neathery belongs. Wesley Neathery, born in Kentucky, left the state about the year 1830 or 1831 and came south, stopping in Arkansas, where he remained two or three years, coming thence to Texas and taking up his abode in Lamar county, where he resided for many years and where he died. In his family were three sons and five daughters, one of whom, Allen Hill Neathery, the father of the subject of this sketch, was born in Arkansas in 1832 and was reared in Lamar county, Texas. He was educated for the medical profession in Nashville, Tennessee, at the Vanderbilt University. Returning to Texas, he settled in Collin county, where he entered upon the practice of medicine and where he has since made his home, now being retired and enjoying the fruits of his long and useful career of activity. A young physician in a pioneer district, he was for many years closely associated with the growth and improvement of his locality. He married, at Farmersville, Collin county, Miss Jemima Elizabeth Buie, a native of Murray county, Mississippi, of Scotch descent. Her father, Cornelius Buie, was born in Tennessee; came south, locating first in Mississippi and from there coming to Texas in 1849 and settling in Collin county among its pioneers. To Allen H. and Jemima E. Neathery were given twelve children, nine sons and three daughters, all of whom are now living, with the exception of one of the daughters, and are residents of Texas, prominent in the affairs of their localities.
Allen Gustave Neathery, whose name introduces this sketch, was born in Collin county, Texas, February 11, 1862. His boyhood days were passed in attending the public schools and working on his father's farm. He early decided to adopt the medical profession and began his studies with his father for instructor. In 1885-6 and again in 1887-8 he attended lectures at the Memphis Hospital Medical College and graduated at that institution in March, 1888. He then put out his shingle at Farmersville, Collin county, and practiced there one year, coming thence to Haskell, in 1889, where he has since continued to reside and where his marked success as a physician has gained for him a large and valuable practice.
Dr. Neatherly married, December 19, 1884, Miss Tennie Hale, a native of Giles county, Tennessee, and a daughter of James H. Hale. They have had five children. The eldest died in infancy, and the two sons and two daughters living are Chester Allen, Emmett Hale, Laura Effaleen and Hattie Geraldene. Fraternally Dr. Neatherly is a Mason and has advanced through the degrees of this ancient and honored order up to and including the Knight Templar. He is a member of the West Texas Medical Association, comprising the counties of Knox, King, Jones and Haskell, and has been appointed a member of the Congressional and Judicial branch of the American Medical Association for Haskell county.
Source: B. B. Paddock, History and Biographical Record of North and West Texas (Chicago: Lewis Publishing Co., 1906), Vol. I, pp. 582-583.