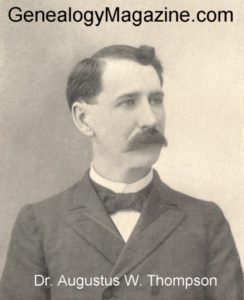 AUGUSTUS WALSON THOMPSON, M. D., successfully engaged in the practice of medicine at Mineral Wells, is a representative of a profession in which advancement and success depend upon individual merit, broad learning, and conscientious devotion to the demands of the calling. He now has a large and liberal patronage, which is a guarantee of his ability and the confidence reposed in him by the general public.
Dr. Thompson was born at Cape Girardeau, Missouri, and is indebted to the public schools of that place for the early educational privileges that he enjoyed. He afterward supplemented his preliminary study by a course in the Southeast Missouri Normal College at Cape Girardeau, being a student at the first session of this school after it was established by the state at that point. His professional education was acquired in the Missouri Medical College at St. Louis, from which he was graduated with the class of 1880. He practiced for nearly three years at Morley, near Charleston, Scott county, Missouri, and then located at Hot Springs, Arkansas. Here he further studied and practiced with Dr. J. L. Gebhart, one of the prominent physicians of that place, and made a particularly thorough investigation of the therapeutically value of hot sweat baths upon the human system. It was there that he decided to give up, as far as possible, the general practice of medicine and devote his professional efforts to the treatment of rheumatism and other chronic diseases with the aid of mineral waters. He had a successful and highly lucrative practice along those lines at Hot Springs, Arkansas, for eight years, and in 1891, having investigated the mineral waters at Mineral Wells, Texas, and finding them of even superior value to those at Hot Springs, he decided to locate here, and continued practice along the same lines as established at Hot Springs. Of the different waters found here he chose for his particular purpose what is known as the Lamar iron water. A publication has said of this: "The Lamar Iron Water used in the Lamar Bath House has not so much salts as many of the cathartic or so-called 'strong waters' of this place, but carries in addition large proportions of iron—one of the natural constituents of the blood. The Magnesia Sodium and Calcium of Lamar Iron Water acts sufficiently upon the system to induce catharces—keeping the bowels lax&151;a blood and tissue builder—while the iron acts as a tonic—thus making a most happy combination of mineral products, giving it superiority over other mineral waters of this place, when the object of treatment is to build up and foster, rather than break down and weaken the vital forces."
Dr. Thompson has recently completed and opened for the spring season of 1905 the new Lamar Bath House, Pavilion and Sanitarium, a beautiful and costly structure, representing, with its equipment an investment of between eighteen and twenty thousand dollars. This stand at the corner of Lamar and Church streets and is a two-story brick building, with ornamental brick and staff front, very artistic in appearance, being built in old English style of architecture, with modern improvements. It is equipped extensively with the most modern electrical and thermal apparatus to be used in connection with the baths of which Dr. Thompson has made a special study and success, such as the Betz body bath, electric light baths, solorium baths (which are entirely new and only one of the kind in Mineral Wells). He has elegantly appointed rooms, dressing rooms and cooling rooms, vapor and hot-air rooms, bath room, and massage rooms, with separate divisions for men and women. Everything is thoroughly sterilized and disinfected so that no disease can be contracted, and the entire building is equipped with modern sanitary plumbing and steam heat. Heretofore the fame of Mineral Wells has rested mainly on the value of its water for drinking purposes only, but Dr. Thompson's enterprise has demonstrated the greater value of the water for bathing purposes, showing that Mineral Wells can equal and probably excel Hot Springs, Arkansas, and their celebrated sanitariums, where the baths are emphasized. He has demonstrated in his practice the value of the waters for many diseases and most excellent results have attended his efforts, and his patronage is constantly increasing. His high standing with the profession throughout Texas and other states brings him many patients from all sections. He is a member of the county and state medical societies and he is likewise a prominent member of the Methodist church, in which he has taken an active and helpful part since coming to Mineral Wells.
In 1895 Dr. Thompson was married to Miss Rura McFadden, the wedding being celebrated in Waco, Texas. She was a member of one of the well known families there and she died in 1902, leaving one daughter— Walson Thompson, is attending school at Waco.
Source: B. B. Paddock, History and Biographical Record of North and West Texas (Chicago: Lewis Publishing Co., 1906), Vol. II, pp. 542-543.