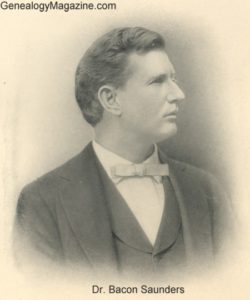 DR. BACON SAUNDERS, of Fort Worth, is one of the best known and most successful surgeons of Texas and the entire south. Surgery is today the greatest of all applied sciences, and many far-sighted men believe that it is a question of only a few decades in the future when the knowledge of the physician will become universal knowledge and his profession will lose its distinctive importance to mankind, and that the surgeon with his skill will take his present ally's place as the benefactor and final resort of suffering humanity. At the present stage of progress in this direction only a very few, and those men of peculiar skill and preeminence, have, through choice or circumstance, devoted themselves wholly to the practice of surgery, and one of these—and indeed the only one in North Texas—is Dr. Saunders. The science of surgery appealed to him from his first introduction to it. the unusual skill early exhibited in operations marked plainly the leadings into that branch of the profession, and his foremost merit and rank in the art have now for some years claimed his services as surgical specialist to the exclusion of all allied interests.
A Kentuckian by birth, though identified with North Texas practically all his life. Dr. Saunders was born at Bowling Green, January 5, 1855. Occupying as he does front rank in his profession, he none the less regards with more than parental veneration the life and career of his father, Dr. John Smith Saunders, who, in his time was one of the best of old-school physicians, and through the influence of whose example it was that the son adopted the medical profession. Dr. John Smith Saunders, who was born at Glasgow, Kentucky, after attaining high standing in the medical profession in his native state, in 1857 came to Dallas, Texas, then situated almost on the frontier. As a pioneer doctor at this place in the years immediately preceding the war he became known over a wide surrounding territory. His visits across the sparsely settled county, bearing cheer and healing to the isolated families, often penetrated into Tarrant county, and to the easy-circumstanced dweller in town or city of the present day imagination alone must picture the hardships which the good doctor encountered on these horseback journeys, with his medicines packed in his saddlebags, or the joy with which he was hailed by the suffering, who had perhaps a waited his coming for days, whereas in this age the same number of hours would seem long, and who would not see him again on his rounds for several weeks. Filling the place of friend, counselor and helper, his part in the life of that historical epoch is none the less important because it was unostentatiously performed. He thus continued to practice at Dallas until the war came on. A Kentuckian, it is not strange that his admiration for the fellow citizen Henry Clay made him an adherent of old- line Whig principles, and when the question of secession came up for settlement, though a firm believer in state rights, he opposed the separation from the Union. But, like Lewis T. Wigfall, whom he so admired, and like hundreds of conspicuous and eminent southerners his loyalty to Dixie, when the issue came to settlement, aligned him without hesitation with the Confederacy. Enlisting in 1862, he was appointed brigade surgeon on the staff of General R. M. Gano, and as such served till the close of the war. On his return to Dallas he decided to give up the practice of medicine, and for several years during that period of industrial prostration following the war he took a prominent part in business affairs. He built and operated the first steam mill at Dallas, and this was also in the mercantile business, until the failure of his health obliged him to retire. His children were then at the age where they needed better educational facilities than were afforded at Dallas, and this was the prime consideration that induced him to move to Bonham in 1869. There he built up a large general practice, and lived until his death in 1891. He at one time served as president of the North Texas Medical Association, and stood very high among the members of his profession. Noteworthy and successful though he was a physician, his character was of those proportions that interest adheres more in the man than in his works. Of firm and positive convictions, he commanded respect and wielded influence among men as a leader, although he never used the qualities for any king of political preferment, and the most important position he held was a brigade surgeon during the war. In the Christian church, however, he took a very active part, and was a devoted member till his death. Though he energies were almost constantly directed to serious affairs, yet he possessed the social qualities which attached men to him through affection as well as respect. While he never posed as a raconteur, he was an engaging story teller, and was especially fond of pointing a serious principle with an illustrative anecdote. Schools of a primitive time supplied him with only the barest fundamentals upon which later insistent study and observation reared a most intimate knowledge of literature, men and events. His love for the classic in literature never deserted, and even in camp when surrounded by all the stern realities of military life he was wont to read his Shakespeare aloud to his fellow officers, and such was his sympathetic acquaintance with that author that it is said he knew half the plays by memory.
Such was the father, and it is from his character and example that the son had drawn much of the power and practical idealism for success. Beginning his education in a private school taught in the Odd Fellows' hall at Dallas, in 1869, on the family's removal to Bonham, he entered Carlton College, at that time one of the highest grade institutions in East Texas. Its founder and president had come from Missouri to Dallas, where he for a year or so presided over the above-mentioned school in the Odd Fellows' hall, and in 1867 moved to Bonham and established Carlton College. After leaving this institution for a time, and in the evenings and vacation intervals read medicine in his father's office. When a boy of seventeen, in 1872, he spent one vacation in the rough ranching life of the Texas frontier. Entering the medical department of the University of Louisville (Kentucky), he graduated March 1, 1877, with the highest honors of his class, and at the early age of twenty-two began his class, and at the early age of twenty-two began his professional career. A partnership with his father at Bonham gave him a broad practical experience and likewise much repute for skill throughout the territory covered by their practice. His special aptitude for surgery had been shown during his university career, and it was the surgical branch of the firm's practice to which he gave special attention. His practice in Bonham continued until January, 1893, and the demands upon his skill even then calling him far beyond his local residence, he moved to Fort Worth, where the unexcelled railroad facilities would afford greater opportunity to care for his increasing patronage. At Fort Worth he became a partner in practice with the late W. A. Adams, who afterward removed to St. Louis, and with F. D. Thompson of this city. During the five years in which this relation continued he devoted some of his attention to general practice, although even then his skill in surgery brought him all the practice he could well care for. It became necessary finally for him to relinquish all work as medical practitioner, and though this transfer to a specialty was not easily made because of the insistence of his patrons that he continue to attend to general cases, for the past seven or eight to general cases, for the past seven or eight years he has confined his professional work wholly to surgery and surgical diseases of women to consultation in such cases.
Dr. Saunders is one of the founders of the medical department of Fort Worth University, served ten years as its dean, and is secretary and treasurer of the board of trustees, and also holds the chair of principles and practice of surgery and clinical surgery in that institution. He is chief surgeon for the Fort Worth and Denver City Railroad, is division surgeon for the Texas and Pacific, the Gulf, Colorado and Santa Fe, the St. Louis and Southwestern, and the International and Great Northern, and the International and Great Northern, and is now vice president of the American Association of Railway Surgeons. His high position in medical circles is attested by membership in the American Medical Association and high official positions in other well known organizations. He was one of the founders and an ex-president of the North Texas Medical Association serving as president of that organization before his father held the same position; is ex-president of the Texas State Medical Association; is ex-vice president of the International Railway Surgeons' Association; and is past vice president also of the Southern Surgical and Gynecological Society, a body whose membership is restricted to those who have attained acknowledged skill in surgery, and its members are recognized as preeminent in the profession. It is as surgeon in charge of St. Joseph's Infirmary in Fort Worth that Dr. Saunders does most of his hospital work. Possessed of enormous energy and vitality, he is able to use his skill in work that for effectiveness and quantity is seldom surpassed, and his record for successful major operations performed day after day places him in class to himself. Within recent years in recognition of his high standing in his profession, Dr. Saunders has been honored with the degree of LL. D. by the Arkansas Industrial University and by the State Normal University of Virginia. The active years of his life have been completely engrossed with his profession, and he has allowed no external influences or pursuits to divert him from its mastery and successful prosecution. His only diversion from practice, absolutely essential to one who gives himself so completely to his work, is a two-months' vacation each year, usually spent in the Adirondack mountains with his family. His offices, in the Saunders' building at Fort Worth, are finely equipped for surgical work.
Dr. Saunders was married at Bonham, October 30, 1877, to a prominent young lady of that place. Miss Ida Caldwell, a native of Tennessee. She is prominent in Fort Worth society and is one of the lady members of the Texas World's Fair commission and connected with various other clubs. Dr. and Mrs. Sanders have two children, Roy F. and Linda Ray [Saunders]. The son took his degree in the medical department of the Fort Worth University in the spring of 1905, and at the present writing is pursuing post-graduate work in Jefferson Medical College at Philadelphia. He is thus the third generation to adopt the medical profession, so that the name of Saunders will have enduring prominence in the annals of southern medicine and surgery.
Source: B. B. Paddock, History and Biographical Record of North and West Texas (Chicago: Lewis Publishing Co., 1906), Vol. 1, pp. 130-133.