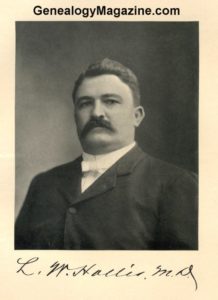 LAWRENCE W. HOLLIS, M. D., is a distinguished member of the medical fraternity, practicing in Abilene [Taylor County]. His father, Dr. Thomas H. Hollis, was a native of Tennessee, and when nine years of age came to Texas, settling in San Augustine. When the Civil war was inaugurated in 1861 he enlisted as a surgeon in Walker's Division of the Thirteenth Texas Mounted Infantry and served throughout the war. Following the close of hostilities he removed to Nacogdoches, Texas, having his office in the historic old stone fort built by the Mexicans in 1716 and demolished in 1902, where he practiced medicine and made his home for about thirty-five years, his death occurring there in 1888. He was a man well known throughout the state and ranked as one of its most successful and prominent surgeons. His service in the army gave him an exceptional opportunity for practice and investigation and for performing surgical operations of the most difficult nature. In this work he gained fine experience that greatly aided him in after life, and his capability was so marked as to rank him with the leading representatives of the profession. His wife bore the maiden name of Katherine Dumas, who was a native of Mississippi but came to Texas in her early girlhood days with her parents, who settled in Anderson county near the Magnolia post office. Her father, Lawrence W. Dumas, was a distinguished judge there for a number of years. It was at Magnolia that Dr. Hollis and Miss Dumas were married and there reared a family of nine children, three sons and six daughters, all of whom are yet living. One son, W. W. Hollis, is sheriff of Jones county, Texas, while another, Thomas H. Hollis, is a practicing dentist of Abilene.
Dr. L. W. Hollis of this review was born in San Augustine, Texas, December 21, 1861. His education was partially received at that place and he continued his studies in Nacogdoches. He entered upon the study of medicine when about sixteen years of age in his father's office and subsequently attended medical lectures in the medical department of the University of Louisville, Kentucky, where he remained for three years, completing the full course by graduation in March, 1883, and subsequently has taken post-graduate courses in Chicago and New York. After graduation he located at Anson, Jones county, where he began the practice of medicine and made his home until 1894, when he came to Abilene. He has devoted his attention to general practice, but has also made a specialty of surgery and he is called to various parts of this state and New Mexico that he may render professional service. In the year 1905 he opened a sanitarium in Abilene for the treat of those in need of medical and surgical assistance. It is located on South Ninth and Chestnut streets. He has a whole block of ground, with buildings fronting on the two streets, and the sanitarium is splendidly equipped, so that it affords every facility for the care and treatment of the many patients who have already been received. Dr. Hollis is connected with the Taylor County, the Texas State Medical and American Medical Associations, and is ex-president of the board of medical examiners of the thirty-ninth district, having filled that position for a number of years, or until the board was disbanded and the state board instituted. For years he has filled the position of United States pension examiner for the district, comprising several counties.
Dr. Hollis gives his political allegiance to the Democracy and is a member of the Odd Fellows and Masonic lodges in Abilene, having also taken the degrees of the Royal Arch chapter. He was married in this city February 20, 1884, to Miss Eva Scott, a daughter of T. F. Scott, of Fort Phantom Hill, and they have a family of four children, two sons and two daughters. Theirs is one of the attractive homes in Abilene. In addition to this Dr. Hollis owns considerable land, having a fine ranch about twenty-two miles south of the city devoted to stock-raising. He also owns several farms in Jones county. He has taken a deep and helpful interest in educational affairs and is one of the board of directors of Simmons College, with which he has been this connected in the establishment. He is a worthy successor of his noted father, keeping in touch with the march of progress, especially along the line of his chosen profession. He has acquired a technical knowledge and a practical skill in practice that has placed him in the foreground as a representative of medical and surgical science here.
Source: B. B. Paddock, History and Biographical Record of North and West Texas (Chicago: Lewis Publishing Co., 1906), Vol. I, pp. 414-415.