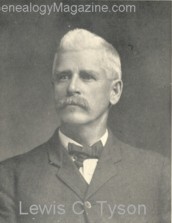 DR. LEWIS C. TYSON, is a prominent physician and man of affairs of Wichita Falls, where during the past decade he has built up a large practice and taken first rank in his profession and also displayed his progressive and enterprising spirit by engaging in up-to-date agricultural endeavors. He is a popular and public-spirited man, wielding a large personal influence, and is of the type of citizenship which is particularly useful in the up building of new communities like Wichita Falls.
Dr. Tyson is a son of Josiah and Mealy (MeGeehe) Tyson. His father was a native of North Carolina, whence early in life he moved down into Georgia and located in Merriwether county, where he became a wealthy planter and owner of an extensive plantation. He belonged to the state guards during the war. Dr. Tyson was born on this Georgia plantation November 26, 1849, and during the rebellion was a young lad old enough to realize the horrors of war but unable to take part in it. The family estate was on the edge of the fighting district through which the army of Sherman marched, devastating and really making "war hell" through all that belt of country. Dr. Tyson has many vivid recollections of those times, and years can ameliorate but not efface all the impressions he then received.
He received most of his early education at Milledgeville and after reaching manhood he decided to study medicine. He was graduated from the Washington University Medical department of St. Louis, Missouri, in 1883, but previous to this he had practiced as an undergraduate at Harrison, Arkansas, and after graduation he went back to that place and continued his successful practice until 1893. He was then obliged to move in order to find a more favorable climate, and in that year located at Wichita Falls, Texas, where he has since come into a profitable practice. He is president of the Wichita County Medical Society and is a member of the Texas State Medical Association.
The material welfare of Wichita county, especially agricultural interests, has also attracted his attention. Several years ago he constructed and now operates a large irrigation plant, formed by a dam across the river from Wichita Falls. This plant irrigates two hundred and fifteen acres of his big tract of one thousand acres, two miles east of Wichita Falls, and in the course of time it will also be used for irrigating other farms in the vicinity. He maintains on this farm an expert cotton-raiser. In addition to the large crops of cotton and alfalfa, a specialty is being made of producing cantaloupes for the northern markets. Dr. Tyson is one of the pioneers in this industry in Wichita county, and the melons produced in this county bid fair to rival the famous Rocky Fords, and extensive preparations are being made to increase the product and make it one of the permanent resources of this region. Dr. Tyson is treasurer of the Wichita Valley Melon Growers' Association.
Dr. Tyson's first wife was Miss Nancy E. Keele, a daughter of Dr. G. C. Keele. She died in 1895, leaving six children, as follows: Walter Scott, Virginia Irene, Lewis Amos, Alice S., Goldie and Nancy Elizabeth. The present Mrs. Tyson was Miss Mattie Kerley, daughter of W. G. Kerley, and by this union there are four children: Joe, Bill, Florence, Katharine and John.
Source: B. B. Paddock, History and Biographical Record of North and West Texas (Chicago: Lewis Publishing Co., 1906), Vol. II, pp. 92-93.