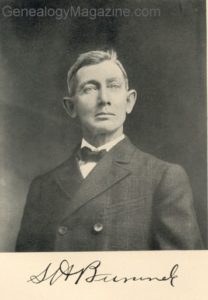 DR. SAM H. BURNSIDE has been actively engaged in the practice of medicine and surgery in the city of Wichita Falls for the past twenty years, and is among the oldest established practitioners of the place. He was a young doctor when he came, possessed of a few years of practical experience and with a large and generous ability and talent for his chosen profession, and the subsequent years have shown him to be one of the leaders in practical affairs and in his own line of work in this part of the country.
He was born at Lancaster, Kentucky, in 1855, being a son of Josiah and Almira (Hiatt) Burnside, the former of whom was born in Kentucky and died there in 1875, and the latter was a daughter of a Virginia family and died in Kentucky. His father was a farmer and stock-raiser, and a successful and scrupulous and worthy gentleman. He was a descendant of the famous Wallace clan of Scotland, and his immediate ancestors came to this country at an early day and settled in Virginia and Kentucky. The Civil war soldier, General Burnside, is also from the same branch of the family.
Dr. Burnside came to mature years on a farm in Kentucky, and when he was grown he began to prepare for the medical profession. He attended the medical department of the University of Pennsylvania at Philadelphia, and was graduated from there with a degree of M. D. in 1882. In the same year he began practice in his native town in Lancaster, and continued there until the fall of 1884, when he arrived in Wichita Falls, which has been his residence and scene of activity ever since. The town was in its early stages of growth then, and Dr. Burnside helped fill out the ranks of professional men needed in every center of population. He has gained a splendid success in his work and has a large practice. He has established a fine reputation in the line of gynecology and the surgical diseases of women, which form a large part of the practice of himself and his partner, Dr. Walker.
Dr. Burnside is local surgeon for the Fort Worth and Denver Railway, and has held that position for the past seventeen years. He is also chief surgeon for the Wichita Falls and Oklahoma Railroad. He is a member of the Wichita Falls and Oklahoma Railroad. He is a member of the Wichita County, the Northwest Texas, the Texas State, and the American Medical associations and societies, of the National Association of Railway Surgeons, and of the Medico-Legal Association of New York. He is also examiner for all the old-line life insurance companies doing business in Texas, and also for several of the fraternal orders. He is himself affiliated with the Masonic order and has attained the Knight Templar degrees.
Dr. Burnside was married at Fort Worth in 1887 to Miss Mary M. Grice, a native of Philadelphia, and they have two children, Alice M. and Mary Margaret. Three children are deceased, Ellen, who died aged twenty-two months; Nellie G.,who died at the age of five years, and Laura M., who died at the age of three years.
Source: B. B. Paddock, History and Biographical Record of North and West Texas (Chicago: Lewis Publishing Co., 1906), Vol. I, p. 674.