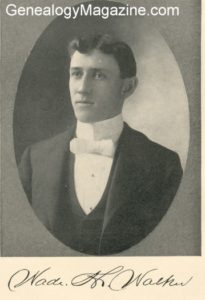 WADE HAMPTON WALKER, M. D. Since the building of railroads through the northern tier of Texas counties have reached a place of first importance which twenty years ago had only a nominal existence. One of these is Wichita Falls, whose three railroad lines give the town more facilities of trade and transportation than any other point west of Gainesville. A growing and live town, it is a good place for professional men to locate, and Dr. Walker has found here an excellent field for his work and during the past five years has been constantly growing in popularity as a physician and surgeon.
Dr. Walker was born near Lancaster, Kentucky, in Garrard county, December 1, 1876, a son of Daniel Bates and Tabbie (Burnside) Walker. His father, a life-long farmer, and more than ordinarily successful in that pursuit, now resides at Iowa Park, the flourishing village a few miles to the northwest of Wichita Falls. Dr. Walker was educated till twelve years of age in the schools of Garrard county, Kentucky, and then for four years, his parents having moved to Kirksville, a village near Richmond (Madison county) in the same state, he attended Elliott's Institute in that place. After pursuing a full course in Draughon's Practical Business College at Nashville, Tennessee, he returned to Kirksville as salesman and bookkeeper for the firm of J. B. Walker and Brother, remaining with them three years. It was at the conclusion of that period, that he came to Texas for the purpose of visiting his uncle, Dr. S. H. Burnside, at Wichita Falls. Like many thousands of now contended and loyal Texans, he came here only to be conquered by the possibilities of the state and has remained here practically ever since. He began the study of medicine with Drs. Burnside and Coons, and in the winter of 1897 entered the medical department of Fort Worth University, from which he was graduated in the spring of 1900 with the degree of M. D. After graduation he was appointed and served one year as house surgeon in St. Joseph's Infirmary at Fort Worth, his superiors being the well known surgeons Bacon Saunders and F. D. Thompson. Thus equipped, he returned to Wichita Falls and began practice, being the junior member of the well known firm of Burnside and Walker. They are the chief surgeons for the Wichita Valley and Wichita Falls & Oklahoma railroads, and the local surgeons for the Wichita Valley and Wichita Falls & Oklahoma railroads, and the local surgeons for the Fort Worth and Denver City. Besides, they are medical examiners for nearly thirty old line and fraternal life insurance companies which of itself indicates the high professional standing of the firm. Dr. Walker was the physician and surgeon for the company which constructed the irrigation dam near Wichita Falls in 1901, this being one of the enterprises which have brought great increase of productive wealth to this part of the country.
Dr. Walker has been a member of the Presbyterian church since he was twelve years of age. He affiliates with Wichita Falls Lodge No. 635, A. F. & A. M.; also with the Woodmen of the World, the Modern Practorians, the Modern Woodmen of America, and the Knights of the Lone Star.
Source: B. B. Paddock, History and Biographical Record of North and West Texas (Chicago: Lewis Publishing Co., 1906), Vol. I, pp. 325-326.