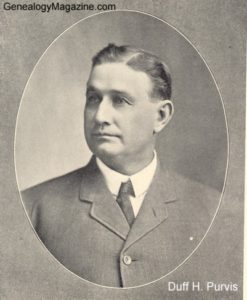 DUFF H. PURVIS, commissioner of Tarrant county and a resident of Fort Worth, has been a resident of the county throughout his entire life, actively interested in all measures advanced for its good, and has performed his full share in its development and improvement. His birth occurred in Mansfield, Tarrant county, and he is a son of John L. and Sarah (Sublette) Purvis. The father was born in North Carolina, but was a well known character in the early history of Texas, having lived here when it was a part of Mexico, then under the Texas Republic, and finally as a state of the Union. These were strong men and true who came to found the empire of the west — these hardy settlers who builded their rude domiciles and from the wilds evolved the fertile and productive fields which have these many years been furrowed and refurrowed by the plowshare. To establish a home amid such surroundings and to cope with the many privations and hardships which were the inevitable concomitants, demanded an invincible courage and fortitude, strong hearts and willing hands. All these were characteristics of the pioneers, whose names and deeds should be held in reverence by those who enjoy the fruits of their toil. Mr. Purvis came to Texas in 1832, locating in what afterward became Shelby county. He took part in the Texas Revolution, and was also a soldier with Sam Houston at the battle of General Santa Anna. During the Mexican War he again proved a valiant soldier for his country, serving throughout that conflict. In 1847 he removed with his family to Tarrant county, and was the first settler and erected the first house in Mansfield. For the third time responding to the call of his country in her hour of need, he served as a soldier in the Confederate army during the war between the states. His military career was one which will ever redound to his honor, one whose courage was that of his convictions. About 1 865, Mr. Purvis removed to a farm eight miles southeast of Fort Worth, which remained the family home from that time forward, and there his lief's labors were ended in death on the 3d of December, 1900, when he had reached the age of eighty-seven years. He was a farmer during all of his active life. To those who knew him his memory will be cherished, not so much on account of the splendid success which he achieved in business, but because of his life of helpfulness, his broad sympathy and his deep interest in an labors for the benefit of his fellow men. His widow, who was born in Tennessee and was a member of the noted Sublette family of Murfreesboro, is still living, making her home in Fort Worth.
On the old home farm in Tarrant county Duff H. Purvis was reared to years of maturity, and at an early age became a "cow puncher" on the plains of Texas and in the Indian Territory, in the days of the real cowboys. He worked for Sam Lazarus, the noted cowman, having taken the first cattle which the latter sent to the Cherokee Strip, and for about eight years was engaged in that business, the remainder of the time being spent with the V Bar outfit. During Sheriff Euless' administration he served as his deputy in Tarrant county, and since 1893 has been engaged in the livery business in Fort Worth, a member of the firm of Purvis & Colp, conducting the largest business in that line in the city. He has served as school trustee of the Glenwood district, and in February, 1905, at the death of W. Z. Castleberry, was appointed county commissioner of Precinct No. 1, to fill out his unexpired term, which extends to 1906. He was chosen for this position over twenty-five applicants, an indication of his sterling worth and ability.
Mr. Purvis was married in 1890 to Fannie Benning, a niece of General Benning, a leader of the Confederate forces at Gettysburg. They have one child, Frank H. Purvis, in school.
Source: B. B. Paddock, History and Biographical Record of North and West Texas (Chicago: Lewis Publishing Co., 1906), Vol. I, pp. 140-141.