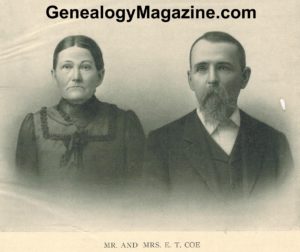 E. T. COE, a veteran of the Confederate army, who was successfully engaged in general agricultural pursuits and stock raising in Grayson and later in Montague county, Texas, but is now living retired at Nocona, was born in Henry county, Missouri, February 17, 1841. He was reared to farmer pursuits and is indebted to the district school system for the educational privileges accorded him. His parents were James R. and Elizabeth (Stanford) Coe, the former a native of Indiana and the latter of Virginia, in which state they were married. The Coe family is of Scotch-Irish lineage and the grandfather, Joseph Coe, became an early settler of Indiana. He was a river man and was a captain of a steamship boat on the Ohio and other rivers for many years, in which capacity he became well known, while his social nature and genuine worth made him popular. The members of his family were: William and Elias T. both of whom died in Illinois; James R., Mrs. T., Jeremiah and Mary C., of California.
James R. Coe, born and reared in Indiana, went to Virginia after he had attained his majority and was there married, subsequent to which time he removed to Illinois and afterward to Missouri, where he prospered in his undertakings as a farmer and stockman. He became one of the substantial representatives of financial interests in his county and his business activity was the secret of his success. In politics he was a strong and influential Democrat, but without desire for political office, preferring to give his undivided attention to his business interests. At the time of the Civil War his sympathies were strongly aroused in behalf of the south, so that the northern sympathizers feared his influence and made it very unpleasant for him in his home locality. Both armies foraged off of his place, taking his stock and personal property, and at last the northern troops burned his dwelling and other farm buildings. He and his family then sought refuge in Saline county, Missouri, where he remained until after the close of the war, when he sold his old homestead and purchased a farm in Benton county, Missouri, spending his remaining days there. He was then too old to ever fully recuperate his lost possessions, but he nevertheless, by indefatigable industry, won a competence for himself and his family. From early manhood he was a consistent Methodist and his life was always actuated by honorable principles and devotion to whatever he believed to be right. The poor and needy found in him a warm friend and his neighbors appreciated his social nature and kindly spirit. He was six feet in height, of medium weight and possessed a strong and vigorous constitution that enabled him to do much hard work in his earlier manhood. He passed away April 9, 1888, at the age of sixty-six years, while his wife died in 1876. She was a daughter of Phillip S. Stanford, a native of Virginia, who became familiar with the labors incident to life on a Virginia plantation. At an early day he removed to Missouri and became a representative farmer and stockman of the locality in which he made his home. He traded quite extensively in cattle and mules and improved a fine farm in Bates county, remaining thereon for many years. He was without political aspiration or desire to figure in any prominent position, preferring to give his undivided attention to his business interests. He remained in Bates county until 1858, when he came to Texas, settling in Dallas county, where he carried on farming and stock-raising for several years. Following the period of the Civil War he sold his ranch and took his stock to Kerr county, Texas, where he again established a ranch. He was prominent and successful in his work and devoted his energies to agricultural pursuits until he put aside active business cares. His death occurred when he had reached the advanced age of ninety-three years. He was, familiar with the experiences, hardships and privations of pioneer life, for during his ranching days in Dallas county Indians made raids upon his stock and stole many a head of cattle or horses. As a young man Mr. Stanford would start in pursuit of the thieves, nor was he afraid to encounter the red men on the plains. In his family were nine children: James, who died in Missouri in 1853; Frank, of California; Thomas, who died in Missouri; Phillip, of Kerr county, Texas; John N., who is living in Dallas county; Mrs. Elizabeth Coe; Mrs. Pruitt of Dallas county; Mrs. Anna Pruitt, and Mrs. Emma Pruitt.
The children of Mr. and Mrs. James R. Coe are five in number: Thadeus, who was killed while serving in the Confederate army; E. T., of this review; Phillip S., who was also killed in the army; James A., a farmer of Missouri, and Allen B. C., likewise following farming in that state.
E. T. Coe was born and reared on the old homestead in Missouri and when nineteen years of age he enlisted, in 1861, at the call for six months' troops, becoming a member of the Sixth Missouri Cavalry of the Confederate service under Colonel R. L. Y. Payton. The regiment was attached to General Raines' division, went to the front and was engaged in the battles of Carthage and Drywood, Missouri. On the expiration of his first term Mr. Coe reenlisted and the regiment was reorganized, becoming a part of the regular Confederate service. He was made second lieutenant of Company D, Second Battalion of Cavalry under Colonel Emmett McDowell, and saw much hard service and skirmishing, taking part in all of the leading battles of the western department except at Pea Ridge, when he was held as a prisoner of war. While the command was lying in camp at Springfield, Missouri, he was granted a furlough to visit home, and while there was taken prisoner and held for six weeks, after which he was exchanged and again joined his command, with which he continued until the close of the war, his service being with the western department of the army, mostly in Missouri and Arkansas, but later in Texas. He was slightly wounded, but was always on duty and was often in the thickest of the fight. After the close of hostilities he returned to the home of his father, who, as a refugee, had gone to Saline county, Missouri, and there the son began work. On the 27th of November, 1866, E. T. Coe was married to Miss Matilda E. Clark and settled upon a tract of rented land, which he operated for two years, after which he bought a tract of raw land. He then began the work of improving the farm and as the years passed he prospered in his undertakings, remaining upon the old homestead there until 1874, when he came to Texas, renting his land in Missouri. In this state he first located in Grayson county, where he operated a rented farm for two years, and in 1876 he came to Montague county, purchasing three hundred and thirty-four acres of land in the Red River valley, on which he took up his abode. Finding that he liked the country and its people, he resolved to make the state his permanent abode, and added to his property until he owned twelve hundred and ninety acres of valuable farm land, all of which he put under fence. He likewise placed two hundred and twenty-five acres under a high state of cultivation, raised diversified crops and also engaged in raising cattle and other stock. He was successful in both branches of his business, and as the years passed accumulated a handsome competence. On coming to Texas he had only a small amount of money, and, after settling in Montague county, he sold his Missouri farm, which enabled him to make investments here. In all of his business affairs he has been practical and progressive and as the years have passed has accumulated a handsome competency that now enables him to live retired in the enjoyment of the fruits of his former toil. He is thoroughly satisfied with Montague county as a place of residence, with its prospects and its opportunities, and has become one of the valued residents of this part of the state. He continued his farming and stock-raising interests until 1899, when he sold out and purchased a commodious residence in Nocona, where he is retired from hard labor, now merely looking after his business interests. He loans money on farm mortgages and he has made judicious investments in this way. He possesses excellent ability as a financier, is careful in every business move that he makes, and as the result of his enterprise and diligence he has prospered.
As before stated, Mr. Coe was married in 1866 to Miss Matilda E. Clark. She was born in Virginia, but was reared in Saline county, Missouri. Her father, John Clark, also a native of Virginia, was one of the early settlers of Missouri and became a leading and influential farmer of Saline county, where he died, leaving a good farm to his wife and children. The mother afterward kept the family together and reared them in a most creditable manner. Her death also occurred upon the old homestead. The members of this household were: Charles, who died in Missouri; Strother and Albert, who have also passed away; Rufus, who resides upon the old homestead; Mrs. Eliza DeJoinet; Mrs. Florence Hanley; Mrs. Harriet Finley; Mrs. Mary Taylor, and Matilda E., who became Mrs. Coe. To Mr. and Mrs. Coe was born a daughter, Lucy O., the wife of I. A. Gist, who at one time m as a school teacher and afterward became a farmer of Montague county, but is now living temporarily in Denton in order to educate his children. In 1868 Mr. Coe was called upon to mourn the loss of his first wife, who died on the 23d of January of that year, in the faith of the Christian church, of which she was a worthy and devoted member. On the 4th of September, 1870, in Missouri, Mr. Coe wedded Mrs. Mary E. Smith, the widow of Fountain Smith, who was killed in the battle of Corinth while serving his country in the Confederate army. His wife bore the maiden name of Mary C. Priddy and was a daughter of Burk and Minerva (Walker) Priddy and a granddaughter of Robert Walker of McMinn county, Tennessee. Her paternal grandparents were John and Nancy (Whitlock) Priddy, the former a native of Halifax county, Virginia, and the latter of North Carolina. John Priddy removed from Virginia to Stokes county, North Carolina, afterward to Cooke county, Tennessee, and later to Polk county, Missouri, where he died March 8, 1861, at the age of eighty-three years. His wife, Nancy, was a daughter of Charles Whitlock, a native of Ireland, and her birth occurred in Albemarle county, North Carolina, and her death in Polk county, Missouri, in 1857, when she was seventy-five years of age. In the family of Mr. and Mrs. John Priddy were three children: Polly, who became the wife of Alford Taylor and died in 1888 at the age of eighty-five years, and David and Burk. The last named was born in Stokes county, North Carolina, where he remained until thirteen years of age, when he removed with his parents to Cooke county. Tennessee, where he spent his early manhood. In 1839 he married Minerva, daughter of Robert Walker of McMinn county, Tennessee, and a representative of a prominent and honored pioneer family of that state. Burk Priddy removed to Missouri in company with his father and their respective families and both settled in Polk county, where Burk Priddy made his home until 1870. He then came to Texas, locating in Grayson county, where he purchased land and engaged in general farming and stock-raising, continuing successfully in the business for many years. He owned a farm of one hundred and seventy-five acres of rich black soil, which he kept under a high state of cultivation, and he was regarded as a very successful and practical agriculturist and stockman. In addition to the homestead place he owned other lands in Cooke county, Texas, and acquired a competency for old age. He was highly respected for his integrity and honor, which were above reproach. In his advanced age he sold the Grayson county homestead and he and his wife came to Montague county, where they spent their declining years with their children. Both he and his wife died at the home of their daughter, Mrs. Coe, in Nocona, Mrs. Priddy passing away December 2, 1900, at the age of eighty-six years, while Mr. Priddy survived until April 20, 1904, passing away at the age of ninety-four years. She was a member of the Methodist church. In the family were nine children: Nancy E., the wife of D. V. Crites; Rachael A., the wife of A. Pulliam; Felix G.; Mrs. Coe; Davis; Wilton J.; Margaret A., the wife of Joseph Hodges; Willis and William B.
Mr. and Mrs. Coe have had no children of their own, but they have displayed great kindliness and a benevolent spirit in the care which they have given to a number of homeless children. They have reared and educated four orphans, doing a good part by them, and they are now all settled well in life. No one is ever turned from their door hungry, and their kind acts and benevolence have endeared them to many. They are now caring for an old aunt eighty-six years of age, and they gave filial affection and care to Mrs. Coe's parents during their declining years.
Source: B. B. Paddock, History and Biographical Record of North and West Texas (Chicago: Lewis Publishing Co., 1906), Vol. II, pp. 16-19.