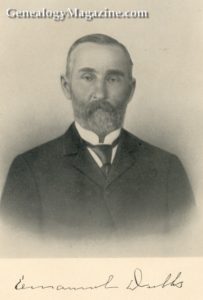 REV. EMANUEL DUBBS, minister of the Christian church, rancher, ex-judge, old Indian fighter, has known and been closely identified with the Panhandle country for perhaps as long a period as any other living man, and it has been his lot to witness the widely different phases of life which have successively passed over this country during the past quarter of a century—having been here when the ground trembled under the rush of the immense buffalo herds and when the roving red race scourged the prairies; he participated in the planting of the first white settlements and beheld the vast stretches of grassy plain when cattle ranging was the only industry considered profitable or possible; and then of more recent years he has seen the prairie sod turned over by the plow, the advent of agricultural communities, and the Panhandle taking its place as a settled and widely diversified industrial region. Such a representative of Northwest Texas history this work could by no means pass over, for he is part and parcel of the changing past which has made possible the progressive and prosperous present.
His life history begins at Canton, Stark county, Ohio, where he was born March 21, 1843, a son of Daniel and Elizabeth (Meckley) Dubbs, both natives of Pennsylvania and of Pennsylvania Dutch ancestry. His father, a life-long farmer, living in Stark county, Ohio, until after the war, when, his two sons having moved to Elkhart county, Indiana, he and his wife also took up their abode in that county, where they spent the rest of their years.
In 1861, being then a vigorous youth of eighteen, Rev. Mr. Dubbs enlisted at Canton, Ohio, in Company I, First Ohio Infantry, and for three years was in constant service in the Army of the Cumberland, being the Kentucky, Tennessee, Georgia and other parts of the south. He then returned home, and during the last year of the war belonged to Hancock's Veteran Corps, composed of about twenty thousand veteran soldiers, who saw service mostly in West Virginia and Virginia. He was in the army altogether for four years. After the war he came with his brother to Elkhart county, where he was in the lumber business for five years, after which he moved still further west and began his "roughing it" experiences of western life. For a short time he was located in the construction department of the Santa Fe Railroad, which was then building through southwestern Kansas. This brought him, in 1871, to the noted frontier town of Dodge City, in which place he helped build the first house, and brought his family there. Dodge City was then starting on its career as the roughest frontier town of the United States. During the first years of his residence there vast herds of buffalo roamed over the prairie, and after a short time Mr. Dubbs made a business of killing the buffalo for their meat and hides. With his associates he established buffalo camps, and carried on an extensive industry in curing buffalo meat and shipping it to the market. In 1874 he took part in the Indian war, as a scout assisting the federal troops under General Miles to put down the uprising of the Cheyennes. After this Indian fighting he moved southward from Kansas and established buffalo camps in what was then "No Man's Land," now Beaver county, Oklahoma, his headquarters being on the Cimarron river where he spent the winter of 1874—75.
In the latter part of 1875 his party came still further south, into the Texas Panhandle, where they continued their buffalo hunting. Their headquarters were in what is now Donley county and just a mile and a half northwest of where Clarendon stands. This was about the earliest permanent settlement in this part of the country. Mr. Dubbs had four separate buffalo camps, and he continued in that business until the herds had practically disappeared before the advent of the white man with his domestic cattle. Then, going into Wheeler county, he helped organize that county in the spring of 1878, just about the time Fort Elliott was established there. He was elected the first county judge of Wheeler county, and thus became the first judge of the Panhandle, there being twenty-six counties in this jurisdiction, and served as such consecutively for twelve years. In 1890 he returned to Donley county and located on his ranch a mile and a half northwest of Clarendon, where he had first located on coming to the Panhandle in 1875. He lived with his family on this ranch until the spring of 1904, when he moved into Clarendon, disposing of his ranch to his sons, Sylvester and Walter.
In 1896, after a period of serious and diligent preparation, Judge Dubbs became a minister of the Christian denomination, and ever since that time he has been missionary for the Texas State Board of Missions, in charge of the mission work of the Christian church in the Panhandle district. He has organized a number of churches, and has done effective work in establishing his church in the sparsely settled counties of the Panhandle.
Mr. Dubbs was married in Ohio, shortly after the war, to Miss Angeline Freed, a native Ohioan. She has been with him through all his western life, and has been a noble and inspiring assistant to him in all the enterprises which have so successfully been undertaken by him. Their marriage has been blessed with five many sons, who are themselves energetically taking up the tasks of life. Their names are: Clarence E., Charles W., Frederick R., William F., and Sylvester Sterling.
Source: B. B. Paddock, History and Biographical Record of North and West Texas (Chicago: Lewis Publishing Co., 1906), Vol. II, pp. 381-382.