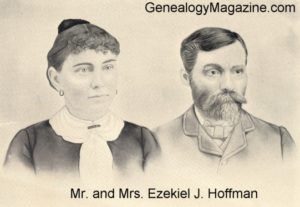 EZEKIEL J. HOFFMAN. The subject of this personal review has for the past twenty years been connected with the agricultural and grazing interests of Clay county. In the year 1885 he located on Red river near Benvenue, where he began the improvement of a tract of raw prairie purchased from John Jones. To the cultivation and improvement of this he devoted himself assiduously and he broke it, fenced it and put up a dwelling and shelter for stock. His farm embraces a half section and is one of the desirable and fertile ones of Clay county.
But Mrs. Hoffman's advent to the Lone Star state antedates his location in Clay county, as he migrated here when a youth in his teens and began life on the frontier as a cowboy, which occupation then offered a life of excitement, an opportunity to lay up some money and an opportunity to be connected with about all the industry there was in the state at that time. Among his first employers was Mr. Loring, who had an extensive ranch in Cooke county, and he accompanied many cattle drives to the early shipping point for Texas, Abilene, Kansas.
Cooke county just after the rebellion was not far from the advance guard of settlement in Texas and it was often the scene of bloody encounters with hostile Comanches. On one occasion Mr. Hoffman witnessed an Indian attack on a "mover wagon" containing James Box and family and saw Mr. Box killed and his family carried away into captivity, and himself powerless to render aid. The nature of his work brought Mr. Hoffman into close contact with the red man of the plains and in Texas, as in the Territory later on, he joined in the chase either to avenge some murder or to recover stampeded and stolen property. In the latter sixties Mr. Hoffman left Texas and became identified with the Indian country about Forts Sill and Reno and was absent from the state about eighteen years. As in Texas he was connected with the cattle industry and worked six years with a party who had the contract for supplying the army post with beef. He afterward filled two contracts of this character himself, one at Fort Sill and the other at Fort Reno, and in 1884, with about $3,000.00 as the accumulations of his years of effort, returned to Texas and undertook the making of a farm in Clay county.
Ezekiel J. Hoffman was born in Wilkes county, North Carolina, June 6, 1846. Andrew J. Hoffman, his father, passed his life as a farmer, made a trip to Texas some years before the Civil war and finally brought his family west to Benton county, Arkansas, and located there. He and one of his sons enlisted in the Confederate army, where he was a teamster, and both were lost rack of before the war ended. Sarah Crane became the wife of Andrew J. Hoffman and she died just east of Gainesville in 1859, leaving children: Abigail, deceased; James W., Elizabeth, and Ezekiel J., our subject.
Little education was obtained by Ezekiel Hoffman and he was forced to provide his own living at a very early age. At fourteen years he became a plainsman after cattle, and he was essentially that for twenty-five years. He married in Clay county September 6, 1885, Mary, a daughter of G. W. and Mary A. (Johnson) Simmons and widow of Albert G. Blanchard. The Simmons were from Virginia to Tennessee and thence to Texas. Of their four children Mrs. Hoffman is the sole survivor. Six children have been born to Mr. and Mrs. Hoffman, namely: Henry H.; Ethel N., Dwitt, [sic] deceased at six years; Sidney and Bessie, twins, and Josiah.
In politics Mr. Hoffman has tenaciously remained with the faith of Jackson and has supported Democratic principles without fear or hope or expectation of favors.
Source: B. B. Paddock, History and Biographical Record of North and West Texas (Chicago: Lewis Publishing Co., 1906), Vol. II, pp. 517-518.