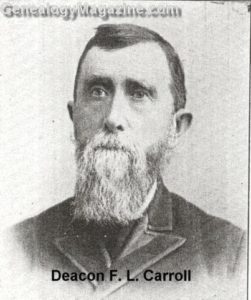 This princely giver was born in Dallas county, Alabama, May 25, 1831. When he was 17 years old moved with his parents to De Soto Parish, La. He was converted and baptized in October, 1853. Miss Sarah Long become one with him for life December 23, 1853. He was ordained deacon in 1869. He moved to Beaumont, Texas, in 1873, and in 1882 to Waco. In 1888 he was elected treasurer of Baylor University, which position he now holds. For nine years he has kept the finances of the University in excellent condition, and has given more money to the institution than any other person in Texas.
Deacon Carroll is president of the Beaumont Lumber Company, one of the larges lumber manufacturing enterprises in the South.
He has several times been elected as a member of the Board of Directors of the Baptist General Convention of Texas. He is a noble Christian brother.
Source: J. L. Walker and C. P. Lumpkin, History of the Waco Baptist Association of Texas (Waco: Byrne-Hill Printing House, 1897), pp. 268-269.