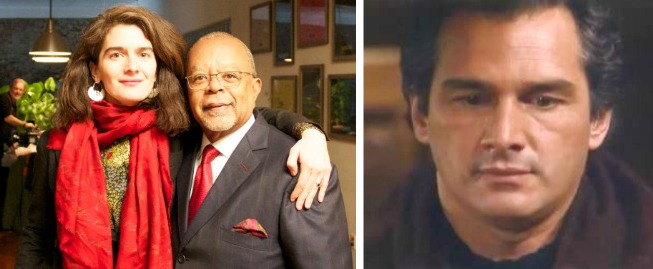 Gaby Hoffmann poses with Dr. Henry Louis Gates Jr. on the set of Finding Your Roots. Her father, the late Anthony Herrera (right), played villain James Stenbeck on As the World Turns.
By James Pylant
© 2017 | Posted 20 November 2017
Actresses Gaby Hoffmann and Téa Leoni are the guests on Finding Your Roots with Henry Louis Gates Jr., airing Tues., Nov. 21, at 8 p.m. (ET) on PBS. Dr. Henry Louis Gates Jr. pairs Hoffman and Leoni in this episode, called "Relatives We Never Knew We Had," as both are strongly connected to their childhoods, yet both grew up wrestling with questions about their families. They came to him with hopes of solving long lingering mysteries. "I felt scared, untethered" recalls Téa Leoni of the childhood moment when hearing that her mother had been adopted. But who are Grandma and Grandad? she wondered.
For Hoffmann, learning about her family tree would lend insight into understanding her father. This episode is especially interesting to me because I knew Hoffmann's father, the late actor Anthony Herrera, best-known as villainous James Stenbeck in the CBS soap As the World Turns. I interviewed Herrera for Soap Central, but as we kept in touch—and knowing that I'm a genealogist—Herrera said he had a curiosity about his roots. During a long phone chat a dozen years ago, he explained that he was especially interested in the ancestry of his maternal grandparents, the Blackburns.
The hour-long format of Finding Your Roots limits time to discuss the endless branches of a guest's family tree—especially when there are two or three guests per episode. In "Relatives We Never Knew We Had," Gates focuses on the parallels between Hoffmann and Leoni, maneuvering around the mysteries lingering from every attempt made by paper trails. Anthony Herrera once told me that his father may have been illegitimate—an issue that's tackled with diligence by Gates's research team. It makes for a fascinating, complicated story that sounds as if it came from the pages of Herrera's soap opera scripts. With the aid of genetic genealogist CeCe Moore, Gates's resolves those mysteries with the use of DNA. It's the same tool Moore used to uncover the background of Téa Leoni's mother, as adoption records are sealed, and answered the question Leoni asked 43 years ago: Who are Grandma and Grandpa?