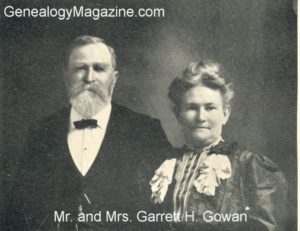 GARRETT H. GOWAN. Among the early settlers of Clay county who, with brave hearts and willing hands, accepted and overcame the dangers and hardships incident to pioneer life, contending successfully with the trials that inevitably meet the pioneer in all new countries, none is more worthy of mention that the subject of this sketch; a brave, good man whose sterling honesty, upright bearing and manly conduct won and retained the respect of all, while his untiring industry and unrivaled business acumen have been rewarded by a handsome competence which, being honestly acquired and wisely used, naturally places him in the foremost rank of the citizenship of the county.
Mr. Gowan was born in Smith county, Mississippi, and there his youth was spent. His father, Richard Gowan, while a young man, had settled in Simpson county, Mississippi, and there met and married Susan Peacock, a native of the formerly well known Peacock family of Louisiana. Nine children were born of his union, viz: Matilda, wife of John Young, of Blooming Grove, Texas; Samantha, who died as Mrs. G. W. Thomason; Garrett H., our subject; William, who died in early life; Terry, wife of Capt. J. V. Hodges, of Blooming Grove; Richard R., of Seattle, Washington; John W., near Lawton, Oklahoma; Alice, now Mrs. J. B. Jones, of Georgetown, Texas, and Mississippi, who passed away in early life.
The father having peculiar business ability and tireless energy soon became one of the wealthiest planters in Smith county, owning many slaves and having a large amount of landed and other property. He was largely interest in the breeding of blooded stock and it was while with him that our young planter acquired the thorough knowledge of the cattle business which paved the way and proved the groundwork of his future success. He was a student at Sylvareno Academy, in his native county, when the war of the rebellion came on, was among the first to enlist there at the age of sixteen, and left the county with the first company it furnished to the Confederate army. His was Company H, Sixteenth Infantry, under Captain W. H. Hardy, Colonel Posey's regiment, Trimmell's brigade and Hill's corps, and, later, in Jackson's brigade and Longstreet's corps. He went with his company into Virginia, reaching the front just after the first battle of Manassas. He was detailed there, being so young and immature, on provost guard duty under Major Payne at Warrenton for six months and then rejoined his company in the valley of Virginia, where under Jackson's command, they were engaged in the battle at Cross Keys. The seven days' fight followed and in the desperate battle of Malvern Hill he also participated. While the army was resting up from its hard work Mr. Gowan was discharged from the army on an order form the war department issued in pursuance of an act of the Confederate Congress for the discharge of all soldiers under eighteen years of age. He remained at home for ten months and having then reached the required enlistment age, he returned to Virginia and resumed his place in his old company. His first regular engagement after his return was at Spottsylvania Court House, during which he received a severe wound in the leg and was sent to the hospital for treatment. He soon recovered and, six months later, in a battle on the Weldon and Petersburg railroad in North Carolina, was taken prisoner and sent to Point Lookout, Maryland, where he was paroled the ensuing winter.
He made his home trip by boat and soon thereafter became a member of a company of the Home Guard and remained out of active service during the remainder of the war. The work of his father's farm occupied him the remainder of his stay in Mississippi and early in the year following the declaration of peace he took the step which established him in Texas and identified him with the west.
May 16, 1866, Mr. Gowan married Mary E. Lyles, a daughter of John T. Lyles, a prominent merchant, farmer and man-of-affairs who served with distinction during the war in the Twenty-seventh Mississippi Infantry, and who died in 1874, from the effects of a terrible wound in the neck received during the Vicksburg siege the day before the surrender. He was of a family prominent in the state, had creditably filled public office in Noxubee and Smith counties, Mississippi, and was universally esteemed. His brother, Dr. W. D. Lyles, was surgeon general in the Confederate army and was a conspicuous figure in his profession. The wife of John T. Lyles, whose maiden name was Julia A. Davis, was noted not only for her attractive personality and numerous accomplishments, but was distinguished by her marked intellectuality, charm of manner and gifted conversational powers.
Mr. and Mrs. Gowan were married on the 16th of May and on the 20th of the month, having heard of the better opportunities offered in the west, and especially and adventurous disposition, they determined to removed hither, and, by rail, departed from Lake station, for Vicksburg, where the steamer "Madam Ruth" conveyed them to Napoleon, Arkansas, and the "Linnie Down" took them on up the Arkansas river, to Little Rock. Arriving there they were only entering on the really difficult state of their journey. Mr. Gowan began his preparation for the overland trip by buying a good yoke of steers and one of the old Illinois wagons and laying in a supply of stuff for their commissary started bravely forth. Blessed by favorable conditions and delayed by no untoward incident, he made his tiresome way to Milford, Ellis county, Texas, where they halted with a relative, George Davis, and there put forth his first act as a citizen of the Lone Star state.
Shortly after reaching Ellis county he purchased of Mr. Davis the "UD" brand of cattle, which the latter had acquired about the beginning of the war and had taken no account of them and their increase during all the epoch. He paid for them in gold and began a rounding-up process which resulted in his finding some six hundred head scattered over a wide territory. Before he had really finished his roundup began the business of driving bunches of them to the New Orleans market and it was while so employed in 1867-8 that cattlemen from Kansas and Missouri came down, bought cattle in the southern part of the state and drove them north, on their way out picking up all unguarded animals they could possibly mix with their herds, and by this system of robbery Mr. Gowan was practically "stolen out." It was on this account mainly that he decided to seek another location. He first moved to Navarro county, where he was a ranchman for nearly five years. Energetic and industrious, he was prospering reasonably well when the opening of those lands to settlement caused an influx of immigration which threatened the curtailment of the cattle range and caused him to think of removal. He decided to locate all his interests there, but after four and one-half years again came to Texas and in 1876 found himself beginning his long residence in Clay county. Returning here, he bought a quarter section of land on East Fork, the site of old Camp Wichita, a post erected for the protection of the settlers form hostile Indians and occupied by a company of rangers commanded by Captain Ikard. When the post was abandoned and preparation was being made to open the land to settlement this locality was surveyed by Colonel William Howett and Dr. Eldridge. Then began a wild scramble for cattle range, small farmers, or "nesters," were bought out and wild lands secured.
Mr. Gowan devoted himself almost entirely to the handling of stock, in which he could rightly claim to be an expert. By wise management he gradually increased his holdings, buying up adjoining lands until his real estate holdings amounted to a princely estate. He was the first to introduce wire fences for pastures and thereby keep his cattle in and strange cattle out of his herd. In proof of the success, the results of his unremitting care, and almost faultless system of business it may be stated that in 1901, desiring to shift much of his responsibilities to younger shoulders, he divided among his children his eight thousand acre ranch, fenced, cross-fenced and supplied with tenements and has since amused himself with his little stock ranch of eight hundred acres within a mile of Henrietta. He has here a ranch-farm stocked with sheep, cattle, hogs and horses and in 1891, when he became interested up here, erected a nine-room brick residence, the only one of its kind in Clay county, and here he and his estimable wife are surrounded with all the necessities to make life comfortable and enjoyable.
Mr. and Mrs. Gowan's children are seven in number and their names and locations are as follows: Teedo, wife of M. L. Putty, of Henrietta, with children, Rose, Gowan, Cecil and Malcom; Sherwood, married to Hettie Harbison and has children, Clifton, Elmer, Buford, Eddie May and Francis Josephine; Richard T., married to Myrtle Crozier and has children, Crozier Gowan, Robert Lee and Hattie Lucile; Maggie, widow of Ed Kerr, resides in Corsicana and has a daughter, Marguerite; Susan, now Mrs. John L. Cecil, has a child, Mary Vivian; Miss Mary Gowan and Garrett H. Gowan, Jr., both with the parental home. The children have fine estates carved out of the old Gowan ranch on East Fork of the Little Wichita.
Mr. Gowan's parents lived to a green old age and died in Navarro county, Texas, the father aged seventy-seven and the mother at eighty-three. He comes of a long-lived family and is himself seemingly in the prime of life. His friends unite in the wish that, with his estimable wife, he may enjoy for many years the comforts and pleasures that crown well-spent lives.
Source: B. B. Paddock, History and Biographical Record of North and West Texas (Chicago: Lewis Publishing Co., 1906), Vol. II, pp.413-415.