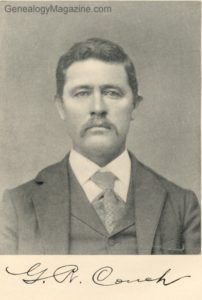 GEORGE REUBEN COUCH, cashier of the Haskell National Bank, Haskell, Texas, has been a resident of the county for more than twenty years and in many ways prominently identified with its growth and prosperity.
Mr. Couch traces his parental [paternal] ancestry to the "Emerald Isle." His grandfather, Couch, when a young man, came from Ireland to America and settled in Bedford county, Middle Tennessee, where he married a Miss Patton, a native of Tennessee, and reared a large family. Their son, John Archie Couch, father of the subject of this sketch, was born in Bedford county, Tennessee, where he grew up and married Miss Sarah Jane Hooser, also a native of that county, and where he was engaged in farming for a number of years. His wife died in 1863, at about the age of thirty years. She was the mother of four children, three of whom survived her, namely: Fanny,wife of T. J. Morrison, of Hillsboro, Texas; J. M. Couch, who died in Haskell county, Texas, in 1888; and G. R. Couch, whose name heads this review. After the mother's death the father married her sister, Miss Meda Hooser, by whom he had eight children, all now living and residents of Texas, viz: Mattie, the wife of L. W. Roberts, of Lubbock; Daniel R. Couch, of Aspermont; Allie, wife of R. L. Reeves, of Knox county; John A. Couch, of Haskell; Ettie, wife of W. G. Baker, of Coleman county; E. C. Couch, of Roby; C. R. Couch, of Lubbock; and Miss Stella Couch, of Munday. In 1870, with his family, at that time consisting of seven children, John Archie Couch moved from Tennessee to Texas, and settled in Hill county, where he carried on farming and stock raising for six years, at the end of that time changing his residence to Coleman county, where he lived for twenty years. Since 1896 he has been in Knox county and at this writing is postmaster of Munday.
George Reuben Couch was born in Bedford county, Tennessee, January 27, 1859, and was about eleven years old at the time the family came to Texas. A farmer boy in a thinly settled country, he grew up without many educational advantages, and when he started out on his own responsibility it was a stock driver on the range in Coleman county. He hired to Dunn & Coleman, of Coleman City, cattle owners, and was under C. C. Pool, now a prominent citizen of Fort Worth, who was known as the "boss." Reube Clayton, who was then with Couch, in charge of the second herd of cattle, is now president of the First National bank of Lubbock, Texas. After two years spent on the range, young Couch was made deputy surveyor of Coleman county, under W. J. Moore, who soon vacated the office, leaving Mr. Couch in full charge the rest of the term, at the close of which he was a candidate for office but was defeated. Soon after this, in 1883, he came to what is now Haskell county. Here he followed ranching and private surveying up to 1886, at which time he was elected county surveyor of Haskell county, which position he occupied six years, without any opposition. In 1894 he was elected county and district clerk, which office he filled six years, then declining to serve longer. At this time he accepted the position of cashier in the Haskell National Bank, the place he had since occupied. The bank was organized in 1890, under the name it now bears, with a capital stock of $60,000, and officered as follows: M. S. Pierson, president; Lee Pierson, vice president; G. R. Couch, cashier; M. Pierson, assistant cashier. Mr. Couch also has other banking interests. He is a stockholder in the First National Bank of Aspermont, Stonewall county, Texas, and the Beckham National Bank of Graham, Young county, Texas, and he is interested in other enterprises, including the Haskell Telephone Company, of which he is a stockholder and director. He owns about four thousand acres of land in Haskell county, devoted to farming and stock raising.
In Coleman county, in 1883, Mr. Couch married Miss Mattie Cope, a native of Texas and a daughter of George Cope, one of the early settlers first of Hill and afterward of Coleman county. They are the parents of six children, three sons and three daughters–Alva R., Florence A., Lela, Joseph E., Allene and George R.
In church and social circles at Haskell, Mr. Couch is as active and influential as in business affairs. He is a deacon in the Baptist church, with which he has been identified for the past eighteen years; has served on the Haskell School Board for a number of years, at this time being treasurer of the board; and in the Masonic lodge he holds important office.
Source: B. B. Paddock, History and Biographical Record of North and West Texas, Vol. I (Chicago: Lewis Publishing Co., 1906), pp. 595-596.