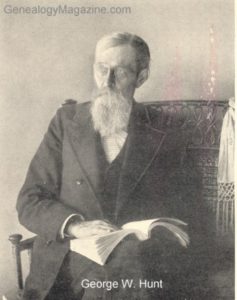 GEORGE WASHINGTON HUNT. The venerable and cultured gentleman who manages "Drummond Farm" in Young county and whose distinguished personality renders him one of the conspicuous figures of its present-day citizenship is the person whose name initiates this review. Although without historic interest as a pioneer of the county, his life record possesses an attraction for its vicissitudes and its history making incidents, and for the memories which naturally cluster about a scion of an ancient American family.
Mr. Hunt's business relation to Young county associates him with one of the chief enterprises of the county, Drummond Farm. Lying along the west shore of the Brazos and extending back into the interior for several miles is a rolling and semi-mountainous stretch known as Drummond Farm. Its name perpetuates that of the worthy father of its founder and owner and is ever suggestive of associations which lie close to the hearts of the two men whose mind and means have made its affairs a success. The ranch embraces five thousand acres and was established by Col. P. B. Hunt, of Dallas, for the breeding of Shetland ponies. After a few years pony culture was abandoned and the ranch was converted into a registered Short Horn breeding ground, and this industry, along with that of the growing of feed-stuffs for its maintenance, constitutes the business of Drummond Farm and indicates the substantial activities under its manager's control and suggests its part in the development of the county.
In 1886 George W. Hunt accompanied his brother to Young county, Texas, to assume his share in the shaping of matters on the ranch which the latter was opening and afterward called Drummond Farm. While the brother, Col. Hunt, has passed some time on the ranch, personally associated with its affairs, he has been chiefly concerned with official duties of a responsible character, as internal revenue collector of the northern district of Texas and, in the years prior, as United State marshal of the same, and to the management of George W., our subject, Drummond Farm has ever been committed. The brothers came hither from Fort Sill, Indian Territory, where Col. Hunt was agent of the Kiowa and Comanche Indians from 1877 and where George W. was first agency farmer and then for several years in charge of the agency schools. The latter accompanied his brother to the Territory from Fayette county, Kentucky, where he was born July 11, 1834. In point of settlement the family was an old one in that county, it having been founded by George Hunt, our subject's grandfather, in 1794. The latter was born in Monmouth county, New Jersey, and was a son of Col. Jonathan Hunt of Revolutionary times and of English stock. John Hunt was the English ancestor to establish this family on American soil and he sought the shores of the new world during the period of colonization in the seventeenth century.
George Hunt, Sr., married Catherine Drummond, who died in 1794, leaving an old child, Drummond, who was born in that year and who accompanied his father to the then frontier state of Kentucky. In that state the father remarried and two sons, Gordon and John, were the result of the union.
Drummond Hunt grew up where his father established their early home and acquired his education in the old subscription schools. He became a Whig in politics, knew the party's leader, Henry Clay, and was his warm personal friend. He made a success of the farm and retired at an advanced age to the enjoyment of his years of successful agricultural effort. He followed the Whig party into the Republican party in 1856 and, upon the issues of the war, his sentiments were pronouncedly with his country and its flag. Of his four sons, two entered the Federal army and two the Confederate and all cast their future on the fortunes of war. He was a typical gentleman of the old intellectual school, of splendid physique and strong and active mind and to the last day his mental action was as clear and reliable as in the vigor of life. Perhaps no man of his station was more widely know in Fayette county than he. He passed away in 1889, surviving his wife forty-seven years.
On his maternal side our subject is descended from the Burgesses, his mother, Catherine Burgess, having been a granddaughter of William Burgess, who commanded Maryland troops during the latter part of the seventeenth century. William Burgess was from Anne Arundel county, Maryland. The family was founded in Kentucky in 1790 where Philemon Burgess, the father of Catherine (Burgess) Hunt, was its recognized pioneer head. Drummond and Catherine Hunt were the parents of George W., of this notice; Mary, deceased, wife of Dr. Lewis Craig, of Plainfield, New Jersey; Col. Philemon B., of Dallas; Albert G., of Dallas; and Drummond, who was killed in the Missionary Ridge fight while a soldier in the Union army.
George Warfield Hunt came to maturity on his father's Kentucky farm and acquired his education in Georgetown College. He chose the profession of law and read with the firm of John C. Breckenridge and James Beck in Lexington where he was admitted to the bar and practiced law for a time before the war. His health failing he went to Arkansas and took charge of a plantation of his father's and was there when the conflict opened. He did not hesitate to cast his fortunes with the south and enlisted at Greenville, Mississippi, in the Twenty-eighth Infantry as a private in Capt. Blackwell's company and after serving some months was transferred, in 1862, to Gen. Morgan's command, then preparing to cross the river into Ohio. Before he started, the Confederate government learned of Morgan's capture and our subject was ordered to report to Gen. Joe Wheeler and he took part in the Thompson's Station and Missionary Ridge battles. Joining Gen. Morgan, eventually, he was made first lieutenant of his company and was placed on the staff of Gen. Basil Duke with the rank of adjutant. The command passed about over the states of Kentucky, Tennessee and West Virginia while the war was in progress and when Lee surrendered the Fifth Kentucky or, perhaps, Gen. Duke's command, left Charlottesville, North Carolina, and joined Jeff Davis's party, making its escape from the Federal authorities, guarding him to Washington, Georgia, where the Confederate president advised them to report for parole and permit him to continue his flight alone and with less danger of capture. At Augusta, Georgia, Mr. Hunt was paroled.
Resuming civil pursuits Mr. Hunt joined his brothers at their old home in the breeding of blooded horses, under the firm of Hunt Bros., and was connected with this industry until 1878 when he joined Col. Hunt, his brother, for service among the Indians in the Territory, as previously narrated.
Until recent years Mr. Hunt was a Democrat and as such he was elected county commissioner of Young county, but when his term was nearing a close Democracy split and he allied himself with the gold remnant of its and, while he was urged to stand for re-election, he declined, knowing the power of the free silver sentiment in the county. From a gold Democrat to a McKinley Republican was only a step and he took it in 1896 and supported the lamented chieftain for president. He cast a second ballot for Mr. McKinley, and in 1904 gave Roosevelt his vote for the greatest American office.
All his life Mr. Hunt has been a soldier of the cross. When he came among the Drummond settlements he was an Episcopalian but in the absence of the church of his choice he united with the Methodists and for many years taught the bible class in the Miller's Bend Sabbath school, serving for a time as superintendent of the school. He is a lover of good books and has his table covered with papers, magazines and other periodicals. He is especially fond of biography and has acquainted himself with most of the standard authors of fiction. His gentleness, his tender sympathy, his bright and active mind and his moral rectitude especially fitted him for the duties and responsibilities of a father but he has passed through life a celibate and all friends know him and revere him as "Uncle George."
Source: B. B. Paddock, History and Biographical Record of North and West Texas (Chicago: Lewis Publishing Co., 1906), Vol. II, pp. 653-654.