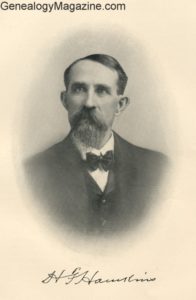 HARVEY FORNEY HAWKINS. The urban community of Chico, Wise county, has been favored from its infancy by the presence within its environs of a gentleman active in promoting the interests of its domestic commerce and prominent in its civil and social affairs, namely, Harvey F. Hawkins, mentioned as the subject of this personal record. Chico has numbered many worthy men among her citizenship, but few are now distinguished as pioneers, and fewer still are they whose business and personal interests lie as near the hearts of the village and rural populace as those of Mr. Hawkins. While a wide commercial streak traverses his nature and the emoluments of trade are an everyday incentive to labor, the accumulation of wealth is not his sole object in life nor the applause of friends his highest ambition.
When he came to Wise county, in the fall of 1874, Mr. Hawkins located four miles southwest of where Chico now stands and "squatted" upon the open range where he grazed a bunch of stock and started a little farm. Five years later he moved to the village, it having in the meantime been founded, and opened a store with J. R. Chambers. The firm of Chambers & Hawkins was one of the first established and it existed four years. Afterwards Mr. Hawkins invested in sheep and placed them on the range in Jack county. Misfortune overtook him in this venture and within two years he has lost nearly every hoof and found himself ready to begin life almost anew. Returning to Chico he acquired an interest in a gin and secured the appointment of postmaster, also, and for two years kept his head above the tide while he was getting back upon his feet. During this time Tax Collector Brice Mann died, and he was appointed to fill the vacancy, serving the unexpired term. He was twice elected to the office and surrendered it to his successor, in 1894, after having filled it five years. When the railroad was built through Chico he joined his brother, Charles C., in a mercantile venture and again put in a stock of goods here. They put in a $2,000 stock of hardware, and when he retired from office Harvey F. took his place behind the counter, where he has since remained. To their original stock the firm added groceries, furniture, implements and leather goods, and carry a stock valued at $35,000, nearly twenty times their capital stock at first, and are second to no mercantile concern in the town.
Harvey F. Hawkins was born in Rutherford county, North Carolina, July 27, 1853, and is a son of Terrell Hawkins, who died there in 1861. The father was born in Marion county, that state, in 1804, and was married to Barbara Walker, who passed away in 1857. To this union were born fifteen children: Michael, Thomas and James, who died in the Confederate service at Petersburg, Virginia; Caroline died unmarried and Martha passed away as the wife of John Pardon; Charles C., who went into the Confederate service in 1861, and surrendered with Lee's army at Appomattox, and is now our subject's partner; Ransom, who died young; William, also a Confederate soldier, and died at Wilmington, North Carolina; Hampton P., a Confederate soldier, and now a manufacturer at Webb City, Missouri; Joseph, who was in the Confederate army, and when last heard of, in 1890, was in California; Sarah, wife of William Morris, of Rutherford county, North Carolina; Terrell G., Jr., a banker at Hillsboro, Texas; Millard F., a Christian minister, at the same point; Harvey F., our subject; and Mary J., wife of C. M. Keeter, of Chico, Texas.
After the death of his father Harvey F. Hawkins made his home with the widow Watson, his aunt, and many is the time he occupied a slab bench while in the act of getting an education. Ray's arithmetic, Webster's speller and Smith's grammar were some of the thumb-worn books he used, and he fed his mind freely during the time he was spared to school. At fourteen years of age he took charge of the Watson farm, and made it his home until he left the state. He came out to Texas single in 1874, and remained so until 1882, when he was married, May 25, to Miss Emma Moore, eldest daughter of Captain James B. and Susan (Major) Moore, formerly from Anderson county, South Carolina. Mr. and Mrs. Moore both died at Jacksboro, Texas, the parents of Mrs. Hawkins; Miss Fannie; Nannie, wife of M. G. Nelms; Eliab B. and John A., of Jacksboro; Bettie, wife of Dr. A. B. Edwards, of Henrietta; and Sallie, wife of Dr. W. G. Yeakley, of Bowie. Mr. and Mrs. Hawkins are the parents of seven children, four of whom are living, viz.: Barbara, Blanche, Harvey F., Jr. and Mary. The family are active workers in the Missionary Baptist church, of which Mr. Hawkins is a deacon. For twelve years he has been and is still superintendent of the Sunday school here, and for four years has been moderator of the Wise County Baptist Association. The Hawkins are all Democrats, and our subject is a Blue lodge Mason.
The Merchants' and Planters' Bank at Chico, in which Mr. Hawkins is interested, and of which he is cashier, has a capital stock of fifty thousand dollars.
Source: B. B. Paddock, History and Biographical Record of North and West Texas (Chicago: Lewis Publishing Co., 1906), Vol. I, pp. 534-535.