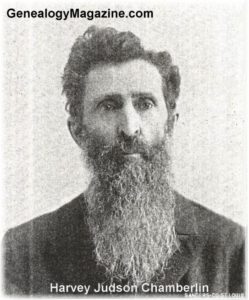 DEACON HARVEY JUDSON CHAMBERLIN, LL. B. We take the following from Biographical Sketches of the Class of 1858, Dartmouth College, published in 1884: Harvey Judson Chamberlin, LL. B., the son of Chauncey Milton and Fannie (Tolles) Chamberlin, was born at Weathersford, Vt., September 18, 1834. His father was a farmer. Preparatory studies at the academics of Ludlow, Townshend and Thetford, Vt.; joined the class at the beginning of middle year. After graduating read law and was graduated at Albany Law School in May, 1859. Admitted to the bar the same month. After practicing about a year in Vermont went to Texas. His health prevented him from confinement to office duties and so in Bell and Milam counties he engaged in stock raising, with banking and mercantile interests. He was postmaster at Belton, Texas, under two presidential administrations. He has taken a prominent part in educational and religious enterprises in his adopted state.
* * * *
Married December 30, 1863, Mary Ferris, daughter of Mark Harmon and Emaline (Catlin) Pike. Children: Charles Milton, born January 20, 1865, died December 20, 1866; David Tolles, born September 19, 1871, died October 5, 1875; Chauncey Milton, born February 26, 1873, died October 17, 1875.
While a student of Dartmouth, H. J. Chamberlin was converted and soon after baptized and received in the Baptist church at Perkinsville, Vt. During the last seven years of his college life, three months were spent each year in teaching. The effect of the change from active farm life of boyhood to the sedentary life of student and teacher resulted in breaking down a not very strong constitution. Hoping that a change of climate and habits might be beneficial, he came to Texas, arriving in Belton, November, 1860. Engaged in stock raising, which with several other enterprises claimed his attention till 1888, when, debilitated by bronchial and lung troubles, he disposed of his interests and again sought a change of climate. After residing one year at Boone, Iowa, and three years at Chicago, he returned to Texas and became connected with the Texas Baptist Standard, uniting with the First Baptist church, Waco. On Brother Chamberlin's first arrival In Texas in 1860 he became identified with the work of the Baptist denomination. There were then very few Sunday schools in Texas. He felt the importance of this work, and interested himself actively in the work of organizing schools. He has been a zealous laborer in Sunday schools ever since, and has always taken a deep interest in the work of his church and the missions connected with it. In the early days of the First Baptist church at Salado Brother Chamberlin held membership with W. W. Harris as pastor. Soon afterward he moved to Milam county and went into the organization of the Baptist church at Davilla, with Geo. W. Baines, Sr., pastor. On July 4, 1868, he was ordained deacon at Davilla. The same year he became clerk of Leon River Association, and served till the organization of Salado Association in 1874. He was then made corresponding secretary of Salado Association, and was the next year elected moderator, and re-elected each year until his removal from the state. While living in Belton Brother Chamberlin was instrumental in securing the removal of the late M. V. Smith to that place. Brethren M. V. Smith and H. J. Chamberlin organized the first Sunday school institute in Texas, and perhaps the first in the world, in 1875. Though this dear brother has been for more than twenty years in active business, and much of the time in very feeble health, he has been one of the laymen who has found time and strength to attend to his church duties, and very seldom ever failed to attend any of its services. As business manager of the Baptist Standard at Waco he is giving his denomination noble service.
Source: J. L. Walker and C. P. Lumpkin, History of the Waco Baptist Association of Texas (Waco: Byrne-Hill Printing House, 1897), pp. 273-275.