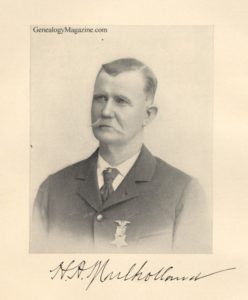 HENRY A. MULHOLLAND is now city assessor and collector of North Fort Worth. He has also operated in real estate here and the rapid settlement and growth of Texas has furnished an excellent field for success to the real estate dealer who possesses marked enterprise, keen discernment and executive ability. Mr. Mulholland was born in Dayton, Ohio, December 30, 1839, and is of Irish lineage, his parents, Roland and Margaret J. (McCaffery) Mulholland, having been born and reared in county Derry, Ireland. The father was a brick mason and builder by trade, and his last years were spent in Piqua, Ohio, while his wife died at Richmond, Indiana.
Henry A. Mulholland was yet a young lad when his parents removed from his native state to Richmond, Indiana. He was living near Dayton, Ohio, however, in 1853, and was there employed on a farm. From that place he went to Defiance, Ohio, where he remained until 1855, after which he returned to Richmond for a brief period. His next home was in Preble county, Ohio, and in October, 1859, while living there, he became connected with the railroad business, in which he was engaged almost continuously until 1895, with the exception of the period of the Civil War.
When the country became involved in hostilities following the attempt at secession made by the southern states, Mr. Mulholland joined the Federal army, enlisting at New Paris, Preble county, Ohio, as a member of Company C, Fiftieth Ohio Infantry, under Captain McGraw. He was with his command for more than three years, operating in Kentucky, Tennessee, Alabama and Georgia. The regiment was at first attached to McCook's corps, Tenth Division, Thirty-fourth Brigade, and the first important battle in which Mr. Mulholland participated was at Perryville, Kentucky, on the 8th of October, 1862. Later the regiment was detached from this brigade and assigned to the duty of guarding trestles on the Louisville & Nashville Railroad, thirty-six miles south of the former city. This was in 1863 and about that time a battalion of engineers was organized at Camp Nelson, Ohio, comprising two companies of three hundred men selected from detachments from the Twenty-third Army Corps. These men whom Mr. Mulholland joined were mustered in independently just as a regiment under a regular army officer, Captain O. M. Poe, and the subject of this review thus remained with the battalion, which was attached to the army under General John M. Schofield, during the remainder of the war. He retained his connection officially, however, with his original company and regiment and was discharged from the same at the close of hostilities. In August, 1863, his command crossed the mountains to Knoxville and went into the city just as General Buckner left it. He was at Knoxville during the siege in November and December, 1863, and in the spring of 1864 with his command was ordered to join Sherman's forces at Red Clay Station and take part in the campaign leading up to the battle of Atlanta. Subsequent to that engagement Mr. Mulholland's battalion went with the Twenty-third and fourth Corps to Nashville to check the advance of Hood and engaged in the battle of Franklin and later in the battle of Nashville. From the latter place they went to Clifton, on the Tennessee river, thence to Cincinnati, on to Columbus and later to Washington. Subsequently they were sent to Moorehead City, North Carolina, to Kingston, Goldsboro and Raleigh, North Carolina, and thus approached the time when the war ended. Mr. Mulholland being honorably discharged at David Island, New York, on the 10th of June, 1865. Returning to his home in Ohio, Mr. Mulholland resumed railroading, holding different positions, such as foreman and roadmaster on different lines throughout the country, but also connected with the track department. His first work in railroading service was on what was then known as the Eaton & Hamilton Railroad, now a part of the Big Four system. He was afterward on the old Indiana Central, running between Indianapolis and Columbus, this road being eventually merged into the Pittsburg, Columbus, Cincinnati, Chicago & St. Louis Railroad, and eventually becoming a part of the Pennsylvania system. He was first made foreman in the track department of that road in 1866 and occupied similar positions in that part of the country for several years.
On the 29th of August, 1883, Mr. Mulholland reached Fort Worth, Texas, and in this state he was roadmaster at two different times on the Gould system. In the fall of 1895, however, he retired from railroad service and took up his abode permanently in North Fort Worth. He purchased property here in 1891 and subsequently he bought other real estate interests, his property becoming greatly enhanced in value through the rapid growth of the town following the building of the new stock yards and the great packing houses. His real estate interests are now quite important and represent a large investment. The care of his property claimed his time until he entered the office of city assessor and collector of North Fort Worth, to which position he was appointed in 1903, and in April, 1904, when the office had been regularly provided for by law, he was elected for the regular term of two years. He is a capable official, his services giving complete satisfaction to the citizens of his adopted town.
Mr. Mulholland was married to Miss Anne McNally, who is a native of Ireland, and they have three children: Mrs. Margaret Lydon, of North Fort Worth; John F., who is in the auditor's office of the Frisco system at Fort Worth; and Joseph A., who is joint agent of the Frisco and Cotton Belt railroads at North Fort Worth. Dependent upon his own resources from early life Mr. Mulholland has made consecutive advancement in his business career and today occupies an enviable position as a substantial real estate dealer and representative citizen of North Fort Worth.
Source: B. B. Paddock, History and Biographical Record of North and West Texas (Chicago: Lewis Publishing Co., 1906), Vol. II, pp. 151-152.