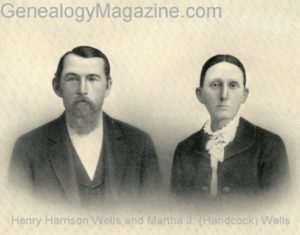 HENRY HARRISON WELLS. In the year 1895 the community of Crafton received among its thrifty and forehanded population a settler whose course during the succeeding decade has been marked by a steady and material pecuniary advance and who has established himself in the goodwill and confidence of a wide circle of Wise county's business men. He came as a quiet citizen without bluster or trumpet's blast, seeking a location and an opportunity for the exercise of his industry and intelligence to the end that, in the evening of life, he and his might be provided with those substantial elements so conducive to the real enjoyments of retired existence.
Mr. Wells chose his location on the George R. Craft pre-exemption and his fertile and productive farm lies against the site of the village of Crafton, of which its owner is a leading and influential spirit. He came hither from Thackersville in the Chickasaw Nation, where for eleven years he plied his vocation as a farmer as a lessee of the lands of "Poor Lo." Ardmore was his chief trading point and while there he was informed by the judge of the peace court that he signed the first bond given at that place in an assault and battery case. He went to the Indian country as a poor man in the hope the title to its land might soon be gained by the whites, but, in time, he despaired of this event and although prosperity regularly came to him, he decided to change his location to the fertile and titled soil of Texas and at once acquire a home.
January 6, 1841, Henry H. Wells was born in Tippah county, Mississippi. His father, Rev. Joseph Wells, founded the family there when a young man, a settler from Giles county, Tennessee, where his birth occurred in 1811. For fifty years the latter was a Methodist minister and when the rebellion came on he was made colonel of the Twenty-third Mississippi Infantry. He was a doctrinal preacher and worked chiefly as a supply and was known widely for many years prior to his death, which occurred in Prentis county in 1895. In early life he was a Whig, but later a Democrat, and was a son of John Wells, who died in Tippah county. John Wells was born in Virginia, passed his life in rural pursuits and lived in Tennessee a few years on his way from the Old Dominion state to his final location in Mississippi. He married Miss Livingston, who bore him: William, Levi, John, Pleasant, Miles, Rev. Joseph, Mrs. Dr. Biggs, Mrs. Dr. Harrison, Mrs. Eliza Bennett and Mrs. George Miller.
Rev. Joseph Wells married Sarah, a daughter of John Burns, of Maury county, Tennessee. Mr. Burns was a native Irishman and lived and died on his farm in the state of Mississippi. Mrs. Wells passed away in 1881, the mother of: Pinkney, who died young, and Miles, who died a prisoner of war in Chicago; William died in Mississippi; Mary, wife of John A. Stokes, of Prentiss county, Mississippi; Nancy, deceased wife of John Bartlett, of the same county; Amanda, wife of J. K. Bartlett, of Tippah county, Mississippi; Henry H., of this sketch; John, who died in the military prison of the Federals at Chicago; Watson, of Hall county, Texas; and Wilson, of Union county, Mississippi.
A limited education in the district school came to Henry H. Wells as he grew up on the farm in Tippah and Prentiss counties, Mississippi, and he was just past his majority year when the differences broke into open hostilities. In 1862 he joined Company H, Thirty-fourth Mississippi Infantry, Colonel Benton, and became a part of the Army of the Tennessee. He was in engagements at Farrington and Murfreesboro, in the Missionary Ridge campaign and on south to the defense of Atlanta. August 3, 1864, he was captured near Atlanta and taken to Camp Chase, Ohio, and held a prisoner of war until March 17, 1865, when he was paroled at Richmond and permitted to return home.
As he had been reared a farmer Mr. Wells resumed the vocation on returning to civil pursuits and continued it in the state almost twenty years, when he cast his fortunes with the Indian country of the west and added his vigor and strength and that of his family to the civilization of the frontier.
In August, 1860, Mr. Wells married Martha J. Handcock, a daughter of Benjamin and Matilda (Ramsey) Handcock, and they began life modestly and on a rented farm. The issue of their union are: Mary, wife of William Hayes, of Bowie; Effie, wife of Z. B. Shurbet, of Montague county; Annie, who married Dr. Hunt and died in Crafton; Arthur B., an employe[e] of the mercantile firm of Robert Weil, of Bowie; Joseph B., of Crafton, married Lula Harris; Ida, widow of Mark Miflan; Henry B., married Ella Underwood who resides near Crafton; Marvin, who was accidentally killed at Thackersville, Indian Territory; Amy, wife of Rome Harrisy, and Miss Tisha, the only child yet at the old home.
Mr. Wells has affiliated with the Democratic party from his first vote and while in the Territory he was deputy United States marshal and also a notary public. In Wise county he has filled the office of notary and that of justice of the peace of Precinct No. 3. He is a Mason of Crafton Lodge No. 617, and the family hold allegiance to the Cumberland Presbyterian church.
Source: B. B. Paddock, History and Biographical Record of North and West Texas (Chicago: Lewis Publishing Co., 1906), Vol. II, pp. 467-468.