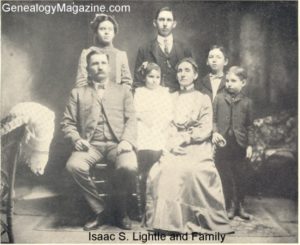 The agricultural and stock-raising interests of Clay county find a worthy representative in Isaac S. Lightle, who is carefully conducting his business interests and meeting with gratifying success. He was born in Pike county, Illinois, May 31, 1861, and is a son of Samuel and Mary (Dempsey) Lightle. The mother was a native of Ohio and was taken by her parents to Missouri, where she was reared and married. The paternal grandparents of Mr. Lightle removed to Pike county, Illinois, purchased a farm there and reared their family. Samuel Lightle was married in Missouri and remained in Pike county for a number of years, but in 1889 removed to Kansas, settling in Butler county, where he purchased a farm and yet makes his home. His entire life has been devoted to general agricultural pursuits and stock raising. In his political views he is an earnest and inflexible Democrat, never faltering in his allegiance to the principles of the party, but he has never sought to figure in public life. Those who know him entertain for him a warm regard because he is found reliable in business and faithful in all duties of citizenship and private life. His wife is a daughter of Coleman Dempsey, a farmer and tobacco raiser, also engaged in the cultivation of fruit. In the family of Mr. Dempsey were six children: Isom C., an attorney at law; J. W., a merchant, of Detroit, Illinois; John, a brick mason; Nelson; Mrs. Mary Boothe, and Mrs. Martha Lightle. To Mr. and Mrs. Lightle were born the following children: Mary, the wife of Thomas A. Wood, an attorney; Isaac S., of this review; John W., a farmer; Nettie, who died at the age of twenty-one years; Lottie, who passed away at the age of eighteen years; Nelly, the wife of Dr. Brown. The parents of these children are members of the Methodist church and are people of the highest respectability.
Isaac S. Lightle remained under the parental roof until twenty-one years of age, when he married and settled upon a farm belonging to his mother-in-law. Later he purchased a tract of land which he cultivated a few years, when in 1895 he sold the property and came to Texas. In that year he purchased a farm in Clay county, an extensive tract of land nine hundred acres, of which seven hundred were under cultivation. In May, 1905, he sold this farm, and located three miles on Red river, farming still more extensively than before. He cast in his lot among the pioneer settlers in reclaiming the district for the purposes of civilization. During all this time he has never had a total failure in crops, although there have been some short crops on account of drought, but if the wheat failed the corn bore and the other crops were good, and thus he has always had plenty to support his family and stock. He is also demonstrating tht horticultural pursuits may be profitable, and put out a large orchard of five thousand trees and is well pleased with the outlook of the country, for he realizes that industry and labor find their just reward here. He carries on general farming and stock raising and he purchased and operates a thresher, having a traction engine and doing not only his own threshing, but also threshing for his neighbors.
Mr. Lightle was married to Miss Dorcas H. Wade, who was born in Pike county, Illinois, in February, 1861, and is an estimable lady, who has been a good helpmate to her husband. She is a daughter of Frank and Jane (Elliott) Wade, a resident farmer of Pike county, where both he and his wife died. In their family were three children, Mrs. Lightle being the youngest the others being Ella, the wife of E. Newport; and John K., who died January 1, 1906. The marriage of Mr. and Mrs. Lightle has been blessed with five children: Guy E., a traction engineer; Lela M., and Ross S., who are at home; Allen I. and Mildred D., who are in school. Mr. Lightle is a stanch Democrat, but without aspiration for political office. His wife belongs to the Methodist Episcopal church. He is regarded as a most enterprising business man, brooking no obstacles that can be overcome by determined purpose and carrying forward to successful completion whatever he undertakes.
Source: B. B. Paddock, History and Biographical Record of North and West Texas (Chicago: Lewis Publishing Co., 1906), Vol. I, pp. 508-509.