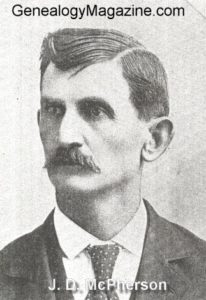 DEACON J. D. McPHERSON, a sound Baptist brother, and several years board member of his church, was born in Conecuh county, Ala., August, 1849; moved to Texas with his Presbyterian parents in 1866. He was baptized into Hope church in September, 1879; joined Center church in August, 1885, and was ordained deacon by J. F. McLeod and J. R. M. Touchstone, July 1, 1888.
Brethren J. Saxon and J. F. Hickman are also deacons of Center church, spiritual, consecrated men.
Source: J. L. Walker and C. P. Lumpkin, History of the Waco Baptist Association of Texas (Waco: Byrne-Hill Printing House, 1897), p. 272.