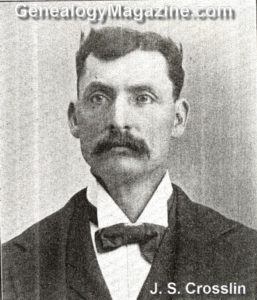 ELDER J. S. CROSSLIN. This promising young brother was born near the quiet little town of Manchester, Tenn., October 21, 1864. His father was H. B. and his mother Eliza Jane (Jolly) Crosslin. The family moved to Laurence county, Ala., in 1873. At the tender age of 11 years, young J. S. professed a hope in Christ and joined Liberty Baptist church at Town Creek, Ala. In 1881 he went to Mississippi, and won the heart and hand of Miss Fannie Conger, daughter of a wealthy farmer, Eli Conger. With his young wife he moved to Arkansas, but he returned to Mississippi and lived for several years to Arkansas, but he returned to Mississippi and loved for several years in the little town of Arkabutta.
At the age of 27 he yielded to the impressions which had followed him from his conversion, to preach the gospel, and he was licensed by the Hopewell Baptist church in December, 1891.
He entered Mississippi College at Clinton and spent two years. Failing health admonished him to seek a new locality. So with a letter of introduction from his beloved president, R. A. Venable, to the Baptist brotherhood of Texas, he turned his eyes toward the setting sun, crossed the great father of waters, and was soon in the little town of Omaha, Texas. Here he taught school for a little while. On September 11, 1894, he and his little daughter, Nina, entered Baylor University, where he is still a student. He was ordained by the First Baptist church, Waco, October 3, 1896, and immediately became pastor of Axtell church, and soon afterward of Gerald church, a newly organized body.
Source: J. L. Walker and C. P. Lumpkin, History of the Waco Baptist Association of Texas (Waco: Byrne-Hill Printing House, 1897), p. 290.