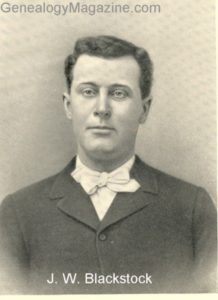 J. W. BLACKSTOCK, following farming in Clay county, was born in northern Georgia, November 3, 1860, his parents being R. W. and Cornelia (Whitsett) Blackstock, the former a native of Georgia and the latter of North Carolina. His paternal grandfather, William Blackstock, was a planter and miller and was of Irish descent. His entire life was spent in Georgia, where he was widely known and highly respected, his integrity and honor being above reproach. In his family were the following named: James, a noted Baptist minister of Georgia; R. W.; Lafayette; Jasper Lafayette, who came to Texas and was a teacher, merchant, chorister in his church and a prominent man; Eliza J., the wife of J. Russell, and Mrs. Montgomery.
R. W. Blackstock was reared in the state of his nativity, learned the milling business in connection with his father, and also followed merchandizing. Becoming a soldier in the Confederate army in the Civil War, he sustained a wound in battle. Previous to the war he had been a slave owner and he was a very prominent and influential citizen of his community. In 1870 he removed from Georgia to Arkansas, where he purchased a farm and thereon made his home for thirteen years. He then sold that property and came to Texas, settling at Dodd City, where he lived retired up to the time of his death, which occurred in 1894, when he was seventy-six years of age. He was a consistent member of the Baptist church and he also belonged to the Masonic fraternity. His wife, who died in 1903, at the age of seventy-six years, was a daughter of Moses Whitsett of North Carolina, a well-to-do farmer and influential resident of his community. He died in the old North state and his wife removed to Georgia after dividing her slaves among her children. There she lived retired until her death. The members of the Whitsett family were: Mrs. Jane Harris; Mrs. Cornelia Blackstock; Angeline, deceased; James, who served as captain in the Confederate army; Joseph, who also commanded a company of Confederate troops; and Moses, who served as a private in the Confederate army. By the second marriage of the mother there were to children: Augustus Ray and Henry, who were likewise Confederate soldiers.
Richard W. Blackstock had a family of eleven children: Mary Angeline, the wife of L. Thornton; Mrs. Nancy Turner; Dorinda, who died in childhood; Henry and William, who also passed away in early youth; Augustus, who died at the age of sixteen years; J. W., of this review; Joseph, John and Thomas, all of whom are residents of Texas; and Mrs. Fannie B. Williams.
J. W. Blackstock, born in Georgia, removed with his parents to Arkansas and remained under the parental roof up to the time of his marriage. His education was of a practical character and he was reared to farm life. In 1880 began operating the homestead farm, which he continued until 1882, when he came to Texas, settling first in Montague county. There he rented land, on which he lived for two years, after which he removed to Jones county and again rented a farm for two years. On the expiration of that period he returned to Hunt county, where he spent two years and then again went to Jones county. In September, 1893, he took up his abode in Clay county, where he rented a farm and later purchased an adjoining tract of land, on which he continued until December, 1903. He then sold out and purchased where he now resides, becoming owner of three hundred and eighty-one acres of fine land in the valley of the Big Wichita river. It is beautifully situated and he has erected thereon a commodious residence which stands on a natural building site, so that he is able to command an excellent view of his farm and surrounding country. At the time of his purchase only a portion of the land was under cultivation but he has since made many substantial improvements, has carried on the work of clearing and cultivating the soil and has an excellent farm. He may well be termed a self-made man, for his prosperity has come as the direct result of consecutive effort, indefatigable purpose and strong determination. He is rated with the best farmers of the county and his place is valuable and productive.
Mr. Blackstock was united in marriage to Miss Sallie M. Whitaker, who was born in Tennessee in 1864 and is a daughter of F. M. and Parlie (Grave) Whitaker, the former a native of North Carolina and the latter of Tennessee. Her father followed the occupation of farming as a life work and at the time of the Civil War he put aside business and personal considerations in order to become a member of the Confederate army. In 1880 he removed to Arkansas, where he purchased a farm, and two years later he sold out there and came to Texas, settling in Jones county, where he yet resides, being a prominent agriculturist and highly respected citizen of his community. He is a consistent member of the Methodist Episcopal church and he and his wife are now enjoying the comforts of life that come as the reward of well directed labor in former years. In their family were the following named: Lewis, a resident farmer of Arkansas; Sallie May, now Mrs. Blackstock; Mrs. Elizabeth Colwell; William, who is engaged in merchandising in New Mexico; Mrs. Maggie Woodson; Mrs. Nelly Howard, and Mrs. Violet Blackburn.
Mr. and Mrs. Blackstock have had five children, but Curon died at the age of two years, while the second child died in infancy, and Ada also passed away at the age of two years. Edith B., who was born June 29, 1885, and Harry, born August 16, 1888, are at home. Mrs. Blackstock is a member of the Methodist church. Mrs. Blackstock is a Mason in the Blue lodge. He is interested in many progressive public measures and has co-operated in various movements which have contributed to the general good. His life stands in exemplification of the fact that industry and careful management constitute the basis of success, for it is by the exercise of these qualities that he has gained a place among the substantial farmers of the county.
Source: B. B. Paddock, History and Biographical Record of North and West Texas (Chicago: Lewis Publishing Co., 1906), Vol. II, pp. 70-71.