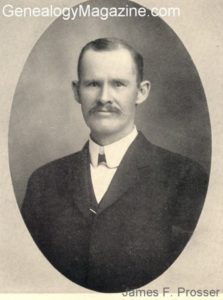 JAMES F. PROSSER, county auditor of Tarrant county and a well known citizen of Fort Worth, has been identified with this city for over twenty years and throughout this time has been connected with the administrative work of the county. Such a long incumbency of practically the same position is creditable to the ability and character of any man, and Mr. Prosser has proved himself one of the most capable county officials Tarrant county has ever had.
Mr. Prosser was born at New Cumberland, Hancock county, West Virginia, June 5, 1858, a son of Joseph S. and Lillie C. (Clark) Prosser. His father, a native of Virginia, in early life followed barge-building on the Ohio river, but later took up the occupation of farming. He moved to Indiana and lived at Georgetown, that state, for some years, and in 1882 came to Texas, settling on a farm at Keller in the northern part of Tarrant county, where he is still living, a successful and enterprising farmer. The mother, who is also living, is of French Canadian ancestry, born on the Island of Jesus in the St. Lawrence river.
Educated in the common schools at Georgetown, Indiana, and at the Indiana State University at Bloomington, also a graduate of the Bryant and Stratton Business College of Indianapolis, Mr. Prosser came to this state well equipped for the duties of life. He arrived here in 1883, the year after his father's coming, and went to work in the office of the county clerk, John F. Swayne. He has been connected with the county clerk's office ever since, the office of county auditor, to which position he was appointed in 1899 by the board of county commissioners, and which position he now holds, being practically a branch of the county clerk's division of the Tarrant county government. The clerical work, accounting and auditing of the county's financial affairs come under Mr. Prosser's management, and in a county having as extensive business interests as Tarrant, and these are constantly growing, the work of the auditor requires expert knowledge, skill and experience. With an experience in handling the public affairs of Tarrant county extending over twenty years, Mr. Prosser has gained a better mastery over the details than any one who has ever held the office.
Mr. Prosser's home is at 1314 West Thirteenth street, and his long residence in Fort Worth and close identification with public affairs make him one of the best known citizens. He has fraternal affiliations with the Knights of Pythias and is a member of the First Presbyterian church. He was married at Fort Worth in 1893 to Miss Melisse Fox of this city and a native of Macon, Missouri.
Source: B. B. Paddock, History and Biographical Record of North and West Texas (Chicago: Lewis Publishing Company, 1906), Vol. II, p. 682.