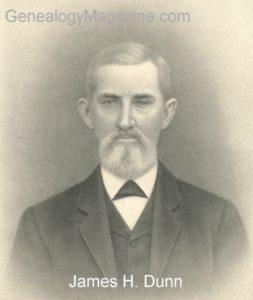 The late James H. Dunn of Clay county, was one of the characters whose life for many years was most honorably connected with the county's domestic development and its public affairs. His life here covered a span of some twenty years and his death, December 31, 1901, terminated a career of rare uprightness and a life filled with substantial successes and with sincere and enduring friendships. He conducted one of the large farms on Red river, managing, as he did, some eleven hundred acres of his own and his wife's estate and devoting his time to its substantial improvement and successful cultivation.
On becoming a resident of Clay county Mr. Dunn settled near Benvanne and it was in that community he was best known and there his fastest friendships were made. He came here from Denison, Texas, near where he owned and operated a farm and where his citizenship shone with all the brilliancy of a loyal and faithful man. He became a citizen of Grayson county at the close of the rebellion, moving there from Jasper county, Missouri. From his boyhood he resided in the latter state and there received a fair education in the rural schools. He joined the great throng bound for the gold fields of California in 1849, crossing the plains, as was the custom of the time, and engaging in mining on the coast state. His trip to the Eldorado can be said to have been successful, for he gained not only experience, but some means, returning, as he did, with several thousand dollars which his sluice mining brought to his account. He returned home by the water route and, once more in Jasper county, engaged in handling cattle and in freighting goods. The war came on soon afterward and he joined the Confederate service and was commissioned an officer with the rank of major. He had charge of the commissary under Gen. Jo Shelby, whose friend he was, and continued in the service till the end of the war.
At once upon his taking up civil life he came to Texas and entered the mercantile business at Bonham. Later he was identified with Warren in a similar capacity and after an experience of several years abandoned that life and resumed farming. He also dealt in stock and he cast his lot with Clay county in 1881 that he might have more room and more freedom for his operations.
James H. Dunn was born near Nashville, Tennessee, December 31, 1831. His father was William Dunn, in early life a merchant at Dunn's Cross Roads, near Nashville, and later a farmer and breeder of fine cattle in Jasper county, Missouri. The latter was born in Maryland, October 22, 1788, married Mary H. Henderson, of Kentucky, and died in Jasper county, Missouri. His wife was born February 9, 1801. Their two children were James and William, the latter being born September 1, 1829, and being killed while serving in the Confederate army during the Civil War.
It was his popularity as a citizen and his honor and integrity as a man that prompted his choice as a public servant in Clay county. He was not by nature a seeker after public favors but the choice to fill a vacancy in the commissionership of the first district fell upon him and he accepted. He was elected a number of times, as a Democrat, and filled the office several years.
July 22, 1869, Mr. Dunn was married in Grayson county, Texas, to Miss Dorthula Henry, born in Blount county, Tennessee, and a daughter of James and Nancy (Kinnie) Henry, of Virginia and Tennessee, respectively. Mrs. Dunn was one of nine children, but three of whom survive, viz.: Caroline Camp, of Montague county, Texas, and Arthur Henry, of Grayson county. The Henrys came to Texas in 1859 and settled in Grayson county.
Mr. and Mrs. Dunn were never blessed with children but reared and educated a nephew, John W. Dunn, now in Oklahoma. The household was identified with the Christian church and practiced bible [sic] teachings in their daily life. Mr. Dunn was a gentleman of wide information, read the St. Louis Republic for fifty years, was kind and sympathetic toward the unfortunate, had convictions and expressed them freely and frankly when the occasion required. He was a Master Mason.
Source: B. B. Paddock, History and Biographical Record of North and West Texas (Chicago: Lewis Publishing Co., 1906), Vol. II, pp. 649-650.