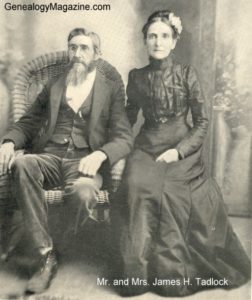 JAMES HENDON TADLOCK. Among those Wise county farmers who have added their quiet but positive force to the wonderful work of internal development which has gone on here for the past thirty years and whose substantial position stands as a monument to their energy, industry and sobriety is James H. Tadlock, of Chico, mentioned as the subject of this sketch. Passing from an unknown and untried quantity from the beginning to one tested and approved by the fires of time and with influence limited only by the bounds of his acquaintance, he is the peer of his fellows and the example of his achievements stands out conspicuously that the future may read, know and emulate.
He came west from Perry county, Alabama, where his birth occurred April 12, 1842, and where his father, Albert G. Tadlock, settled in 1832. His father was born in Edgefield district, South Carolina, in about 1808, and was of Scotch and Irish blood. He married in Alabama about 1833. Malinda, a daughter of James Boyles, a Methodist preacher of Irish stock. Like his father-in-law, he held to Methodism, was an officer of his church and a class-leader, and as a farmer he was successful in making and accumulating property, but the Civil war swept much of it away and he passed away in 1874, aged sixty-one, possessed of little estate. His wife followed him two years later and their children were: Adaline, wife of Henry Herring, of Scott county, Mississippi; Cynthian, who died in Scott county, Mississippi, in 1903, as the wife of James Atherton; Flavela, wife of William M. Manley, of Grayson county, Texas; William died in the Confederate service in 1862; James H., of this notice; Cannon, Webster and Martha, of Scott county, Mississippi, the last the wife of Nathaniel Chestnut; Elisha T. and Josephine and Robert, all of Scott county, Josephine being the wife of William Moore.
While growing up in his native county James H. Tadlock acquired only a meager knowledge of school books and he enlisted in the army of the Confederacy before his twentieth birthday. In June, 1861, he joined Company K, Eleventh Alabama Infantry, under Col. Moore and went with his regiment to the Army of Northern Virginia. He reached the field of operations the day after the Manassas fight and from Yorktown to Petersburg he passed through the horrors of war. Among the historic engagements of this fighting army were: Jamestown, Seven Pines, from Gaines' Mill to Malvern Hill, Sharpsburg, Fredericksburg, Gettysburg, Spottsylvania, Chancellorville, Cold Harbor, Wilderness, the defense of Richmond, and, in the works at Petersburg, he received his first wound, a musket ball through the left foot. In the winter of 1864 he returned home and was not with the army during its last stand and surrender at Appomattox.
For several months after the war closed Mr. Tadlock was not able to take up civil pursuits but when he did it was as a modest farmer with a new wife, a mule, a sow and pigs and some few household effects. He had merely laid the foundation for a start when, in 1868, he drove through to Mississippi, and remained there two years. He then took up the journey toward the setting sun and settled in Butler county, Kansas. He entered a tract of the public domain near Augusta and was occupied with its reduction and improvement until 1876 when he made his final move, to Texas, driving through with team and wagon. He stopped first on the east side of the county of Wise, but soon afterward located on Sand Flats on the west side of the county. There he opened up a new farm and the fourteen years that he lived there made much substantial progress toward the culmination of his career.
When he arrived in Wise county Mr. Tadlock owned a fair team, had a wife and four children and not as much cash as he needed, for it develops that he borrowed money to pay for the one hundred and eighty acres of land which he bought. He began by raising cotton and corn and as he got a spare "five" he invested in a yearling. In time he had a bunch of cattle and his familiar brand, a combination of the capitals "J. H. T.," came to be known over the community of Sand Flats and the west part of Texas. Save for the loss of some forty cows during one winter of short feed—a misfortune which set him back materially—his career has been onward and upward to the last. Without enumerating the many landed accessions to his estate his real holdings amounted to one thousand acres and his home on the Bullock survey was established in 1891.
November 2, 1865, Mr. Tadlock married Nancy Stephens, a daughter of Gideon Stephens. Mr. Stephens was a North Carolinian and married a South Carolina lady, Ellen Arendal, came to Texas in 1874, and died in Grayson county, in April, 1879, his wife having passed away April 24, 1863. They were the parents of Andrew, of Alabama; Martha, who died in East Texas as the wife of Frank Crow; Elizabeth, of Anderson county, Texas, wife of Hugh Henderson; Frances married Minor Crews, of Alabama; Lewis, of Montgomery county, Arkansas; Mrs. Tadlock, born, June 19, 1848; Arra K., wife of Timothy Sexton, of Augusta, Kansas; Sidney T., of Wise county, Texas; James died unmarried and David resides in Cleveland county, Oklahoma; Alice, who married Lewis Clark and resides at Augusta, Kansas. Mr. Stephens was married a second time, his wife having been Flavela Tadlock, who bore him ten children, only four of whom survive, viz: Wesley, of Wise county; Margaret, wife of Alfred Heath, of Grayson county; and Nathaniel and Richard of the same county.
Mr. and Mrs. Tadlock's children are: William, who died when fifteen months old; Albert, of Chico, married Miss Delia Perry, her people being from Mississippi, and they have two children, James M. and Sidney; Walter married Della Blanton and died at twenty-five; Charles, of Tarrant county, married Mary Golden and has children, Geneva Bell and C. C.; Marcus lives on Sand Flats, married Minnie Whatley and has issue, T. Grady, Marvin W., and James Hershell; Marvin and Margaret, twins, of the latter deceased and the former a graduate of the Fort Worth Medical College and in charge of St. Joseph's Hospital in Fort Worth.
In politics the Tadlocks are Democrats and in religion Methodists. Mr. Tadlock is a trustee of the Chico church and has served it in other official capacities, and is a Master Mason.
Ten years ago Mr. Tadlock went blind and had an operation by which an eye was saved.
Source: B. B. Paddock, History and Biographical Record of North and West Texas (Chicago: Lewis Publishing Co., 1906), Vol. II, pp. 139-140.