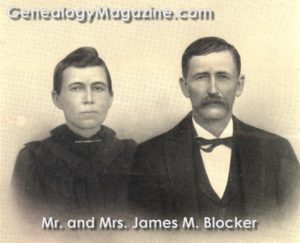 JAMES M. BLOCKER. The business management of the Bridgeport Mill and Elevator Company's affairs is in the hands of one of its original promoters and stockholders, the subject of this personal review. A farmer and stockman near Jim Ned during the last two decades of the century just closed, and, in a modest way, identified with the material development of the west side of the county, he closed up his affairs there in the opening of the new century and began life at Bridgeport, a farmer in a small way and prominently connected with the mill.
The few characters who were once identified with an enterprise of domestic commerce which swept the American bison from the plains have long since cased their guns and hunting knives and their remnant is scattered over the broad surface of our American continent and the little to remind them of the exciting days of the buffalo hunt, save vivid recollections of the slaughter and of incidents relating thereto. To this band of pelt merchants Mr. Blocker belonged and a year spent with an outfit at the foot of the plains in 1873 brought to his exchequer a visible fullness as ample compensation for the year thus bestowed.
Mr. Blocker came to Texas in 1870 and stopped a year in the county of Rains, following his residence here with his career on the hunt on the head of the Colorado river. On leaving the plains he took up farming in Lamar county and continued it until his advent to Wise, bringing hither a flock of sheep and remaining in the wool business until misfortune and adversity practically swept away his stock, when he gathered about him a few cattle and came to be somewhat extensively engaged in the business. He owned and improved a tract of more than a half section of land at Jim Ned and the twenty years that he spent there were years of gradual movement toward upper rungs of the ladder of success.
In Choctaw county, Mississippi, James M. Blocker was born September 12, 1849. His father, William H. Blocker, who died at Jim Ned in 1893, was born on the line of the states of Mississippi and Louisiana in 1818, August 4, and remained a farmer in Mississippi until 1871, when he followed his son to Texas and resumed his favorite vocation in Fannin, Wise and Stephens counties, as he happened to be located. He was a man of strong conviction, of outspoken political sentiment and of religious feeling, a Democrat and a Primitive Baptist. He advocated, in his humble capacity as a citizen, disunion and the establishment of the Confederacy, and gave what service he could in the army of the Confederate service.
Michael Blocker, grandfather of our subject, was not far removed from the founders of the family in the United States. The kingdom of Prussia furnished three sons of the Blocker family who emigrated to the new world and in the states of Kentucky, North Carolina and Alabama they are said to have taken up their abode. From the North Carolina branch our subject is descended and in that old commonwealth Michael Blocker was born about 1788. He was twice married, first to Miss Hendry and second to the Widow Gillespie, and by the first union he was the father of eleven children and by the second seven. Among those of the first were the sons, Younger, George, Wesley, Isaiah and William H., and the daughters, Caroline, who married Joe Myers; Ann, wife of William Guess, and Ellen, who became Mrs. Scrivner. Of the second family Michael, Robert and Sallie are known to have reared families. The father was a gunsmith, owned a farm and was with General Jackson as a soldier in the defense of New Orleans in 1815. He moved down into Mississippi about the time the state was admitted into the Union and died in 1863.
William H. Blocker married Mrs. Elizabeth Gray, a daughter of an Irishman, William Gray. Mrs. Blocker died at Jim Ned in 1888, having been the mother of Ann, widow of Morton Wooten, of Fannin county, Texas; Caroline, who married Robert Parker and died in Wise county; Ellen, of Young county, wife of R. E. Curry; Maggie, widow of Taylor Hawkins, of Bridgeport; James M., our subject, and Martha, who married G. W. Pace and resides in Denton county.
James M. Blocker grew up chiefly in Lee county, Mississippi, and obtained a liberal education in the Conway high school. He began life as a school teacher and pursued the calling some six years in Texas. For the buffalo hunt he organized an outfit of a half dozen men who spent a year in killing the brute master of the plains and marketing his pelt at Fort Griffin on the very border of civilization. This year's work furnished him with the sinews which helped him in his future career.
February 27, 1872, Mr. Blocker married in Lamar county, Texas, Miss Ara Mann, a daughter of Joel Mann, who died in Bridgeport in May, 1905. The Manns were from Leake county, Mississippi, and came to Texas about 1870. Mrs. Blocker was born in 1855 and died in Bridgeport, June 23, 1904, leaving the following issue, viz.: Unus, of Wise county; Arthur, a postal clerk on the Fort Worth and Denver Railway; Frank, of Douglas, Arizona; Ban., of Bridgeport, and Joe and Fern with the paternal home.
As a citizen Mr. Blocker has ever maintained an interested position, giving encouragement to worthy enterprises and contributing his part toward high morals and pure local government. He is a Democrat and a Methodist.
Source: B. B. Paddock, History and Biographical Record of North and West Texas (Chicago: Lewis Publishing Co., 1906), Vol. II, pp. 695-696.