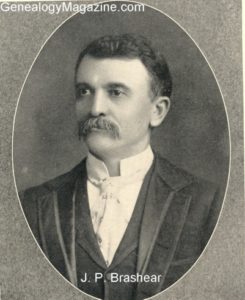 JAMES P. BRASHEAR, a druggist of Fort Worth, has successfully conducted his mercantile enterprise since 1896, and is now advantageously located at the corner of Twelfth and Main streets, where he has a well equipped store, to which the public accords a liberal patronage. A native of Logan county, Kentucky, he is a son of William Henry and Sarah J. (Rife) Brashear. He was only six years of age at the time of his father's death. The father had belonged to an old family descended from the Huguenots of Normandy, who fled from France and settled in Virginia, but, meeting with an unwelcome reception from the English in that colony, they removed to Maryland.
James P. Brashear was reared upon his father's farm and devoted his time and energies to general agricultural pursuits for a number of years after attaining his majority. His education was acquired in the country schools of Logan county, and with his mother went to Arkansas in 1870, where the latter died in 1882. Determining to take up the study of pharmacy, he prepared himself for the profession, which he followed in Arkansas for a time. The year 1883 witnessed his arrival in Fort Worth, Texas, where he has since made his home. He has held various positions in different pharmaceutical establishments here, and in 1896 embarked in business on his own account. His store was first on Houston street, between Eleventh and Twelfth streets, and subsequently came to his present location on the corner of Twelfth and Main streets. His is an excellent business corner and in the conduct of his store he is meeting and gratifying prosperity. In 1894 he was appointed one of the three pharmacists composing the state examining board of pharmacy and has continuously acted in the position up to the present time.
Mr. Brashear was married to Mrs. Heman Lonnily, a member of the well known Monnig family of Fort Worth, prominent as wholesale and retail merchants. Mr. Brashear is one of the original members of the Bohemian Club, founded several years ago by Mrs. Gorman, composed of people of literary tastes and habits for the enlargement of social and literary intercourse, and he has contributed as his time would permit to the pages of the club magazine, the Bohemian. He is entirely a self-made man, and his life stands in exemplification of what may be accomplished by a young man who starts out alone in the world unequipped save by energy and strong determination. He has made consecutive advancement in his mercantile career, brooking no obstacles that could be overcome by determination and honorable purpose, and today he is one of the prosperous representatives of commercial interests in Fort Worth.
Source: B. B. Paddock, History and Biographical Record of North and West Texas, Vol. II (Chicago: Lewis Publishing Co., 1906), p. 36.