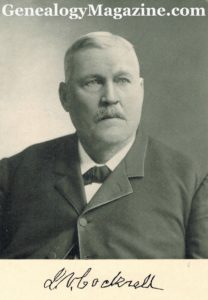 HON. JEREMIAH V. COCKRELL, one of the distinguished citizens of Western Texas, is a representative of the class of men who have become leaders in public and business life in this state by reason of their great energy and strong character, which could not be deterred by difficulties or obstacles, but who with confident heart and unfaltering purpose have formed a definite plan of action and have persevered therein. The prominent men of this as well as of other states largely belong to that class known as self-made, having begun life with little or nothing and proving their worthiness by their success. Their lives therefore have largely been eventful, embracing much more than the ordinary affairs of interest, and such a history contains many a lesson of incentive and emulation. The prominence of Mr. Cockrell in public life and the part which he has taken in the development and upbuilding of Texas makes it imperative that his history be given in this volume.
His father, Joseph Cockrell, was an early settler from Kentucky into Missouri. He took with him many head of fine stock which were among the first brought into the state. In 1828 he located in Lafayette county and subsequently removed to Johnson county, where he entered a large tract of land and eventually became owner of still more extensive landed possessions. He was interested, active and helpful in public affairs and at one time served a term as sheriff of Johnson county. He was married in Kentucky to Miss Nancy Ellis, a native of that state, and a number of their children were born prior to the removal of the family to Missouri. Some of the Ellis family also came to Texas. A brother of Mrs. Cockrell, Christopher Ellis, settled near Marshall, where he lived to an advanced age and a number of his children are yet residents of this state. Another brother, Benjamin Ellis, died shortly after his arrival in Texas. Joseph Cockrell continued his residence in Missouri up to the time of his death, which occurred in 1837. In his family were two sons and five daughters, of whom one daughter died as she was emerging into womanhood. At the present time there are four living members of the family, of whom one son, Hon. Francis Marion Cockrell, of Warrensburg, Johnson county, Missouri, has represented his state in the United States senate for a period of thirty years, or until the fall election of 1904, when Missouri joined the ranks of Republican states. His public service is found recorded on the records of the national legislation and he is one of the distinguished sons of Missouri, whose history reflects credit and honor upon the state which has honored him.
Jeremiah V. Cockrell was born in Johnson county, Missouri, May 7, 1832, and spent the first ten or twelve years of his life upon his father's farm, after which he left home to attend school. It was his desire at the time of the Mexican war to enlist in the active service of his country but he was too young for this and finally he drove an ox-team to Mexico, hauling supplies for the army. In this way he manifested his strong patriotism and military spirit. In the winter of 1847 he returned to Missouri and in the spring of 1848 he went to California, crossing the plains with an ox-team. On the journey he accidentally wounded himself and had to remain for a time at Smith's Fork of the Bear river, forty miles from Salt Lake City. He stayed with an old mountaineer known as Peg Leg Smith, but as soon as possible he resumed his interrupted journey, arriving in California in the latter part of November. He remained in the mines at Hangtown and Murderer's Bar on the middle fork of the American river and was also at Barnes' Bar, on the north fork. He likewise spent some months at Nevada and Grass Valley, two towns not far separated in the mountain districts. Later he went from Grass Valley to Bear river and to the American Valley, where he entered the employ of some stockmen, being then engaged in buying and selling stock. He was thus occupied as long as he remained in California, receiving a wage of ten dollars per day. In the latter part of January, 1852, Mr. Cockrell returned from the Pacific coast by way of the Isthmus of Panama, New York, Philadelphia, Pittsburg and St. Louis and from the last named city he went up the Missouri river to his home, where he arrived in the latter part of February. Much of the journey from New York to Philadelphia had to be made by stage as the railroad was not then completed. He remained upon the farm in Missouri until after the outbreak of the Civil war, in 1861, when he enlisted in Company A, McCowan's Regiment, one of the old state guards, as third lieutenant. His term was for six months and at its expiration he entered the Confederate service in a regiment already organized and afterward known as the Sixteenth Missouri Regiment. He became captain of Company A and remained in the army until after the battle of Farmington, near Corinth, Mississippi. The reorganization of the armies was then in progress. Captain Cockrell, Colonel Hughes, Colonel Patton and two or three others were detailed in Mississippi to return to the Trans-Mississippi department with orders to report to General Hindman to raise another army. There in connection with Colonel S. D. Jackman, Colonel Joseph Shelby and Colonel Hunter (the last two afterward brigadier generals), and Captain Lewis and Captain Cummings and some others, he succeeded in enrolling seven or eight hundred men. Captain Cockrell was put in command of this force with the rank of colonel, and with the newly organized regiment went as far north as Missouri river. While there he had a desperate fight with the federal troops, the engagement becoming known in history as the battle of Lone Jack. He captured a section of the artillery and all of the transportation the federals had and returned to the south. During the expedition he had recruited about seven thousand men, with whom he returned, fighting and skirmishing all the way until they reached headquarters in Arkansas. Colonel Cockrell afterward selected eight or ten officers out of this command and went on another recruiting expedition into Missouri, on which occasion he returned with about one thousand men. In the spring of 1863 he made a third recruiting expedition and was wounded in the skirmish that occurred in Missouri. In the fall, however, he accompanied General Price on his last raid into that state, at which time Colonel Cockrell's family accompanied General Price's army on the move southward and came to Texas. From that time forward Colonel Cockrell was no more in active service until the close of the war.
Settling in Sherman, Texas, he remained there until the fall of 1883, and was one of the active, influential and enterprising citizens. He served as presiding justice there, also engaged in the practice of law and followed farming to some extent. Like others he had suffered greatly from the hardships after the war and he utilized every possible means to make a living for his family during the trying times that immediately followed the close of hostilities. In January, 1883, he came to Western Texas to seek a location, making his way to Wichita Falls, which at that time was the terminus of the Denver road. From that point he proceeded to Vernon, which contained but a few homes little more than huts. He next went about thirty miles above Pease river, meeting with only an occasional dugout. It was a wild country, few settlements having been made, but it was rich in natural resources and offered a splendid opportunity to the ranchman and agriculturist. Colonel Cockrell found much game, including great herds of antelope and deer and immense flocks of wild turkeys. He was accompanied by two companions and they largely subsisted on the game which they killed. Turning southward across the country, they made their way straight to Abilene without seeing a farm or a road the most of the way, with just an occasional dugout and stock pen, to show that the white man had penetrated to some extent into this region. After resting for a brief period at Abilene he continued his journey southward to Concho in the Tom Green country, thence down the Concho river, to the mouth of the Colorado, and afterward returning to Abilene by way of Baird. Thus he made an exploring expedition, looking for a favorable site for a home, and finally settled on Clear Fork in Jones county as he believed it offered the best advantages. He has never had occasion to change his opinion nor regret his determination to locate in the locality which he chose.
He remained there until appointed judge of the thirty-ninth judicial district, which was a new district organized in 1885. He was appointed in July to the bench of this district, comprised of the counties of Jones, Throckmorton, Baylor, Hardeman, Haskell and Scurry. From the two extremes of this district he had to travel about one hundred and sixty miles by land twice a year. In addition to these counties there were twelve other counties attached for judicial purposes. He held the first court in all these counties except Throckmorton and Baylor. The next legislature added Crosby, Fisher, Knox and Floyd counties, which had just been organized and became a part of the thirty-ninth district. Mr. Cockrell continued on the bench until 1893, when he was elected to the United States Congress from the thirteenth district and served for four years. He then refused to again become a candidate and since that time he has not been an active factor in politics although he is well fitted to grace high positions and could undoubtedly secure such if he so desired. He is at the present writing, 1906, giving his attention to farming and stock-raising, having large landed interests in Jones county, and in fact is one of the most prominent representatives of this most important industry in Texas.
Mr. Cockrell was married on the 5th of April, 1852, in Johnson county, to Miss Maranda Jane Douglass, a native of Tennessee, but reared in Missouri. The judge and his wife were schoolmates in youth and the friendship of childhood days ripened into love as they approached manhood and womanhood. Their family comprises two sons and two daughters, who are yet living, and they have also lost four children.
Judge Cockrell has led an active life and has served the people of his state well and faithfully. His military, judicial and congressional records are alike honorable and creditable, being characterized by unfaltering allegiance to duty and to the principles in which he believes. He is held in warm esteem by his many friends who desire for him all the happiness and comforts of life during his advancing years.
Source B. B. Paddock, History and Biographical Record of North and West Texas (Chicago: Lewis Publishing Co., 1906), Vol. I, pp. 402-404.