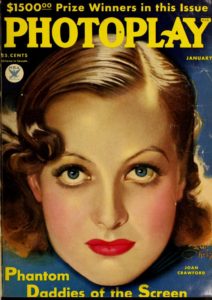 Joan Crawford, whose face graced countless magazine covers, was born Lucille Fay Le Sueur. She descended from London-born David Le Sueur, who immigrated to Virginia in the 1720s.
By James Pylant
Copyright © 2005—All rights reserved.
Do not post or publish without written permission
Lucille Fay Le Sueur was told her name was not right for an aspiring actress; her surname sounded too much like "sewer." Initially, she disliked her new stage name, Joan Crawford; it reminded her of "crawfish."1
Biographical dictionaries record Joan Crawford's nativity as San Antonio, Bexar County, Texas, with 23 March 1908 as the day of her birth.2 This is the same date Miss Crawford gave when applying for a social security card in California.3 Charles Kidd, in Debrett Goes to Hollywood, says Lucille was probably born in 1904. She was the third child of Thomas Le Sueur and Anna Johnson, the two older children being Daisy (who died in infancy) and Hal Hayes Le Sueur. Thomas Le Sueur reportedly abandoned Anna before she gave birth to Lucille. Kidd speculated that Thomas and Anna had never actually married.4 Kidd also estimates Hal Le Sueur was born about 1900.5 His death certificate records his birth date as 3 September 1903,6 which was only four months before the birth date that Kidd surmises for Lucille.
Within a few years of being abandoned by Thomas Le Sueur, Anna Johnson began a common law relationship with Harry Cassin.7 The 1910 Census shows Henry J. Casson, age 37, born in Iowa, and "wife" Anna, age 28, had been married two years, and were residents of Lawton, Oklahoma. Son Hal Casson was eight and daughter Luceal Casson was five.8 If these ages are correct, this places Hal Le Sueur's year of birth as 1901, his ninth birthday not occurring until September. As of the official census date (15 April), Lucille had turned five just over two weeks earlier, which makes 1905 her birth year.
By 1915, the Cassins relocated to Kansas and operated a "shabby hotel" until Harry, too, abandoned them, forcing Anna to find employment as a laundress. Lucille left home in her teens and took dancing jobs before she found stardom. Reportedly, it was not until 1934, by which time she was an established actress, that she met her father. It was an awkward reunion and the two never saw each other again.9
On 31 December 1937, Thomas Le Sueur suffered a cerebral hemorrhage and died the following day, the eve of both the new year and his seventy-first birthday in Abilene, Taylor County, Texas. A plasterer, he was living at 1833 South 1st Street, in Abilene, and was survived by wife Maud Le Sueur. The informant was Mrs. E. E. Wallace of Dallas, who hadn't a clue about his parentage but knew that he was born in Tennessee on 21 January 1868.10 On New Year's Day wire reports carried in newspapers across the country reported that Joan Crawford's father had died. While in New York celebrating the holidays with husband Franchot Tone, she received word that her father was seriously ill. "She cut her New York celebration short and remained in her suite at the Waldorf Astoria throughout the night, receiving calls from relatives in Abilene."11
Joan Crawford had other relatives in Texas, including a granduncle, William Noel Le Sueur, a dentist. He was born on 22 February 1866 in Tennessee and died on 2 June 1921 in Austin, Travis County, Texas.12
Anna Bell Johnson, taking her daughter's stage name, became Anna Crawford. She was born 29 November 1884 in Texas died in Los Angeles on 15 August 1958, at age 73.13 The actress's brother, Hal Hayes Le Sueur, died 3 May 1963 in Los Angeles. He and second wife, Kasha [—?—], had a daughter named Joan Crawford LeSueur, who became a Broadway dancer.14
Four year-old Thomas Le Sueur, born in Tennessee, appears in the household of J. H. Leseuer, age 29, a farmer, born in Virginia, and Permely, age 23, a Tennessean, at the enumeration of the 1870 census in Sumner County, Tennessee. Besides Thomas, their household included two-year-old Cora, and J. R. James, age 24, and William McAdam, a ten year-old black laborer.15 Permley was Permelia James, whom James Howell Le Sueur married on 24 December 1865 in Sumner County. James H. was born in Buckingham County, Virginia, on 17 February 1842,16 to attorney Samuel Wesley Le Sueur and his wife—and first cousin—the former Mary Ann Jane Le Sueur.17 Samuel W. and Jane's descent has been traced from a weaver named David Le Sueur, born in London about 1704 to French parents, who came to Virginia by 1724. Here, he married twice; his second wife, Elizabeth Chastain, being Joan Crawford's ancestress. A documented account of the Le Sueurs, compiled by noted genealogist Cameron Allen, appeared in The Virginia Genealogist.18
Permelia James—the paternal grandmother of Joan Crawford—is found in the household of John J. James, a 55-year-old farmer from Virginia, with Rhoda, age forty-five, a Tennessean, in Sumner County, Tennessee, on the rolls of the 1860 census.19 John J. James and Rhoda Ball had married in that county on 12 August 1835.20 The following year John J. James served as executor of the estate of Philip Vance, along with Vance's wife.21
Joan Crawford's first marriage was to Douglas Fairbanks, Jr., on 3 June 1929 in Manhattan. They divorced in May of 1933. Her second marriage was to Franchot Tone on 12 October 1935 in Englewood Cliffe, New Jersey, but they divorced in April of 1939. Phillip Terry (born Frederick Henry Kormann) was her third husband, whom she wed on 20 July 1942 in Ventura, California. They coupled divorced in 1946. Miss Crawford's last marriage was to Pepsi-Cola executive Alfred N. Steele on 10 May 1955 in Las Vegas. Their marriage ended with his death one month shy of their fourth anniversary.22 Internet Movie Database shows yet another husband for Crawford, a James Welton, to whom she was married from 1924 to 1925.23
NOTES AND REFERENCES