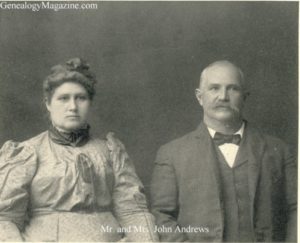 JOHN ANDREWS, a well known citizen and prosperous agriculturist of Tarrant county, owns and operates a tract of land of one hundred and forty-eight acres near Smithfield, the place being devoted to general farming. He arrived in the Lone Star state in 1890 and has since made his home within its borders. A native of Rochester, New York, he was born on the 3rd of March, 1858, and was a son of Leonard and Mary (Meyers) Andrews, both of whom were natives of Germany and on coming to America took up their abode in Rochester, New York, in 1844. There they spent their remaining days, both the father and mother having now passed away. The father was fifty-four when he died, the mother was about seventy-four.
John Andrews spent the greater part of his boyhood and youth in the city of his nativity and was a public school student there. When in his eighteenth year he went to Buffalo, New York, where he learned the trade of a boilermaker in the New York Central Railroad boiler shops, becoming thoroughly familiar with the business. He continued in Buffalo for several years, after which he determined to establish his home in the south and made his way to Raton, New Mexico, where he was employed by the Santa Fe Railroad Company in its boiler shops there. He afterward spent some time in San Francisco and in Sacramento, California, and later resided in San Bernardino, that state. Subsequently he spent some time in other portions of the country and as before stated came to Texas in 1890. He resided first at Fort Worth, where he spent a number of years, being employed in the boiler department of the Texas & Pacific Railroad shops until 1900, in which year he took up his abode upon the farm that is now his place of residence. He is a self-made man, owing his prosperity entirely to his own efforts, and he deserves entirely to his own efforts, and he deserves great credit for what he has accomplished, showing that energy and determination constitute the key that unlocks the portals of success.
On the 4th of May, 1894, John Andrews was united in marriage to Mrs. Annie Abbott and they enjoy the warm regard of many friends in their home locality. Mr. Andrews is a public-spirited citizen and favors anything that tends to improve his county or elevate society. His political allegiance is given to the Republican party. His genuine personal worth is such as commands the esteem and confidence of his neighbors and business associates and now in the control and development of his farm he is meeting with creditable prosperity.
Source: B. B. Paddock, History and Biographical Record of North and West Texas (Chicago: Lewis Publishing Co., 1906), Vol. II, p. 348.